Our turnaround is impacted by the financial trouble. Had this debt not been there, we would be ten times of what we are today. Ashwani Lohani, chairman and managing director of Air India
One of Narendra Modi's pet one-liners during the campaign for the Lok Sabha polls in 2014 was, "The government has no business being in business." He seemed to have forgotten it in the first three years as prime minister. However, Air India's privatisation might change that track record. The national carrier is finally on the block—a group of ministers headed by Arun Jaitley is looking at ways to get rid of it.
For a change, the government's intent has been very clear. Way back in 2003, the Naresh Chandra Committee had recommended privatising both Air India and Indian Airlines (which later merged with Air India). "Unless IA and AI are freed from government ownership (and control), the efficiency gains anticipated in the turnaround measures are unlikely to materialise. Such underperformance is likely to further accelerate the current vicious cycle of poor financial performance leading to derailment of plans for capacity addition," said the report.
The successive governments, however, did nothing while the airlines kept losing customers and adding debt. "The single biggest mistake in Air India's history was its merger with Indian Airlines," said Pronab Sen, India's former chief statistician who was a member in the Naresh Chandra Committee. "That shattered the morale of employees badly. Whoever buys Air India will have to deal with this diminished morale and poor work ethic issues."
While it is business as usual at Air India's Gurudwara Rakabganj Road office in Delhi, the air of despondency is unmistakable. A senior employee, who did not wish to be named, said it was unfair to put the entire blame on Air India. "There are inherent constraints involved in running an airline in a government set up. Air India does not enjoy the kind of authority that a Naresh Goyal of Jet Airways has or Ajay Singh of SpiceJet has. And, I am not only competing with them; I am also competing with the likes of Lufthansa, Swiss Air and Emirates. The competition becomes unfair because we are tied up in processes," he said.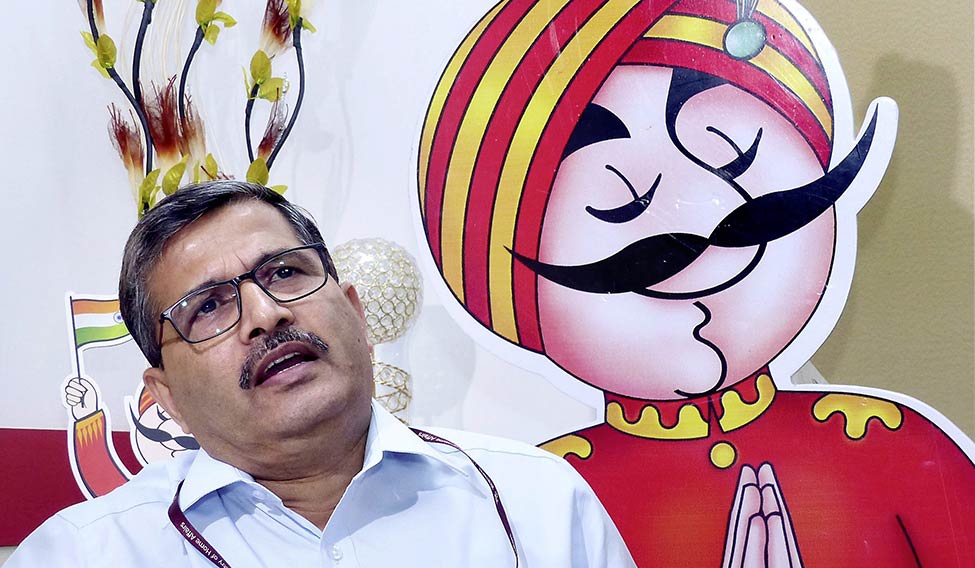 With the privatisation move on track, Air India is not undertaking any new projects for the time being. However, existing plans or the ones that were announced will continue. Ashwani Lohani, chairman and managing director of Air India, said the carrier would launch flights to Washington, Stockholm and Copenhagen this year. "The airline's performance has improved on a year-on-year basis. We are adding international routes and also doubling our regional routes. But our turnaround is also impacted by the financial trouble. Had this debt not been there, we would be ten times of what we are today," he said.
Air India's debt of Rs 52,000 crore is the biggest impediment in its disinvestment. "The government will have to first chalk out a strategy to deal with this debt before going ahead with the disinvestment," said Nitin Bhasin, head of research at Ambit Capital. "It does look like a heavy task but it is not impossible. Some of it can be restructured, and for the remaining, the government will have to take a call on whether it wants to write it off."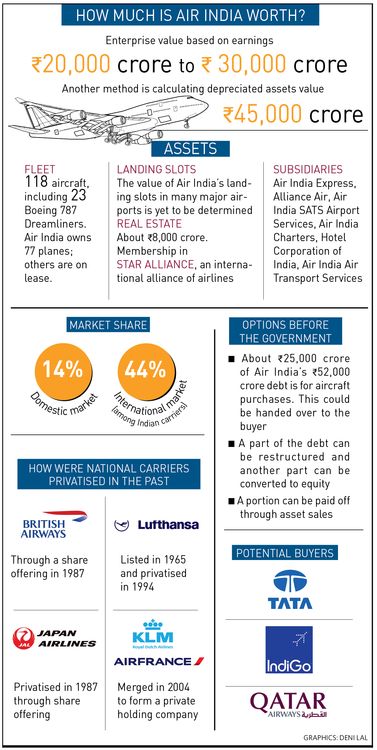 About Rs 25,000 crore of this debt is for aircraft purchases. Experts say this can be handed over to the buyer. But the buyer will negotiate on this loan depending on the age of aircraft and depreciation in the loan.
Some part of the remaining debt can be restructured and some of it can be converted to equity. The government can also pay off a portion of the debt through asset sales. Air India's real estate assets, which include prime properties in Mumbai and Delhi, might be transferred to a special purpose vehicle. The debt might be transferred to a separate SPV.
"It may be going through trouble but the company has some priceless assets. Air India has Pablo Picasso and Claude Monet paintings. According to me, its assets outweigh liabilities," said Mark Martin, founder and CEO at Martin Consulting, an aviation advisory firm.
Martin's hunch is that the government might be working on a distress sale, which ideally should not be the case. "Air India should not be treated in a manner a ship is treated in Alang—break and recover. Privatisation should not come at the cost of destruction. It is among top 25 airlines globally with many other positives. A functional airline should be passed on to the new buyer," he said.
While many experts are of the opinion that the government should exit the business, Bhasin believes it might retain some stake. "It will probably restrict itself to 26 per cent. It might do that to give comfort to the bankers," he said.
Sen said the government would have to give up controlling stake to attract buyers. "Otherwise, who will be interested? They will also have to clarify on FDI—whether a foreign company can get landing rights which is a national resource," he said.
Air India has an employee strength of 21,137. "No buyer will take up the employee burden. These jobs might be cut," said Martin. The employee unions have expressed their disapproval of the sale. "We have made a joint forum comprising all the unions of Air India," said J.B. Kadyan, secretary general of Air Corporation Employees Union. "We are currently educating our rank and file about the impact of privatisation."
Privatisation, however, is probably the last chance for Air India. "Aviation is a very competitive business where you need to take decisions very fast. It can't work out within government," said former aviation minister Ajit Singh. "The environment is good for growth in aviation right now—fuel prices are lower, passenger growth is happening; so it is better that Air India is unshackled so that it regains its glory."