Though among the fastest growing in the world, Indian telecom market is a crowded place with a dozen players engaged in cut-throat competition. But that is all set to change, with a wave of consolidation under way. Thanks to the aggressive entry of Reliance Jio promising lifelong free calls, and the huge expenses needed for expansion and new spectrum, smaller companies are increasingly finding it difficult to survive. Bigger companies, on the other hand, are scouting for opportunities to buy rivals and fill their network gaps, in a bid to strengthen their defence against Jio.
On February 23, India's largest telecom company, Bharti Airtel, said it was acquiring Telenor India, the local arm of Norway's Telenor, operating in seven circles. Sigve Brekke, CEO of Telenor Group, was quite blunt on the company's decision to leave India, which once seemed a promising market. "Finding a long-term solution to our India business has been a priority for us, and we are pleased with our agreement with Airtel," he said. "The decision to exit India has not been taken lightly. After thorough consideration, it is our view that the significant investments needed to secure Telenor India's future business on a standalone basis will not give an acceptable level of return."
Airtel will acquire Telenor's operations in Andhra Pradesh, Bihar, Maharashtra, Gujarat, Uttar Pradesh (East), Uttar Pradesh (West) and Assam, including all assets and customers. This will add some five crore customers and 43.4 MHz spectrum in the 1,800 MHz band to the Airtel network.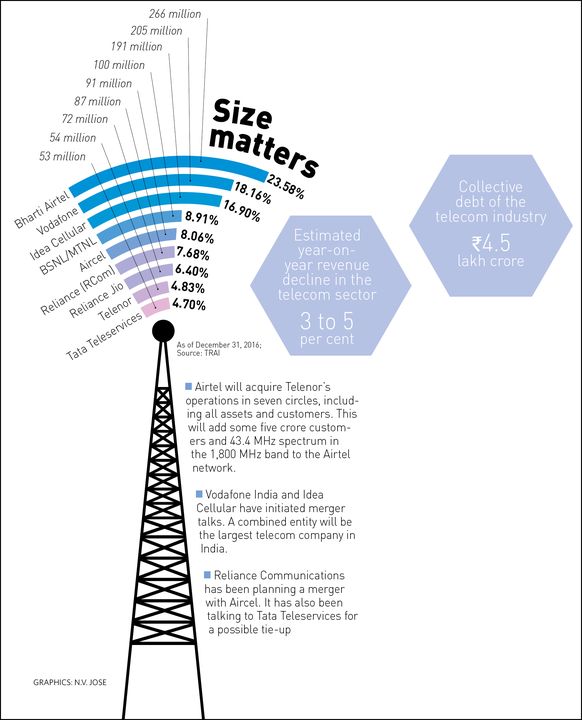 This is crucial for Airtel to compete with Jio, which has already crossed a base of 100 million customers (according to its chairman Mukesh Ambani) and is looking to attract more customers with its Prime membership from April 1. Also, Vodafone India, Airtel's closest competitor, is having merger talks with Aditya Birla Group's Idea Cellular. If they merge, the combined entity will eclipse Airtel as the largest telecom company in India, with a combined revenue of Rs 78,000 crore.
Vodafone and Idea said the talks were in the preliminary stage and is based on equal rights for the two companies in the combined entity. Vodafone had earlier planned an initial public offering to raise 016,500 crore. But, it has been put on the back burner, and if the merger goes through, Vodafone might even get a backdoor entry to the stock exchanges because Idea is already listed.
In September 2016, Reliance Communications, owned by Anil Ambani, said it would merge with Aircel. It has also been talking to Tata Teleservices for a possible tie-up.
Consolidation in the telecom market was long overdue. "Collective debt of the telecom industry is about 04.5 lakh crore. Servicing both the principal and interest is becoming a challenge. Unlike China, we are a private sector-led country for telecom. Fresh capital is only going to come in when the future outlook is good. It has to generate enough reasonable profits. So I think consolidation is good," said Hemant Joshi, partner, Deloitte Haskins & Sells.
The intense competition and the aggressive pricing strategies to counter Jio's offers have put pressure on the balance sheets of all players. Bharti Airtel's net profit more than halved in the third quarter and revenue declined 3 per cent year-on-year. Idea Cellular and Reliance Communications reported a loss in the same period.
"The quarter has seen turbulence due to the continued predatory pricing by a new operator. The present termination costs at 14 paise, which are well below cost, have resulted in a tsunami of minutes terminating into our network. This has led to an unprecedented year-on-year revenue decline for the industry, pressure on margins and a serious impact on the financial health of the sector," said Gopal Vittal, MD and CEO (India and South Asia), Bharti Airtel.
The industry is staring at a 3 to 5 per cent year-on-year revenue decline in the financial year. "It was always going to be a challenge for so many players to compete in this industry. Globally, too, it is like a 2 to 4 player industry. Post Reliance Jio, the path to profitability is becoming more and more rocky, especially for the smaller players. Companies like Telenor were losing money even before Jio launched. But as a result of Jio, even the little flicker of hope that the situation will improve vanished. So, there is a rush to consolidate, rather than keep on investing and losing money," said Ajay Srinivasan, director at CRISIL Research.
The competitive intensity in the market, however, is unlikely to abate even after consolidation. Other companies will be keenly watching how many of Jio's 100 million subscribers will stay on once the paid plans kick in in April. If Jio continues to attract customers, it will lead to a price war, putting pressure on earnings even as companies will have to continue investing in infrastructure. Airtel has already announced scrapping of roaming charges from April 1.
The companies are also trying to balance debt by selling non-core assets. In December 2016, Reliance Communications signed binding agreements with Canada's Brookfield Infrastructure to sell its telecom tower business for Rs 11,000 crore. Bharti Airtel has been in talks to sell a stake in its tower business, Bharti Infratel.
Amid such aggression and earnings woes, India Ratings & Research has downgraded its outlook on the sector for 2017-18 fiscal year to "negative" from "stable-to-negative". "The negative outlook reflects expectation of longer and deeper-than-expected deterioration in the credit profile of telcos following the free services extended by Reliance Jio," said Tanu Sharma, Ashoo Mishra and Salil Garg, analysts at India Ratings. "The existing telcos would lose market share to Jio and suffer from poor profitability while their debt burden will increase due to spectrum and network related capex."