On November 11, as the Tata group issued notices to three of its companies—Tata Chemicals, Tata Steels and Tata Motors—to remove Cyrus Mistry and Nusli Wadia as chairperson and director, respectively, it was clear that the conflict between between Ratan Tata and Cyrus Mistry had escalated into an all out war.
A few days earlier, Tata Sons had removed Mistry from chairmanship of Tata Consultancy Services (TCS), and replaced him with Ratan Tata's man Ishaat Hussain. It was also proposed to remove Mistry as director of TCS through a special notice resolution by calling an EGM. "Among all listed Tata group companies, TCS has highest promoter holding, at 73.33 per cent. Removal of a director requires only 50 per cent plus shareholder approval. The board has the right to nominate/replace Chairman. However, Articles of Association of TCS gives the right to Tata Sons to nominate Chair," explained InGovern Research, a prominent proxy advisory firm.
On November 10, independent directors of Tata Chemicals had turned the tables on Ratan Tata, by declaring their support for Mistry. The move, led by Bombay Dyeing chairman Nusli Wadia, a trusted friend of Ratan Tata, was not exceptional, as just a few days ago, independent directors of Indian Hotels Company Ltd (IHCL) had done the same. The move resulted in the resignation of Tata Chemicals's independent director Bhaskar Bhat, who wanted Mistry out.
A report prepared by Institutional Investors Advisory Services (IiAS) had warned of such developments. Titled 'Tata Group: A Game of Thrones', it had said that the reasoning behind Tata Sons' decision to remove Mistry has not been made public. Tata Sons board, said the report, is asking investors to blindly trust them. IHCL's independent directors—who individually command the same public stature as that of Tata Sons—one of whom is on the board of two Tata Trusts (K.B. Dadiseth)—have reposed their faith in Mistry. "Stakeholders are baffled by this discord, not knowing which side to believe—the independent directors or Tata Sons. The conflict will have operational implications even as boards risk becoming dysfunctional," said the report.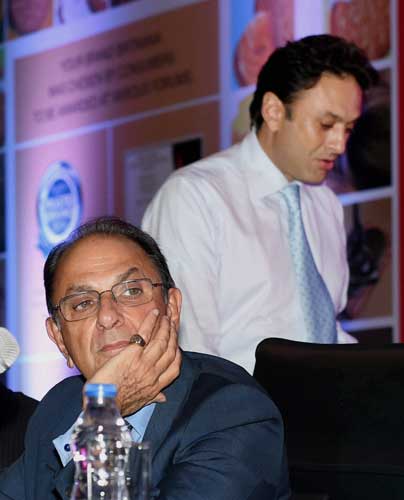 According to IiAS, the independent directors of the listed companies need to provide shareholders with guidance on how they should vote should a resolution to remove Mistry is moved. "To that extent the independent directors' public stand on Mistry's position in IHCL is a step in the right direction," said the report. "The independent directors, in forming an opinion, will likely consider Mistry's performance during his tenure and whether his strategy was the best strategy for the company."
The board meeting of Tata Steel on November 11, however, ended in a stalemate as the six independent directors were divided in their loyalties. Here, too, Wadia was at the forefront to garner support for Mistry. His move to propose a resolution, however, was blocked by Mallika Srinivasan, Andrew Robb and O.P. Bhatt, all independent directors.
State Bank of India, which has a large exposure to Tata Group, dismissed the fear of the boardroom battle affecting performance of the companies. "Tata group companies have been built by professionals, so what the owners do among themselves doesn't really concern us directly as long as we can see the companies continue to operate in the way they were operating and in a way that gives us the comfort," said SBI chairperson Arundhati Bhattacharya.
According to Goutam Chakraborty, senior analyst at Emkay Global Financial Services, what is happening does not seem to be appropriate for any company. "We understand that the management had concentrated on cost cutting, productivity enhancement, maintained a proper working capital management," he said. "All of this Mistry did when the steel industry was going through a bad phase. In the case of Tata Steel, the promoters' stake is just over 30 per cent, so equity dilution seems difficult if they want to raise funds. Monetisation of non-core assets has been the key focus."
The ongoing war has so far has seen the exits of Mistry's chosen men like N.S. Rajan, Madhu Kannan and Nirmalya Kumar, who were part of his Group Executive Council. In their place the Tatas have brought in trusted Bombay House hands.
What surprised the Tata camp, however, was the support extended to Mistry by the independent directors of the hotels division. When the IHCL board met on November 4, independent directors Deepak Parekh, Nadir Godrej and Keki Dadiseth showered praised on Mistry's efforts to turn around the company. They, along with other three independent directors—Vibha Paul Rishi, Gautam Banerjee and Ireena Vittal—issued a statement expressing full faith in Mistry's leadership.
Sandeep Parekh, founder of Finsec Law Advisors, termed the developments at IHCL "highly unexpected". "Even if Mistry is removed as chairman, it will be not be as easy to remove him as director as shareholders will have to be involved, a notice has to be sent, and he must be given a chance to respond. It is a long-drawn process," he said.
As the battle gets murkier, stocks of Tata group companies are getting hit. After the Tatas accused Mistry of having "ulterior objectives" and employing "devious" methods to take over group companies in a nine-page statement, there was panic selling of stocks at the bourses. "Then there was recovery; now again stock prices have started eroding," said a market expert.