Marian Pascal, an IT professional in Bengaluru, used to drive solo every alternate weekend to his wife's house in Thrissur, Kerala. It was an expensive affair, considering the fuel cost, but he did not have a choice because he needed the car in Thrissur. The best way to cut the cost, he knew, was to share it. But it was not easy to find people who wanted a ride, and Pascal was not comfortable with complete strangers travelling in his car. It was then that he chanced on BlaBlaCar, a rideshare app.
Now Pascal posts his ride on the app, inviting those who want a ride with him. He can choose the travellers from the requests he gets. And, each traveller pays his or her share. Pascal says the rides are not just about money, as he has developed many contacts through BlaBlaCar.
The top 20 Indian cities have around 1.2 crore private cars. And the average seat utilisation per car is 1.2 people. That is, more often than not, a car travels with two-thirds of its seats empty. According to a recent survey by Regus, a workplace solutions provider, 26 per cent of commuters in India spend more than 90 minutes a day travelling to work. Also, about 16 per cent of commuters drive to work on their own, indicating the huge potential for car pooling.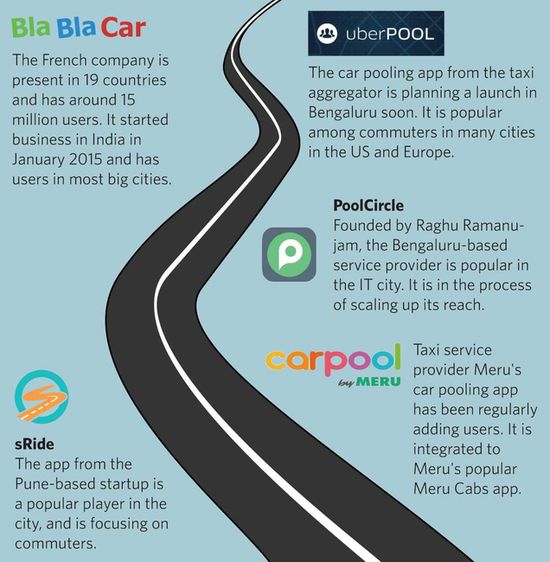 "It is the rise of the consumer to consumer sharing economy in India," said Siddhartha Pahwa, CEO of Meru Cabs, one of the biggest taxi services in India. Meru recently launched a car pooling app. "Anyone offering their cars for a ride across the country can register on our app. This is integrated to our Meru Cabs mobile app. We want to target the $15 billion personal transportation industry in the country."
The Meru CarPool app is available on the Android platform and anyone who is above 18 years can register on it. The company does an elementary verification of the ride owners, who should have a driving licence, and the passengers through their PAN card and Aadhaar card details. The ride payment is done through Paytm mobile wallet. "Our team does a thorough verification of the person who wants to register with us. The response has been phenomenal as we have hundreds of new users registering with us regularly," said Pahwa.
BlaBlaCar, which is headquartered in Paris and present in 19 countries, entered the Indian market in January. The company allows people to register on its app after a thorough verification process. In the first six months of operation in India, it claims, the platform witnessed 1.7 crore shared kilometres by the users. "At the end of the trip, people rate each other and then share their experience. We recommend a price point for a given distance and route, and then the ride sharer can charge accordingly. The price includes the fuel and the toll charges. The most popular routes are Chennai-Bengaluru, Bengaluru-Hyderabad, Mumbai-Pune, Delhi-Chandigarh and Delhi-Jaipur," said Raghav Gupta, country manager of BlaBlaCar. Currently, the service is free. "However, we may introduce a 10-15 per cent transaction fee in the future," said Gupta.
Pune-based startup sRide, which was launched in April, is another strong player in the segment. "In cities we have fixed Rs.3 per kilometre and the commuters can pay through Paytm," said Lakshna Jha, founder and CEO of sRide. "We also aim to focus on the social aspects as well as we feel that travellers share information about their jobs, and make new friends while commuting."
Taxi aggregator Uber, which is the most valued startup in the world, has also announced the launch of its car pooling app, UberPool, in India. Its beta version will be launched in Bengaluru soon. The product is already in use in San Francisco, New York, Boston, Austin and Paris. The app allows commuters to share a ride and split the cost. Uber says nearly half of all Uber rides in San Francisco are 'pool rides'. "India is a top global priority for Uber along with China," said Bhavik Rathod, Uber's general manager in Bengaluru. "Through UberPool we aim to solve the problems relating to congestion, pollution, and lack of access to transportation. We will first launch in Bengaluru."