Marketing executive Rishi Kochhar, who makes at least six air trips a month, trusts MakeMyTrip for making his bookings. The travel portal was easy to use, convenient and offered great deals. A few months ago, however, he found a more convenient way to book tickets—MakeMyTrip's smartphone app. The app was quicker and easier to use than the website, and offered many exclusive deals.
People like Kochhar are the reason most e-commerce companies are shifting their focus to mobile apps. Fashion e-tailer Myntra recently ditched its website to become an app-only platform. "We believe that fashion is a very personal experience and only the mobile phone can deliver this experience, as it captures a user's lifestyle and context in a manner that no other medium does," said Mukesh Bansal, CEO of Myntra and head of commerce at Flipkart. "More than nine million users have downloaded the Myntra app and we are targeting around five million downloads in the next three to four months. We intend to hit the $1 billion mark in revenues by the year 2016."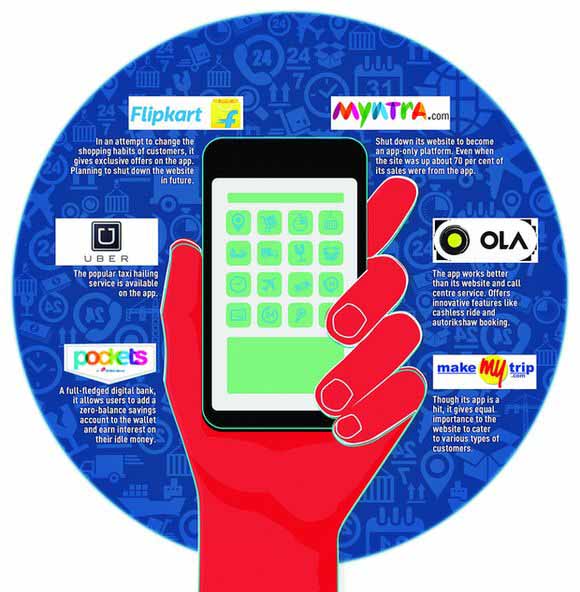 Myntra is planning to add many new features on the app that would enable users to personalise fashion products, content and services. "More than 90 per cent of our traffic comes through the mobile," said Bansal. Flipkart, India's largest e-tailer and the parent company of Myntra, is also planning to take the app-only route, though it has not announced a date.
While the shift of focus to the apps makes sense for these companies, considering India's smartphone penetration, for some services apps give the best user experience. For instance, the taxi portal Ola Cabs. "It is faster to book a cab through our app than the website or our call centre, as there are minimal processes involved. Moreover, the map accuracy to locate a cab is more on an app than the website and hence it is easy to locate and make the bookings," said Anand Subramanian, director of marketing communications at Ola Cabs.
Interestingly, it is not just apps that cash in on the mobility advantage of smartphones that are pushing for the change. The popular movie and events ticket seller BookMyShow.com, for instance, is one of the earliest service providers to shift to the app platform, and it has been asking its customers to move to the app. "We want to reduce the number of typing points that a customer needs to do while booking a ticket as the app remembers the user and helps in instant booking," said Viraj Patel, vice president (technology), BookMyShow.com.
In their efforts to attract more customers to the apps, many companies are trying to make them innovative. Ola, for instance, recently launched cashless rides using the in-app Ola Money wallet for autorickshaw bookings in Hyderabad, Chennai, Pune, Ahmedabad, Delhi and Bangalore. This is said to be the first payment solution for autorickshaws in the country. It works with a one-time password sent to the rider's phone. Ola had earlier launched autorickshaw booking through its app. Another interesting feature in the app is SOS, which sends out all ride details in real-time, including GPS coordinates, to a pre-set friend or family member via SMS and e-mail.
Though MakeMyTrip offers exclusive discounts on its app and has launched apps in Gujarati, Tamil and Malayalam, the company is equally committed to its desktop website. "Many people are comfortable booking through the desktop website," said Pranav Bhasin, head of online products, MakeMyTrip. "However, with added features in our app and the comfort of doing instant bookings, we have attracted a lot more customers to our app."