"3D printing involves critical elements of design, technology integration, and adaptation to legacy processes" - Arvind Nadig, founder of Brahma3
If you want to get something 3D printed, what would it be? A case for your phone? A self-designed keychain? Or a replica of a childhood toy?
According to Nitin Gandhi, co-founder of the 3D printing manufacturing company LBD Makers, a popular choice among his customers is their own faces. They want him to get their faces scanned and make a plastic prototype―around ten centimetres in size. The perfection of the 3D-printed replicas beats the best of wax figurines. He gets requests also for customised phone cases and key rings.
3D printing, or additive manufacturing, is the process of making a three-dimensional solid object from a digital model. It involves laying down successive layers of material to physically form the required object. Its applications are numerous―from making prostheses to automobile parts. Arvind Nadig, founder of Brahma3, said he was amazed by the 3D printed prosthetic hand for a child made by his company's 3D printer. The hand was flexible and had motor control. "The initiative is driven by Brahma3 printers along with a network of students from engineering colleges and doctors. We look to provide affordable solutions through an open-source community and NGO-funded initiatives," said Nadig.
The 3D printing technology has been transforming itself with its varied applications, and is fast becoming an integral part of manufacturing business, which is striving to reduce the time taken by a product to hit the market. The technology is expected to go mainstream soon and expand to small and medium businesses in the near future. In India, the 3D printer market is projected to be around $79 million by 2021. While the market is estimated to grow more than 31 per cent a year, India is expected to grow faster owing to the current low adoption.
Stratasys, world's largest manufacturer of 3D printing solutions, recently set up an experience centre in Bengaluru. "The printer takes time to warm up and the finished object sometimes takes a few hours to develop. It all depends on the size of the prototype. The larger the size, the more time it takes. However, 3D printing brings in that perfect accuracy and also cuts down time of manufacturing," said Rajiv Bajaj, general manager (India), Stratasys AP Ltd.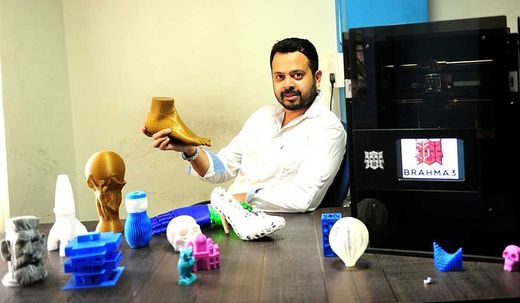 India is yet to experience the benefits of 3D printing on a large scale. And, Stratasys wants to change that. "We have been talking to many medical institutes in India and showing them the benefits of 3D printing. For instance, 3D printed arteries can diagnose and treat diseases, multi-material colour 3D printing enables bio-texture modelling of internal organs. 3D printing has helped in determining treatment protocols for cranial and facial patients. Hong Kong Polytechnic University is using 3D printing technology to improve eye orbital implant surgery," said Bajaj.
In India, Gas Turbine Research Establishment, a research and development organisation under the ministry of defence, used 3D printing technology from Stratasys to cut down the time to make a prototype of the Kaveri jet engine from one year to around six weeks. Recently, the Good Shepherd International School in Ooty in Tamil Nadu installed a 3D printer in an attempt to give students a first-hand experience of creating prototypes.
The homegrown Brahma3, which was founded in 2013, has developed and manufactured all its printers in India. "The process of 3D printing involves critical elements of design, technology integration, and adaptation to legacy processes and different printing materials. We have customers in the field of architecture, education, prosthetic, medicine and product design," said Nadig. The company offers 3D printers, design support, embedded systems solutions, conceptualisation and deployment. "We work with our customers to guide them from legacy processes to migrate into the world of 3D printing," he said.
LBD Makers' Gandhi said many of his customers manufactured portable mobile chargers. His company provides 3D printing and scanning services to some customers. "We create 3D printers for innovative industries, creative students and hobbyists. We also provide rapid prototyping services and have expertise in 3D designing and prototyping," he said.
Most Indian 3D printer manufacturers have priced their products keeping small manufacturers and middle-class consumers in mind. LBD Makers have printers that start from Rs40,000 and go up to Rs1.2 lakh, whereas printers from Brahma3 start from Rs1.5 lakh. On the other hand, Stratasys printers start at $5,000 (around Rs3 lakh) a unit.