It is a family tradition that Chandni Awasthi, 33, has followed to, well, an M. When it comes to teaching her two children, aged seven and four, about money, the Gurgaon-based homemaker did what her mother did three decades ago: introduce the concept of the quintessential piggy bank at age three and teach them to save up and buy presents for each other.
"Whenever Rohan and Saisha help me with cleaning cupboards or serving guests, I give them 05 or 010," she says. "I ask them to save and buy small gifts for each other on raksha bandhan and birthdays. My mother used to do the same with us. But times have changed. I take my kids to the ATM. Watching me withdraw cash has exposed them to the bank concept. They started asking for their own cards, so recently we opened junior accounts for them. With this independence I hope to teach them about responsibility and balancing saving with spending."
Shillong-based Sonal Srivastava Kapoor, 41, has three kids aged seven months, two years and 15 years. "Kids today are smart and net savvy," she says. "They know how to use iPads and iPhones at two. Why not teach them about money early on? My two-year-old can identify Gandhiji's picture on currency and distinguish between Rs10 and Rs1,000 notes. I take them to the market; give a Rs100 note to spend and note what was spent and saved."
STARTING EARLY
Most parents these days introduce their children to the concept of money early on. Experts say this is a good idea because these are life skills. "Money management can be introduced to children as early as they start talking and identifying objects," says Jeseena Backer, parenting coach. "At the age of two or three, give them, say, one, five and ten rupee coins to identify [but not as toys]. Learning is accelerated at this age and they grasp fast. Also, since they are highly curious, they'd like the feel and understand shapes of metals. You can even play games with paper currency available in board games like Monopoly–both enjoyable and a way to bond."
Matters of money can be a daily learning experience. "Let the children be around when you visit the ATM, make cash purchases. Children of four years and above learn numbers, so you can ask them to check the prices of items you buy, pay at the counter and take back the change. When they start with addition and subtraction at school, you can ask them how much change they are supposed to get back after every purchase," says Backer.
Child-adolescent psychiatrist Amit Sen, director of Children First, says children must be taught they cannot pick up something in a store and walk away and that there is a system to buy things. "You can do this by teaching them to buy clothes and chocolates for their dolls, for instance," he says.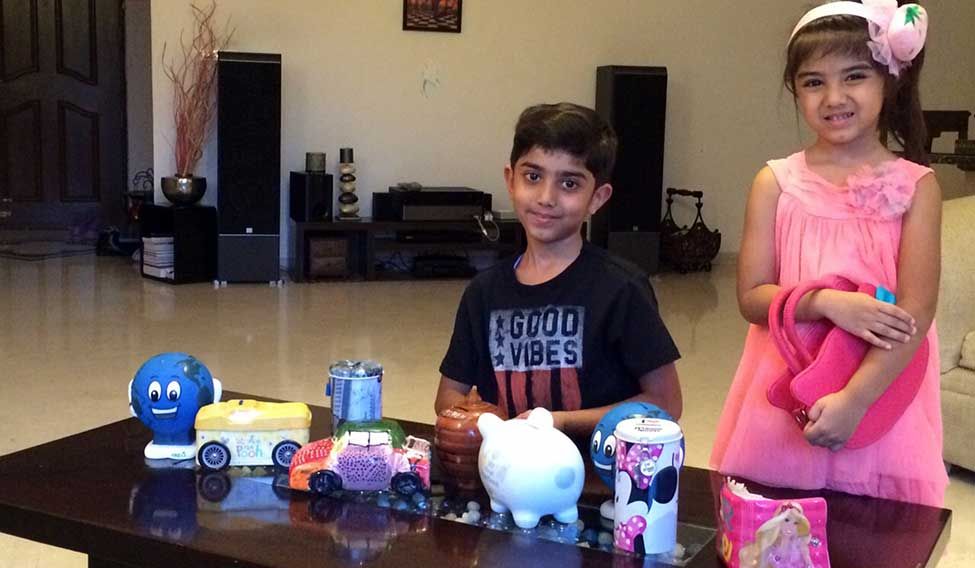 POCKET MONEY AND PEER PRESSURE
Awasthi's 7-year-old son, Rohan, is already showing signs of independence. "It doesn't matter how much my friends get, I want to save and spend in my way," he says. Children can start managing small amounts of weekly pocket money from elementary class. "The amount should be enough to buy small items like food, juices or small games," says Backer. "Even from the pocket money, teach them to save and spend on something bigger or save for something better later. Let them know that pocket money is a privilege and not a right; it can be taken away if not used well."
Peer pressure is tough to handle when it comes to pocket money, as children get it according to their families' financial status. "Therefore when there is a discussion in the school about pocket money or when children have to deal out their shares among friends, it becomes a challenge for the little minds who cannot match up to their richer friends," says Backer. "When parents talk about money at home let children hear about the situations and the choices they have to make financially. This way they are aware of their financial stretch at home. Communicate the pocket money matters openly to children, otherwise peer pressure can make children emotionally stressed out, or make them tell lies or steal from home or outside."
THROUGH THE AGES
Teach children money is a symbol of barter. "Do it through earning stars and smileys when they are less than five. Between five and eight, they can accumulate these rewards and cash them when it goes up to a specified [x] amount. Persist for an x+y figure, then increase the money accordingly. This gives them the idea that if I save more now [postpone gratification], my future would be rewarding," says Sen.
Tweens (9-12) and teens (13-18) can be taught how to save money during shopping and eating out. "Teach them to pick items based on quality, price and discounts. This goes a long way in their life as financial smartness," says Backer. As tweens, they can get allowances for school picnics and birthday parties (handling real money). And, as teens, they can get bank accounts, as they get ready for college (learning responsibility).
Values
At a time when most of urban India is caught up in a consumerism swirl, how should parents help their kids remain grounded? Affluence, success and status are being determined by money today. That's a disturbing trend, says Sen. "Money is a medium of exchange which has crept into the social fabric in an unhealthy way. When other aspects should define a person's identity, money does that today. Guards at schools will salute kids coming in big cars. Many wear branded clothes and carry expensive mobile phones. Seeing their friends, others demand higher pocket money. Their self esteem is determined by the groups of friends they want to belong to. In earlier times, friends were made for their intelligence and leadership skills. Now they are being made on materialism. Kids want their parents to drop them off at spots they can't be spotted if they are being driven in a car considered not good enough," he says. In the light of this, some schools now send circulars to parents not to send more than a toffee each for a kid's birthday or set the value of return gifts.
Open communication on what children can get, what they have to wait for and what they will not get is key, say experts. This way they know what they can expect and inculcating patience to money is important. "Help kids learn the difference between needs, wants and wishes, so they make wise monetary decisions," says Backer. "Let them make spending decisions. Appreciate the good decision and give them an explanation for the other. Help them evaluate the influence of television advertisements because most bad decisions come from these sources. Educate them on borrowing principles, discourage borrowing unless its for real, valid reasons. Be a good role model, don't be a spendthrift or miserly before them. Tell children money is not to be valued over human beings."
Kirandeep Kaur, co-founder of a Delhi-based fashion brand and mother of three aged four, 12 and 19, cautions that working parents, who are hard pressed for time, should avoid compensating with expensive gifts. "In such cases, it could give out the wrong signal to the child when a patient talk would have worked," she says.
Working on a child's self esteem is also important. "They should feel good about themselves in a way that's not dependent on money," says Sen. "As a fallout, I know of kids who stole money from home to treat people as a way of 'buying' friends. This can be prevented through discussions at home with the family and in schools."
LEARNING CURVE
By Neela Kaushik
The era of iPads and other smart devices has made instant gratification the order of the day. Kids at a young age need to be taught to accept or handle delayed gratification, especially when it comes to buying things. When things become readily available to a child, the value of the particular toy and the value of money is not felt by him.
It is also important for parents to abstain from yielding to peer pressure and remind ourselves to not over-indulge kids. This is harmful for them in the long run. Introducing a reasonable pocket money and encouraging them to plan the spend is an important parental responsibility. This will also teach kids the importance of making choices.
Keeping kids involved and informed about household financial planning at a level appropriate to their age can also help them stay in touch with reality. Money management is crucial in every person's life. It is an important life skill.
Schools should make it a part of the learning process at a young age.