" Demonetisation happened at the end of 2016, and that, coupled with the imminent implementation of RERA and GST, created a major slowdown in sales" - Niranjan Hiranandani, chairman and managing director, Hiranandani Communities

" India's compelling demographic and economic fundamentals combined with supportive government policies bode well for a long term residential development strategy" - Daniel Fournier, chairman and chief executive of Ivanhoe Cambridge
Buy three villas, get one free, say an advertisement for a project on the outskirts of Mumbai. Buy a new home without paying Goods and Services Tax, stamp duty or registration charges, say another advertisement. No floor rise say yet another one. There are offers galore to lure buyers sitting on the fence, as real estate companies desperately try to boost sales and recover from the dual blows of demonetisation and the implementation of the Real Estate Regulations Act (RERA).
The response to the ads, however, has not brought cheer to developers. Experts say increased enquiries have not translated to sales. But companies remain bullish that the sector will see better days in 2018.
According to the real estate portal PropTiger.com, home sales across nine major cities in the July-September quarter declined 18 per cent year-on-year to 44,755 units. Other reports, too, point to a similar trend in major markets like Mumbai, Bengaluru, Chennai, Kolkata, Hyderabad and Delhi.
The ratings agency CRISIL said absorption of new homes has been on a slide for nearly six years, and that demonetisation, RERA and GST have only added to the developers' woes. "Demonetisation happened at the end of 2016, and that, coupled with the imminent implementation of RERA and GST, created a major slowdown in sales," said Niranjan Hiranandani, chairman and managing director, Hiranandani Communities. "By the time RERA was in place, it was time for the GST to be implemented. So till July this year, things were very slow, across segments of Indian real estate." Hiranandani, who is also president of the National Real Estate Development Council, said the present situation was challenging.
The sector faces a double whammy—while end-users have been waiting and watching, stagnant real estate prices over the last few years in many markets have driven away investors. Things are unlikely to change any time soon.
"Our analysis shows home sales in the top 10 cities have declined at a compounded annual rate of 8 per cent since 2011," said Binaifer Jehani, director, research, at CRISIL Limited. "Demand for residential property is unlikely to revive in the next 12 to 18 months, as the fundamental problem of lack of buyers is unlikely to change any time soon."
The sluggish demand has had an impact on prices as well as new launches. Anuj Puri, chairman of Anarock Property Consultants, says the supply of new housing units in the top six cities over the first three quarters of 2017 was down by as much as 60 per cent, compared with the same period in 2016. Luxury housing and secondary home sales were among the worst-hit segments.
"With respect to property sales, the secondary market was obviously highly susceptible to demonetisation as compared to the primary market," said Puri. "Property transactions in the secondary sales and luxury housing segments tended to have significant cash components, and such sales have been hampered significantly," said Puri.
Some developers say there is enough demand in the market and that sales will start picking up once the effects of demonetisation wane and customers become more confident.
"We experienced one of our highest numbers in terms of site visits this festive season," said Sanjay Shenoy, joint MD of Bengaluru-based Legacy Global Projects. "Luxury real estate is a hefty investment and our customers like to take their time to contemplate and close the deal. It is not a lack of demand, but a more cautious approach. The conversions will reflect on numbers in the near future."
Hiranandani also sees sentiments and sales improving in the next six to 12 months.
ADVANTAGE AFFORDABLE HOUSING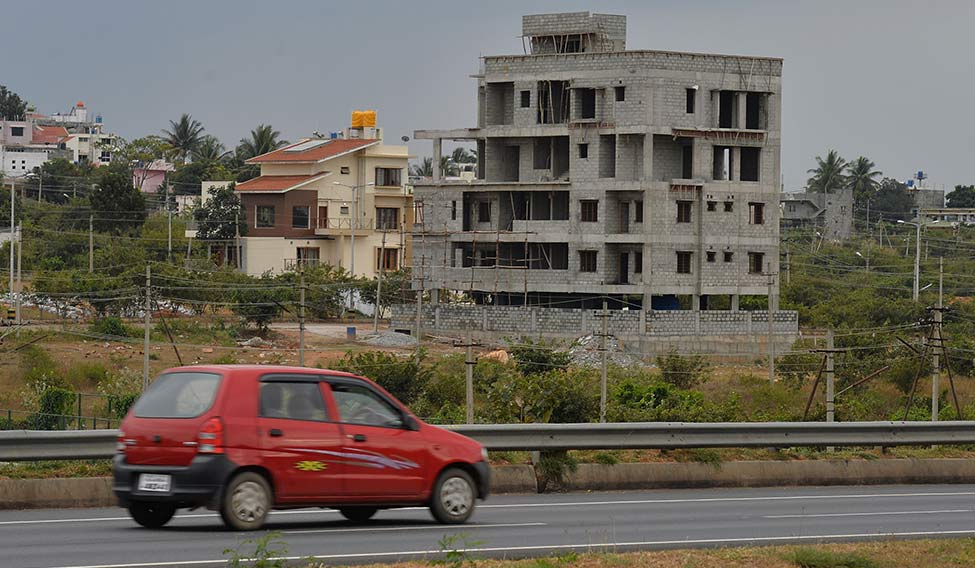 The biggest beneficiary of the resurgence is expected to be the affordable housing sector, where there is a huge pent-up demand. The recent regulatory changes will make the segment far more attractive.
On November 16, the Union cabinet decided to increase the carpet area of houses under the Pradhan Mantri Awas Yojana, the government's affordable housing scheme. In the Rs 6 lakh to Rs 12 lakh per annum income category, the carpet area was raised from 968sq.ft to 1,184sq.ft. In the Rs 12 lakh to Rs 18 lakh category, the area was increased from 1,291sq.ft to 1,614sq.ft.
Thanks to the decision, buyers can now choose from more projects that will become eligible under this scheme. "The home buyer now has a larger pool of prospective houses to choose from," said Gagan Banga, vice-chairman and managing director, Indiabulls Housing Finance. "The fence-sitters, who were delaying their home purchase, will now be given a further push. Builders can also accelerate the sale of housing units which were earlier missing out on a sizeable portion of the middle-income group audience."
Earlier this year, the government awarded infrastructure status to the affordable housing sector in the Union Budget. These measures are clearly driving more developer interest in the segment.
In the first three quarters of this year, 52 per cent of new launches were in the less than Rs 40 lakh ticket size, while 32 per cent were in the Rs 40 lakh to Rs 80 lakh bracket. Bengaluru, Delhi and NCR, the Mumbai metropolitan region and Pune saw the most number of affordable home projects being launched.
Furthermore, as property prices remain high in big cities, people are now exploring more cost-effective markets like tier-II cities and peripheral suburbs of metros, like the Badlapur-Karjat belt near Mumbai.
"Real estate investments in tier-II and tier-III cities have risen by around 17 per cent in 2017 (till August) over last year—a certain sign of buyers and investors moving towards such cities," said Puri of Anarock.
Jaipur, Chandigarh, Amritsar, Sohna, Lucknow, Nagpur, Surat, Vadodara and Visakhapatnam are some of the key cities that have been witnessing more real estate action.
STRONG PRIVATE EQUITY INTEREST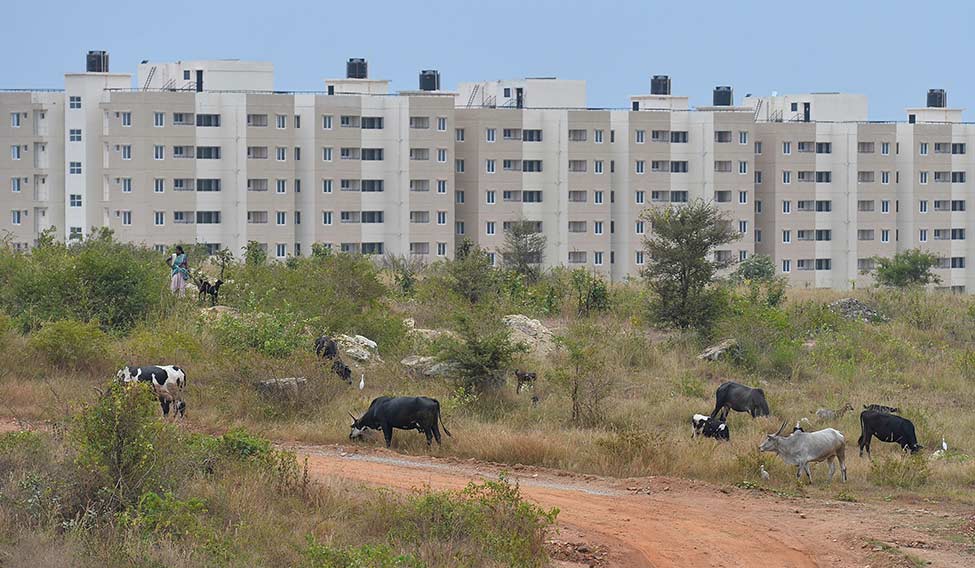 Meanwhile, despite lacklustre sales, the country's real estate market has been a big attraction to private equity investors and sovereign wealth funds that have been investing in housing, leased office assets and retail shopping centres.
According to global property consultants JLL, the sector saw private equity investments worth Rs 16,008 crore between January and June 2017, up from Rs 15,601 crore in the same period last year. The total investment in the real estate sector this year is the highest ever in the first half of the year, said Shobhit Agarwal, managing director, capital markets, and international director at JLL India.
Residential projects, including townships, across India attracted over Rs 9,000 crore, or 56 per cent of the total investment.
The surge in private equity funding has driven the total equity as well as debt investments in realty to Rs 98,000 crore between 2014 to the first half of this year, which has surpassed the Rs 95,000 crore inflows the sector received in the 10 years till 2013.
Major investors in India's realty market include Canada's Brookfield Asset Management, Canada Pension Plan Investment Board and Caisse de dépôt et placement du Québec (CDPQ), Singapore's sovereign wealth fund GIC, Qatar Holding and home-grown Piramal Realty, Kotak Realty and Motilal Oswal Real Estate.
Earlier this year, Qatar Holding agreed to invest $250 million in Mumbai-based ArthVeda Fund Management's affordable housing fund. Brookfield has a venture with Mumbai-based Peninsula Land to invest in housing projects.
In October, Mahindra Lifespace Developers and HDFC Capital announced a joint venture to develop affordable housing projects with an investment of Rs 500 crore over the next three years. Private equity firm ASK Property Investment Advisors and TVS Group's property arm Emerald Haven Realty are setting up a Rs 400-crore residential investment platform.
Earlier this year, Ivanhoe Cambridge, a real estate subsidiary of CDPQ, announced a strategic partnership with Ajay Piramal-owned Piramal Enterprises, to provide long term equity capital to A-grade residential developers across India's five major metros. CDPQ, on November 6, 2017, named former JP Morgan Chase executive Chanakya Chakravarti as MD, Growth Markets (India). It said the appointment, effective January 8, 2018, came at an "important time" for its growth in India. The company has said that India is a key market for its global growth. Indications are that Ivanhoe Cambridge will increase its investments in India given the size of the market and available opportunities.
"India's compelling demographic and economic fundamentals combined with supportive government policies bode well for a long term residential development strategy," Daniel Fournier, chairman and chief executive of Ivanhoe Cambridge, said.
Regulatory changes like RERA and a move towards more digital transactions, which will bring transparency to the sector, apart from the huge demand-supply gap in areas like affordable housing, is driving investors to India.
"Reforms like RERA and GST, apart from regulatory laws such as the Benami Properties Act, and the shift to a digital economy post demonetisation means a foreign investor gets clarity in terms of calculating return on investment," said Hiranandani. "There is also the security of a stable legal system, not to forget a stable government."
He said the new paradigm in real estate coupled with reforms by the government have changed the investment scenario in India, making it one of the most attractive emerging markets from a global investor's perspective. This, according to him, makes Indian real estate a good bet to generate healthy, risk-adjusted returns.