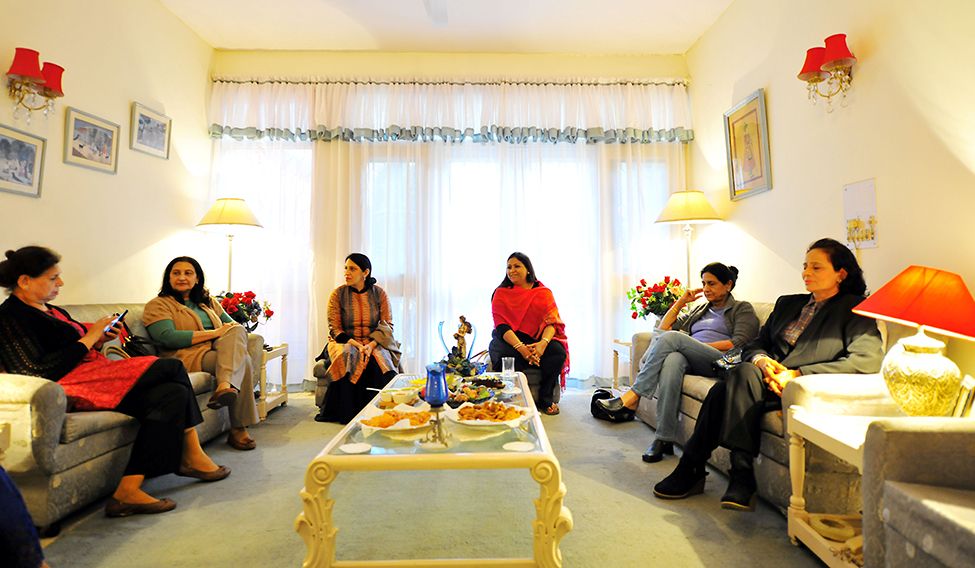 You don't find daughters-in-law saying there is anything in common between them and their mothers-in-law. But Astha Jain, a well-heeled Noida housewife, admits to a common interest, the kitty party. Both Jain and her mother-in-law are avid patrons and members of a handful of kitty groups each. Their social groups may be different, but for both women, these get-togethers are the high points of their social life, and an avenue for saving a little "me money" for themselves.
Jain's group meets at interesting venues every month. It could be a new restaurant in town or a farmhouse getaway. This is their day, for which they dress up, stash up on gossip and, most importantly, carry their 015,000 contribution for the kitty draw. The excitement as the winner is announced remains the high point of the meeting.
Jain is financially well-cushioned to spend her annual windfall on a personal indulgence, usually a piece of jewellery or a coveted cellphone. "No way will this money ever make its way into household expenses, it is something I have saved carefully," she says.
Tell her that keeping aside a sum every month for a year and not accruing even the minimal four per cent interest that banks give in a savings account is not the best way to manage personal finances and pat comes her reply: "It is any day better than not being able to save even that fixed amount, isn't it? Over the course of a month, one doesn't really know where the money disappears. This way, at least it is in safekeeping."
It is not so much about earning interest on the saving as it is about the saving itself. The money wouldn't stay in a piggy bank at home for long, says South Delhi homemaker Anita Singh. "These are small savings, separate from monthly investments," she says.
Singh calls herself rather careless where money is concerned, and were it not for her four kitty groups, she might not see her household budget money ever accumulating into a grand sum of one lakh rupees. She bought a flat screen television set from one of her kitty jackpots.
Having said that, Singh points out that while the kitty draw is the high point of the meets, it is the getting together of friends that is the greater driving force. "When one has a fixed date, one can work towards it, keeping time aside for the party," she says. Singh has been part of kitty groups for years and she has seen how it has evolved from those home-based gatherings where the hostess fretted over her display of perfection and wound up pooped at the end of the day. "Nowadays, we prefer meeting at a restaurant. There is no cooking or washing up to bother about and we also get some personal space away from our families," she says.
Kitties can range from the extravagant and indulgent to the spiritual and philanthropic. There is the Shatabdi kitty that a group of diamond-dripping women from Ludhiana conduct, which entails a trip in the Shatabdi train to Delhi, where they have a five-star booked for their ladies day out. The contribution to the kitty alone is 050,000 per head, the other expenses like restaurant bills are separate. On a similar level of snootiness is the Louis Vuitton kitty in Lucknow where you need to tote an authentic LV purse to gain membership into the club.
At the other extreme is Aruna Kumar's Amritvani kitty. It is a devout group where members bond over spirituality and keep a percentage of the collections aside for donation. Jain's mother-in-law, too, is member of a bhajan kitty. Here, overhead expenses are low, perhaps just a cola or coffee with cookies, but the spiritual component is strong.
Whoever said that gains have to be only financial. Or that money has to grow in accordance with fixed percentages? Kitties also offer the platform for networking. A landlord looking for a tenant gets valuable leads as does a diabetic seeking to change her doctor. It is the network component that makes couple kitties as sought after by husbands as their wives. But nothing could beat the joy of getting the lump sum amount. Jain and her husband went to Thailand with their couple kitty earnings.
Did anyone say that kitty parties are the indulgence of the rich and bored housewives? Your maid is as likely to be part of a kitty or society, as it is also called, into which she puts in 0500 a month, in anticipation of getting a fat lump sum once a year, with which she may buy a refrigerator or celebrate Diwali. Her get-together may not be grand, it might not even be a party, only a meeting to draw the lucky winner, but the excitement and planning for the spending is just as high. "The best thing about this is that if one of us has an urgent requirement, she gets the kitty money out of turn," says Durga, a domestic help.
Like all associations, kitty groups are also fraught with quarrels, but veterans tell you that the best way to handle these issues is to have a good auditing in place. "I am the book-keeper for most of my groups and make entries of every expenditure, even the amount that the hostess for the month is spending," says Jain. "This way, there is no squabbling over the money aspect, at least." As for quarrels over other issues, well, they are part and parcel of human interactions everywhere.