The dawn of a new year is as good a time as any to get investments underway. And, if you have decided to invest in mutual funds, you are surely on your way to building wealth. The wide array of choices, though, might leave you confused.
To make the choice easier, here is a list of the ten best mutual funds, picked on the basis of investment style, consistency of performance over long term, volatility of returns, and the level of risk taken, and whether such risk has paid off in the past. These funds represent a mix of pure equity, pure debt and hybrid funds, besides risk levels. Choose the funds that best suit your time frame and risk appetite. Remember, equity funds require a holding period of at least five years and debt funds require a minimum of two to three years.
ICICI PRUDENTIAL FOCUSED BLUECHIP
This pure large-cap, low-volatile equity fund is suitable for those with moderate risk appetite. Large-cap stocks are more stable and less risky. Rolling ICICI Focused Bluechip's returns for three-year periods over the past five years, the fund has been well ahead of both its benchmark index (Nifty 50) and its category all the time. Current holdings are a mix of the more promising private sector banks, defensive sectors, technology and health care, besides those that can pick up with economic activity and consumption, such as energy and automobiles.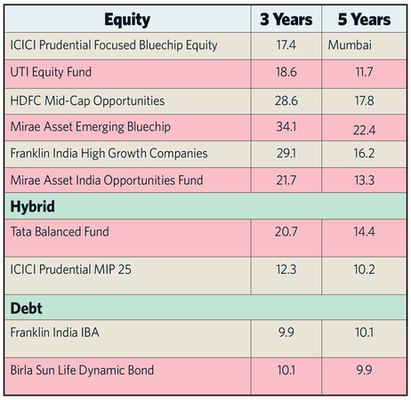 UTI EQUITY
This fund invests 75 to 80 per cent of its portfolio in large-cap stocks and puts the remaining in mid-cap to pep up overall returns. UTI Equity has posted better returns than its benchmark BSE 100 and its category all the time when three-year returns are rolled over the past five years. While the fund is more volatile than peer average and holds higher risk, it has so far delivered commensurate returns and diffuses risks with a very large basket of stocks. Apart from banks, the top sectors held are automobiles, software and energy.
HDFC MIDCAP OPPORTUNITIES
This mid-cap fund is for those who can take high risks. Benchmarked against the Nifty Midcap 100, the fund has been adept at containing losses during falling markets. The fund is among the less volatile ones in a category and the fund house tends to take long-term calls on stocks and does not always go with the current flavour of the market. HDFC Mid-cap Opportunities' current portfolio, for instance, tilts towards engineering, agro-chemicals and consumer durables. This investment style may cause its performance to pale, compared to peers, in the short term. But, over long term, the fund delivers very well. Its three, five and seven year returns are 9 to 10 percentage points better than the Nifty Midcap 100.
MIRAE ASSET EMERGING BLUECHIP
This is another fund that needs high-risk appetite. With its portfolio made up primarily of mid-cap stocks, Mirae Asset Emerging Bluechip has beaten its benchmark Nifty Midcap 100 by a margin of 9 to 15 percentage points in the one, three, and five-year periods. The fund, in both short and long term, has beaten its category returns nearly all the time. It is currently betting big on finance, health care, engineering, and service sectors such as software, logistics and entertainment.
FRANKLIN INDIA HIGH GROWTH COMPANIES
One for the high-risk-taker, this fund can invest across the market capitalisation spectrum and sports a good record of consistent outperformance. On an average, just about half its portfolio is invested in large-cap stocks and the rest in mid-and-small caps. It is, however, more volatile than its peer average. But the risk it takes has paid off so far. In the one, three, and five-year time frames, the fund's returns are nine to 16 percentage points higher than the benchmark Nifty 500. It currently holds a good mix of consumer and cyclical themes in banking, automobile, telecom, and engineering.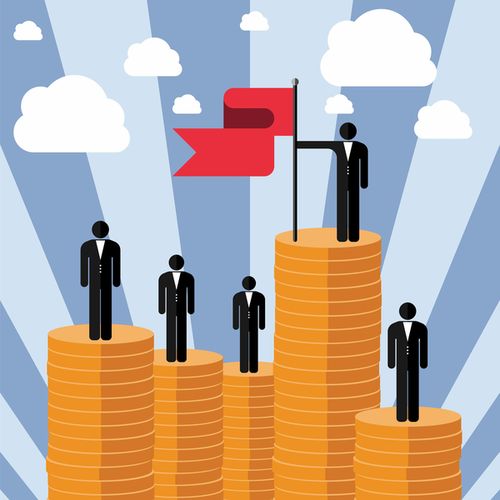 MIRAE ASSET INDIA OPPORTUNITIES
This fund can invest across market capitalisations, but tends to hold a higher share of large-cap stocks and is benchmarked against the BSE 200. From its inception in early 2008, the fund has comfortably been ahead of its benchmark. Compared with the average returns of its category, too, the fund sports a shining record of consistency in doing better. It is also less volatile than its peer average, and requires a moderate risk appetite. Its portfolio currently leans towards financials, pharmaceuticals, and software.
TATA BALANCED FUND
This equity-oriented balanced fund maintains an equity level of 70 to 75 per cent and invests the rest in debt. Most of its stocks in the equity portion are stable large-caps but, depending on market conditions, it adds a good dose of mid-cap stocks. In its debt portfolio, it actively juggles both duration and mix of securities. Across the one, three, and five year periods, the fund is firmly perched in the top quartile of its category. The fund requires a risk appetite that is a couple of notches lower than pure equity funds.
ICICI PRUDENTIAL MIP 25
This fund, which calls for a low-risk appetite and a two to three year holding period, puts around 25 to 30 per cent in equities and the remaining in debt. Against its benchmark CRISIL MIP Blended Index, the fund has done better nearly all the time when three-year returns are rolled daily for five years. Its equity investments are usually from the Nifty 50 index, and are thus stable bluechips. With interest rates trending down, it has moved markedly into government securities. The fund plays around with maturity profiles depending on the cycle—it has gone to a modified duration of less than a year in 2011 to five years now.
BIRLA SUN LIFE DYNAMIC BOND FUND
It does not involve high risk and holds a good performance record. The fund juggles the mix of securities it holds (gilts, bonds, commercial paper, certificate of deposit, and so on), depending on the rate cycle. Historically, it tends to maintain a shorter modified duration of one to three years. But over the last year, modified duration has been upped to five to six years, given the sharp rally in long-term government securities with the interest rate cycle turning down. The fund also has a good allocation to higher-yielding AA-rated corporate bonds.
FRANKLIN INDIA INCOME BUILDER ACCOUNT
This relatively high-risk debt fund aims at delivering higher yields and, to that end, can invest in outside of top-rated interest bearing bonds. The fund has however been diligent in ensuring that lower quality paper is not the result of poor company fundamentals. Its latest portfolio, for example, has 40 per cent in bonds rated A and below, and under 20 per cent in government securities. In the three and five-year periods, it has beaten the benchmark by 2 to 3 percentage points.
Bhavana Acharya is mutual fund analyst, FundsIndia.com.
Disclaimer: Past returns are not indicative of future performance. Mutual fund returns are subject to market risks. Please read the scheme information document and statement of additional information carefully before investing.