Long-term capital gains tax benefits on housing, which could earlier be availed of after three years, has been brought down to two years.

"The increased limit for tax benefit will help self-employed individuals to save tax on higher contribution in NPS" - Dinesh Rohira, founder and CEO of 5nance.com

"The entire effort behind bringing more people under tax net and ensuring compliance is very positive" - Archit Gupta, founder and CEO of Cleartax
After keeping herself hooked to television for almost an hour on budget day, Lekha Bhatia has been avoiding discussions on it. Disheartened, she says there is nothing in the budget for people like her. Manager at a foreign bank, she pays about Rs 4.6 lakh annually as income tax. She falls in the 30 per cent income tax bracket, and the Rs 12,500 tax rebate will not make much of a difference to her tax outgo.
Many people, especially the well-heeled, share Bhatia's view. Coming on the back of the demonetisation, Finance Minister Arun Jaitley's fourth budget was widely expected to offer tax sops to individual taxpayers—either in the form of changed tax slabs or an increase in the limit of exceptions under Section 80C. Jaitley, however, decided to ignore predictions and give something for the common man—those in the income group of Rs 2.5 lakh to Rs 5 lakh.
Manav Gehani, a teacher at a private school in Delhi, is happy that now he will have to shell out only half of what he was paying as tax. He started working two years ago and earns Rs 5 lakh a year. While the basic exemption limit has been kept the same as it was last year, for people in the Rs 2.5 lakh-Rs 5 lakh category, the rate of tax has been brought down to 5 per cent from 10 per cent. Gehani says he will invest the savings in a smartphone he has been dreaming for long.
The good news, however, comes with a catch. The tax rebate for this segment has been brought down from Rs 5,000 to Rs 2,000 and will now apply only to income up to Rs 3.5 lakh. This effectively means that individuals with income less than Rs 3 lakh and senior citizens with income less than Rs 3.5 lakh will not have to pay tax. However, they still have to file income tax returns.
With this cut, Jaitley was aiming for two birds with the same stone—give some relief to small tax payers and widen the tax base. "Looking at the fact that the tax base of our country is very narrow, this reduction will help in increasing the tax base. As per the budget, 1.95 crore people of total tax payer community of 3.7 crore come under the income slab of Rs 2.5 lakh-Rs 5 lakh. This group consists of 52 per cent of tax payers," said Mimi Parthasarathy, managing director, Sinhasi Consultants, an investment advisory firm. Jaitley said Rs 15,500 crore has been foregone by giving the Rs 12,500 rebate.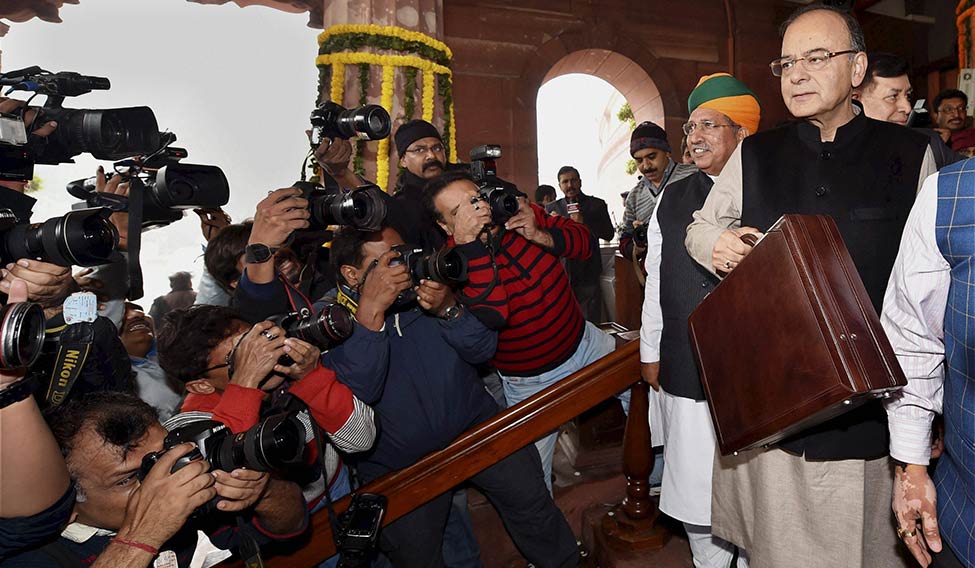 While the finance minister rewarded small tax payers by reducing their outgo, he was not as benevolent to the wealthy. People who have an annual income of more than 050 lakh will now have to pay a surcharge of 10 per cent on their taxable income. Take, for instance, Jitesh Pillai, regional head of a consumer appliances company. He earns Rs 70 lakh a year and pays around Rs 22 lakh as tax. A 10 per cent surcharge will add Rs 1,96,500 to his existing tax burden. "This was not at all expected. Rather than giving some incentive to honest tax payers in the higher income bracket, we are being punished to compensate for tax evaders," said Pillai.
Only 0.46 per cent of tax payers (1.72 lakh people) earn more than Rs 50 lakh a year. The government is expecting an additional revenue of Rs 2,700 crore through the 10 per cent surcharge. The 15 per cent surcharge on super rich, or people with income more than 01 crore a year, will continue.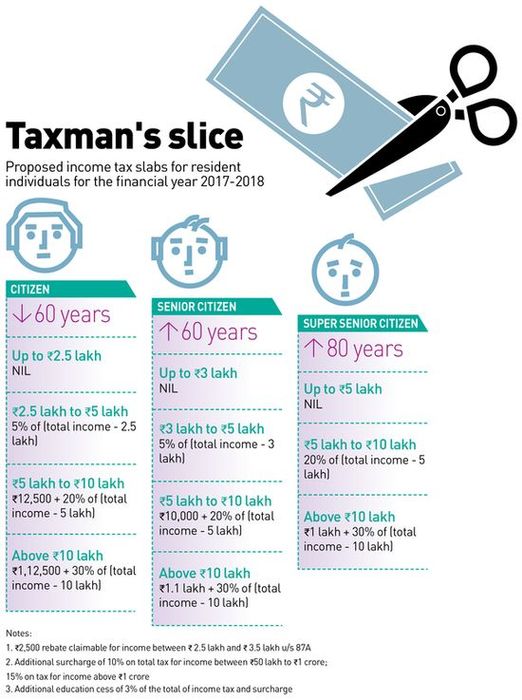 The budget also cracked the whip on people who were claiming deduction on interest paid for the property by setting it off against rental income. From April 1, 2018, those who have rented out a second property will be able to set off a claim on only up to Rs 2 lakh. That is, if you were paying an interest of Rs 8 lakh a year for your second home and its rental income annually was Rs 2.40 lakh, you could claim a deduction of Rs 5.6 lakh (8 lakh – 2.4 lakh = 5.6 lakh) in your salary income. But, as per the latest proposals the set off will be capped at Rs 2 lakh. Analysts say this will negatively impact property purchases and will hamper investment prospects for wealthy individuals.
Balwant Jain, a chartered accountant and a certified financial planner, says it does not make any sense to carry over as the amount will keep getting accumulated every year. Many people used to borrow heavily for buying a second home to avoid taxes.
Revenue Secretary Hasmukh Adhia said that the government sees no point in subsidising purchase of second property by those who have surplus funds. Moreover, he added, the tax incentive for second home loan borrower was being "virtually misused".
Jain said investing in property did not make sense because it was an illiquid investment and rents were quite low. One should rather invest in equity mutual funds to get handsome returns over a long period of time, he said.
There is another bad news for landlords. If you have a second property on rent and you are getting more than Rs 50,000 as rental, the tenant will have to deduct 5 per cent TDS from the rent.
Long-term capital gains tax benefits on housing, which could earlier be availed of after three years, has been brought down to two years. Long-term capital gains is taxed at concession rate of tax of flat 20 per cent, and it qualifies for various exemptions, where the taxpayer can save his tax liability by investing either in another residential house or in capital gains bonds of Rural Electrification Corporation or National Highway Authority.
"The move is aimed at improving transactions, especially since demonetisation has impacted annual sales, bringing them down to a six-year low, according to some estimates. This will push secondary transactions in the real estate sector," said Pankaj Kapoor, managing director, Liases Foras, a real estate consultancy company.
The finance minister has also proposed to shift the year for giving the taxpayer the option to treat the market value as on April 1, 2001, instead of April 1, 1981. Currently, for the purpose of computation of capital gains, you have the option to take the fair market value of the property as on April 1, 1981 as your cost if it is acquired before this date and apply the benefit of indexation on it. The budget proposes to move this to April 1, 2001.
"This will be beneficial for all the tax payers as the price appreciation between your date of acquisition and April 1, 2001 becomes fully tax free in your hand. Though you were allowed to index the market value on April 1, 1981, but the general price increase in capital assets has been more than the cost of inflation index in these years," said Jain.
While the government has not expanded the scope of investments in the budget, Jaitley has tinkered with the National Pension System, making it more attractive for investors. Till now, the salaried were entitled to contribute and claim deduction for contribution to NPS account up to 10 per cent of salary in addition to contribution by employer of 10 per cent. So an employee could get deduction for 20 per cent of his salary for contribution towards his NPS account, whereas a non-salaried person was allowed to claim deduction only 10 per cent of his income.
The budget proposes to remove this and make non-salaried people also eligible for deduction up to 20 per cent of income. Moreover, currently 40 per cent of the withdrawal from the NPS corpus on attaining 60 years of age is fully exempt from tax whereas any partial withdrawal during continuance of the account is fully taxable. The budget proposes to make partial withdrawal up to 25 per cent of the account holder contribution fully exempt from tax.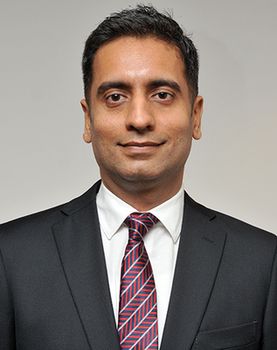 "This increased limit for tax benefit will help self-employed individuals to save tax on higher contribution in NPS and thereby properly plan their old-age income security. Making 25 per cent withdrawal tax-free makes the scheme all the more attractive as it gives the much needed liquidity to people in times of need," said Dinesh Rohira, founder and CEO of 5nance.com.
One theme which runs uniformly through Jaitley's tax proposals is ensuring compliance and disclosure. This year, changes have been made with respect to various aspects of filing income tax return, again to ensure more compliance. And, people like Amit Khandelwal have a lot to worry. A research assistant, Khandelwal is a self-confessed procrastinator and seldom files his returns on time. "I file returns but since there was no penalty or fee, I would take it easy. There have been times when I filed returns for two years together but it seems there is no escaping now. I will have to pull up my socks," he said.
Earlier, one was allowed to file income tax returns for previous two years. Last year's budget brought it down to one. From April 1, 2017, you will be able to file your income tax return only for the previous year and that needs to be filed by March 31, 2018.
The Income-Tax Act provided that in case you failed to file return before the end of the assessment year, the income tax officer could levy a penalty of Rs 5,000 after giving adequate notice to explain your case. Last year's amendment, however, made the penalty redundant as anyway the return cannot be filed after the assessment year.
"In order to ensure that tax payers file their income tax returns by the due date, which is generally July 31 for most tax payers, this year's budget has proposed to levy a mandatory fee for any delay in filing income tax returns. This means that now you cannot postpone filing. The entire effort behind bringing more people under tax net and ensuring compliance is very positive," said Archit Gupta, founder and CEO of Cleartax, an online return filing portal.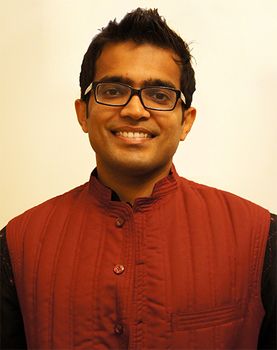 The fee would depend on the delay and the income. In case your annual income exceeds 05 lakh, you will have to pay a fee of Rs 5,000 if you file your income tax returns after July 31 but before December 31 of the assessment year. For filing returns after December 31 but before March 31, you will have to pay a fee of Rs 10,000. The fee, however, would be restricted to Rs 1,000 if your taxable income is less than Rs 5 lakh for the year. This mandatory fee has to be paid as self-assessment before filing of the income tax return without having to wait for any communication from the assessing officer. The fee is not payable if your income does not exceed the basic exemption limit.
"This mandatory fee will result into additional revenue for the government instead of penalty which did not bring any substantial revenue," said Jain.
Investment adviser Hemant Rustagi said one should not look at budget only from a tax perspective. "The budget affects us in more ways than just tax," he said. Although the budget does not open a new avenue for investment, the fine-print is quite important in deciding how investments will shape up. "The finance minister sticking to fiscal deficit of 3.2 per cent is quite significant. It is a positive move and that's why equity markets rallied post budget this year. Had he announced tax cuts without keeping fiscal discipline in mind, the markets would have tanked, which means that your mutual fund investments and your equity investments also would have gone down," he said.
A low fiscal deficit means that interest rates will remain low, rupee will not depreciate much, companies will save on interest payments for loans and debt market returns will be good. All of these are crucial for economy to be in good shape and for your investments to perform positively.