Be grateful for the home you have, knowing that at this moment, all you have is all you need"—the very importance of having a home, a safe and secure place to stay in, is beautifully captured by Sarah Ban Breathnach. In addition to being one of our most prized possessions built with our hard-earned money, home is where we create all the memories that are cherished forever. However, when an unexpected disaster strikes, be it natural or manmade, this paradise built by our love and sweat is one of the first to get affected. Well, disasters are beyond the control of human efforts. All that we can do is protect our assets from damage and take corrective measures to avoid any significant loss.
The floods that ravaged Bhopal, Assam and Uttarakhand recently, and also Tamil Nadu last year, have had a debilitating effect on the citizens. It clearly brings forth the bitter truth of the magnitude of damage that natural calamities can have on our lives, however financially stable we are. The damage caused by the floods in the country has adversely affected not only human life, but also vehicles, crop, property, machinery and small industries.
The repercussions of natural calamities are always more than one can anticipate. However, one of the worst hit are homes that get affected during any natural calamity, causing irreparable damage to its contents, resulting in extensive financial loss. The immediate challenge that one shall face is that of rebuilding the entire house by having to spend all the money in one instance and that, too, at today's market prices. More than often, financial resources may not be readily available to recover from such an instance. In such situations, it is almost impossible to bounce back to normalcy without support from an insurer.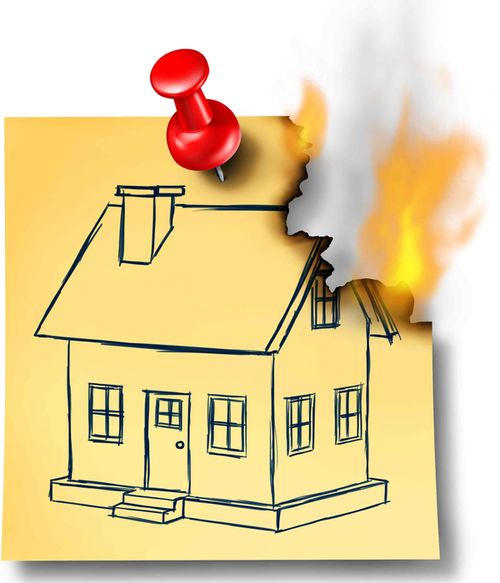 Why home insurance:
A home insurance product, available with most insurers, is a package solution which addresses most of the insurance requirements of a family. The basic coverage offered by this product is financial protection in the event of loss or damage to the house and the contents due to specified causes.
Property/home insurance policies offer a gamut of benefits to the customers. They provide coverage against fire, burglary/ housebreaking and natural calamities, losses or damages to domestic and electronic appliances and portable equipment, such as laptops, liabilities like tenants' legal liability, domestic workmen compensation and public liability. Usually, insurance provides coverage against natural calamities like fire, explosion and implosion, earthquake, lightning, storms, flood and inundation, subsidence, landslides and rockslides.
For beginners, getting the right insurance that covers all the assets is important. While life and health insurance covers are absolutely important for every human being, it is essential to include property insurance as an integral component of your financial planning. Apart from the building, the contents and other valuables in the house can also be protected through a home insurance cover.
To buy the right insurance policy for natural calamities, you may require to do some market research before signing on the dotted line. Here are a few tips to simplify the process so as to strategically make the correct decision:
Gather all the information on the policy as well as the insurance company to understand their reputation in the market, particularly the speed of claim settlement
Be aware of the inclusions and exclusions of the policy so that you can have an appropriate mix of all that you require in the policy. Cheaper covers may leave out some important coverage that is essential for full protection
Look for available insurance riders. The insurance company that you approach may be able to offer you extra coverage especially for valuable items like jewellery
It is advisable to insure the building on reinstatement value basis, which represents the present day construction cost of similar structure and finish. This would ensure that the compensation in respect of building is computed on similar basis without making any deduction for depreciation. However, the contents need to be insured on market value basis only which would be equivalent to the new value of similar assets less the depreciation for the years of use. One needs to make sure that all assets are insured for adequate values. Else, the compensation payable under the policy will be reduced to the extent to which they are underinsured.
Timing, too, is important when it comes to disaster insurance. It is important that you may not be given a cover against a natural disaster when one is in the offing. It is important to take the cover and keep it renewed at all times.
Always remember to read the contents of the insurance policy in detail. Do ensure that you purchase the insurance policy from an insurer with a good claim settlement record. Think about the security and peace of mind that the insurance protection will offer.
Rao is managing director and chief executive officer, Future General India Insurance Company Limited.
Claims procedure:
The settlement of claims for home insurance is very simple and transparent. Particularly, in the event of a natural calamity, insurers are very empathetic and make the process simpler than they are in normal times. For a claim under home insurance, apart from a simple claim form which elicits basic information such as the date of loss and details of the affected property, very little is asked for except for an estimate of loss based on which the insurer proceeds to have the loss assessed by an independent surveyor. Where the property is insured on reinstatement value basis, the repair bills have to be submitted. Even in such cases, insurers would be ready to make an on account payment as part of the claim proceeds to enable the customer carry out repairs.
Even for normal claims other than those arising out of a natural calamity, the process of preferring a claim under home insurance is quite simple. In addition to the claim form and the estimate of repairs, the customer needs to submit a copy of the FIR where a crime like burglary or theft has been committed. Any photographs corroborating the loss or damage could be helpful.