HDFC Bank enjoys a superior asset quality; gross and net non-performing assets remain in low single digit levels compared to mid-high single digits for other private sector players.
The figures speak for themselves. As on February 20, HDFC Bank trades at about 5 x adjusted price-to-book ratio (December 2015) and about 22.5 x price-to-earning ratio (trailing twelve months/ December 2015). These are above the bank's eight-year average of 3.9 x P/B and 19.8 x P/E, and the sector average of 3.2 to 3.5 x P/B (December 2015).
The valuations are supported by stable asset quality and net interest margins, low slippage and restructuring. The valuations would become more attractive with the infusion of Rs100 billion. At current prices, it means about 94.4 million shares would be issued, which would bring the current multiple down by 3 per cent.
The fresh infusion would increase tier-1 capital by about 2.5 per cent, taking it to above 16 per cent—the highest among large-cap peers—thereby reducing the incidence of further infusion of capital till 2017. This would free up fresh gap to advance more loans. (HDFC's tier-1 capital was 15 per cent (+) in September 2014.)
Fundamentally, too, HDFC Bank remains one of the best players in the sector. And, it is well-poised to benefit from the economic revival. The bank management recently indicated that while revival of the capital expenditure recovery cycle would be six to nine months away, the retail segment has started to pick up. The commercial vehicle/construction equipment segment grew 4 per cent quarter-on-quarter, after declining in the preceding three quarters.
Also, the bank believes that corporate credit would outpace retail credit in two to three years. Retail loans account for about 45-50 per cent of the loan book, while the remaining pie is represented by wholesale loans, or corporate loans with different products.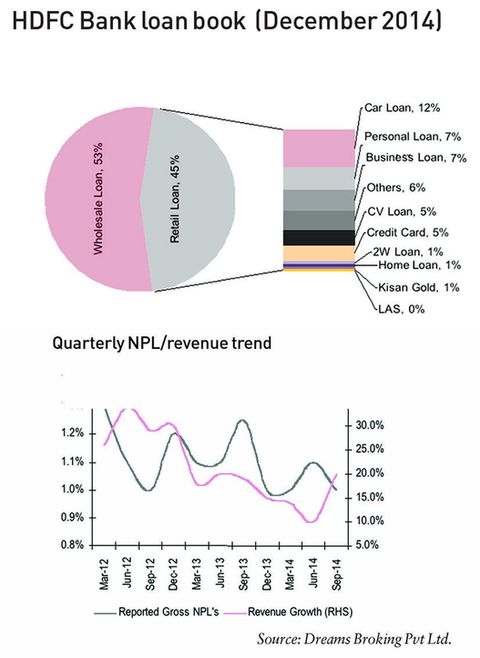 Though the bank would continue to have working capital loans as its mainstay product, it will not keep off project finance. Recently, it advanced Rs20 billion to NTPC. The bank is also in the process of obtaining approval for funding to sectors such as infrastructure and housing through exempted bonds.
The bank's net interest margins are expected to remain stable at 4.5 per cent, as decline in cost of funds, owing to the fall in commercial paper rates, would largely be offset by softness in lending rates. Fee income (about 32 to 34 per cent of the total revenue) would continue to lag loan growth. The fall in bond yields (about 60 basis points between March 2014 and now) would aid booking handsome treasure gains, albeit that would depend on whether the bank books profit now or waits for further fall in bonds yields.
During the third quarter of the current fiscal, the bank's net interest income grew 23 per cent to Rs57 billion and remained stable at 4.4 per cent. The total loan book grew 17 per cent, while the gross and net non-performing asset ratios improved marginally to 0.99 per cent and 0.26 per cent compared to 1.01 per cent and 0.3 per cent, respectively, a year ago.
As expected, retail loans picked up and grew 12 per cent, while working capital loans grew 14 per cent. Growth in retail loans will have to be analysed for any trend, while further pickup in wholesale loans is expected with the boost in economic growth, as large corporations with stronger balance sheets would expand.
HDFC Bank enjoys a superior asset quality; gross and net non-performing assets remain in low single digit levels compared to mid-high single digits for other private sector players.
Besides working on managing asset quality and reporting good numbers, the bank is strengthening its base and has added about 1,000 branches in past two years, mainly in semi-urban areas. They have added largely to deposit growth, which in turn have favoured the current and savings accounts ratio and reduced cost of borrowings.
There are also many low-cost branches—managed by two or three people—generating strong business. Going forward, the pace of branch addition would be moderate and the bank would look to add services at the newly opened branches.
Over time, HDFC Bank has pruned its direct selling agents' network by about 750 for various reasons and streamlined the business. It is also leveraging technology better and making use of digital banking to sell products.
HDFC Bank remains a star within the sector, which is engulfed in dilemma, where low credit off-take on one side and deteriorating asset quality on the other are bothersome. The Reserve Bank has consistently reduced the statutory liquidity ratio as promised, making liquidity available. By an estimate, a 50-100 basis points cut in SLR would free up to Rs430 billion in liquidity.
Repo and reverse repo rates, too, were also cut in January. The RBI, however, would remain cautious in making further cuts, as the global financial environment is still struggling its way out of recession. The US is still maintaining a "reasonable time" approach for rate cut. Europe recently announced quantitative easing to support the economy. And oil-exporting countries are struggling with declining crude prices.
At home, the situation looks under control, as declining oil prices have considerably reduced subsidy burden. Our forex reserves are now close to $350 billion, from under $300 billion earlier, and the RBI has not wasted its reserves battling the depreciating rupee.
The Union government, which is now a year old, will have to bring in necessary fiscal discipline before expecting the RBI to move forward and support the banking sector.
Arora is a financial expert with Dreams Broking Pvt Ltd.
Views expressed are solely those of the analyst.