Samsung has just unveiled its brand new Galaxy S23 series along with its line of Galaxy Book3 notebooks. There are three smartphones, as expected, with the Galaxy S23 starting at Rs, 74,999, S23+ at Rs94,999 and the S23 Ultra at Rs1,24,999. I got a chance to try these new smartphones very briefly, and here's how it went.
Starting with the flagship S23 Ultra, Samsung has upgraded the device with some interesting internal changes - chipset, camera as well as the display, to some extent. The company has opted with a custom chipset for the device based on the Snapdragon 8 Gen 2 chip. Samsung's main reason to go for their custom design is enhanced gaming and thermal performance compared to the competition. From what little time I had with the phone, it seemed the camera app opens and closes slightly quicker than the S22, and the display seems a bit brighter, too. For camera performance itself, one would have to try and test it for a longer duration, but on paper, it is a quad camera setup - 200MP (f/1.7) main camera, dual 10MP (f/2.4 & f/4.9) telephoto cameras, and a 12MP (f/2.2) ultra-wide camera. The front has a 12MP (f/2.2) camera. It will be especially worth trying the low-light performance with multiple-exposure and any video performance enhancements this time. There is also a new HDMI mode where you can do straight preview on external monitors. The display here is a 6.8-inch QHD+ AMOLED with support for up to 120Hz refresh rates along with hopefully an enhanced HDR output support. You get a 5,000 mAh battery unit along with fast wireless charging 2.0 support. Samsung claims it can charge from 0 to 65% in about 30 minutes using the 45watt charging adapter that is sold separately, so worth checking how long the bundled charger takes.
The phone has some sustainable materials used for components like the Power/lock key and volume buttons, as per the company. The edges on the sides on the display have been now somewhat flattened (may not be very far when Samsung actually goes full flat on it). There's also the S-Pen that fits into the bottom (not compatible with the other two phones). The phone comes with 12GB and 8GB LPDDR5 RAM options with storage going from 256GB to 1TB.
Coming to the S23+ (196grams) and S23 (168grams), these are considerably smaller devices than the S23 Ultra. They have a familiar block-y design with smoothened and curved edges that, if done right, can give a really nice feel to a device. And I found both devices to fit comfortably in hand, and are not very slippery either. While the S23 has a 6.1-inch full HD+ AMOLED display,l to go with 3,900 mAh battery, the S23+ gets a 6.6-inch full HD+ AMOLED to with a 4,700 mAh battery unit. Both devices come with 8GB LPDDR5 RAM with 256GB and 512GB shortage options with the S23 also having a 128GB base variant. They have a simila triple camera system - 12MP (f/f/2.2) ultra-wide camera, a 50MP (f//1.8) main camera, and a 10MP (f/2.4) telephoto camera; with a 12MP (f/2.2) front-facing camera.
All these devices have IP68 water and dust resistance, and run on Samsung's One UI 5.1 based on the Android 13 OS. They have WiiFi6E protocol and 5G support with a lot of bands in place, but I will reserve my judgement on 5G as well as 4G LTE afterbusing any of these devices over a longer period across different locations.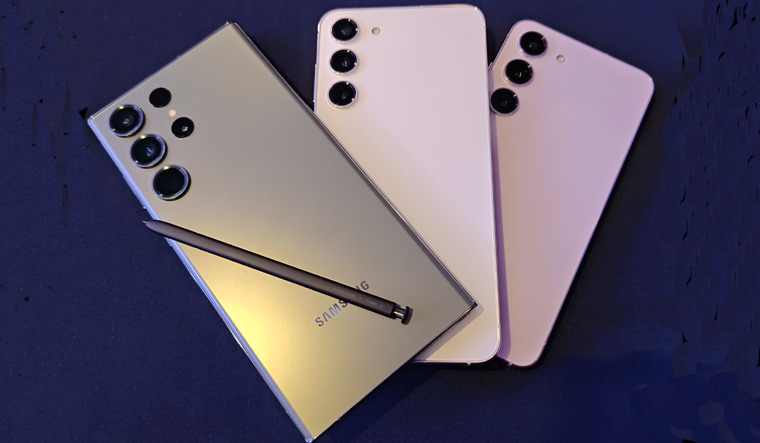 Samsung has also come up with a few sustainably made cases for these devices that will be sold separately.
There would be a lot more try, measure and preview when I can actually try one of these for a few days. Samsung is clearly going big on the cameras and is also not shying away from providing for battery upgrades over the predecessors.