Samsung has made quite a few big changes in the past year or so when it comes to its wearable offerings. Moving from its own Tizen OS for smartwatch to Google's Wear OS being the biggest shift. Wear OS itself has been making some change and updates with watch makers trying to get on the latest OS for better performance and feature set than before, something a lot of smartwatch users have been asking. The Watch5 Pro is Samsung's latest flagship smartwatch – that comes in GPS + LTE and GPS + Bluetooth-only models. I tried the former, which is priced at Rs. 49,999, and here's how it went.
Design: I tried the Watch5 Pro 45mm size in the gray titanium variant (Watch5 has aluminium) that has a full grey 20mm band with a magnetic clasp to close and open the watch. There's a D buckle to adjust for your size, and something you wouldn't be adjusting frequently. The watch has a titanium body and a sapphire crystal 1.4-inch display (Watch4 had Corning Gorilla Glass DX+) and weighs about 47 grams. The watch fits well once you lock in the buckle and didn't feel rough or uncomfortable on the wrist during my use. There are two physical buttons for going to Home and going backand are customizable (more on that later). The watch is clearly chunkier than most other smartwatches and that's mainly due to its 45mm size as well as that not-so-thin bezel around the round display. The watch seems durable and sturdy thanks to the material, plus it didn't catch a lot of visible scratches during the usage both indoors and outdoors. It's IP68 water and dust resistant, so should be okay for your workouts and occasional splashes and drops.
Performance and features: The Watch5 Pro carries Samsung's Exynos W920 (1.5GHz dual core processor) chipset along with 1.5GB of RAM and 16GB of storage (around 7.5GB usable). There are plenty of sensors in here, including ECG, Body Composition, skin temperature, SpO2 and optical heart rate sensor in addition to the usual ones such as barometer, gyroscope and ambient light sensor. The ECG sensor is of no use for Indian users as it is yet to be enabled for the Indian model.
Another thing not available is the skin temperature, which doesn't work either. Remains to be seen when Samsung rolls out updates for these features, considering this is their flagship model. The watch runs Wear OS 3.5 with One UI 4.5 on top. During regular apps usage and UI navigation, the Watch5 Pro doesn't show any hiccups and is able to keep up with the pace. It felt like one of the better smartwatches running Wear OS when it comes to refinement of the OS, with no sluggishness shown during most of my time with the watch. At times, when searching for stuff using voice, it might take a couple of tries and extra time to show you the result. A lot of previous Wear OS smartwatches have shown struggles for using third party apps but the Watch5 Pro doesn't. You get notifications for many apps on the watch, and can select which apps' notifications are allowed on the app. The watch automatically shows a companion app for an app on your connected smartphone. For instance, you can get turn by turn navigation on it when having it opened on your phone, so you don't have to check your phone. The vibration and sound on the Watch5 Pro are just about sufficient to get the job done outdoors. With LTE, you can make the calls directly, though setting up the mobile plan using the Galaxy Wearable app can take quite long. If you have Samsung's Buds, they can be controlled using the watch, though anybody can control their music playback from the watch on apps such as Spotify (no Apple Music compatibility and companion app, to nobody's surprise). The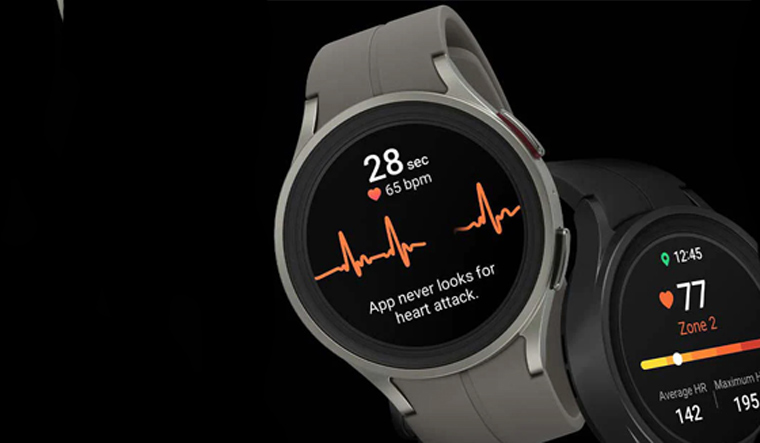 Wearable app can also be used to customize watch faces, add app tiles, add fitness stuff such as stress measurer, sports modes, and so on. Tracking of distance walked while wearing it seemed to be quite accurate on the watch. There's a snore detecting feature, in addition to the usual sleep tracker, if you're okay wearing the watch while sleeping. Other things include, taking body composition measurement, which can take a few tries to complete, blood oxygen monitoring and heart rate zones. The 1.4-inch (450x450) Super AMOLED display is just about enough bright to be used outdoors in direct sunlight and is quite sharp for daily readings.
Battery: The watch sports a 590mAh battery and it lasted around 3 days with always-on display switched off and barely a day with always-on display switched on. This was with NFC turned off, location turned on, brightness at automatic and WiFi turned on. You get a USB type C to C cable with the proprietary charger in the box, same charger as the old Watch Active 2, taking 2.5 hours to charge from 1% to full.
Verdict: The Watch5 Pro is a premium smartwatch that competes with the likes of Apple Watch. It has features missing such as ECG and has an okay battery life on par with the competition. It's wellbuilt, compatible with third party bands and works and syncs with Android devices, but that price tag does seem to be quite hefty for what appears to be still a product work in progress, considering  Wear OS is not exactly the most polished OS for wearables, though it itself does a better job than most of its Wear OS peers, there are popular smartwatches at much lower price tiers for Android. Until Samsung brings the remaining features here with OS updates and we see a decent price cut, the Watch5 Pro may not exactly be the most value for money purchase in the Indian wearables  market today, which the likes of Samsung's own Galaxy Watch5 might be