On June 13, 1997, the lives of Neelam and Shekhar Krishnamoorthy changed forever. They lost their two children, Unnati and Ujjwal, in a fire that broke out at Uphaar Cinema, Delhi. Yet, they continued to carry on, fighting a battle against the Ansals, the builders of the cinema. It became a landmark case in India, and 19 years later, Trial by Fire brings alive the tragedy through the eyes of the parents who had lost everything including the will to live.
Heartbreaking in its honesty, the book describes how Neelam felt when she saw her daughter's body, earrings snatched from her ears, as well as the first time they went to the cinema where they found a bottle of cola under the seat where their children sat. It also painstakingly details their uphill battle in court. The book is an indictment on how the system functions, as well as how the rich often subvert existing laws to create a situation where tragedies like this can take place.
The book doesn't make for easy reading, nor is it for the faint-hearted. But for these very reasons, it is important that it must be read. It is the only way to change.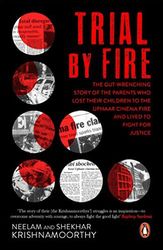 Trial By Fire
By Neelam and Shekhar Krishnamoorthy
Published by Penguin Books India
Price Rs 299; Pages 250