As Prime Minister Narendra Modi observed at the inauguration of the free Sri Sathya Sai Sanjeevani Child Heart Hospital in Fiji this April, Sathya Sai Baba delinked the ritual from the spiritual; and instead linked the spiritual to selfless love and service. Astonishingly, Baba's mission of love and service has seen miraculous growth even after he left the world in 2011.
The Fiji hospital, which had seemed an impossible dream, is but one example of this new vigour. The past decade has seen a humongous growth in Baba's nutrition and education mission in India. Over five lakh government school children across 25 states and 3 Union territories get a nutritious breakfast every morning. Beautiful residential campuses for village children have come up in almost every district of Karnataka. A private university for higher studies, too, has materialised, with emphasis on empowerment of the girl child. A nationwide scholarship programme for primary school children from poor families has also been launched.
Sathya Sai Sanjeevani, started in 2012, is the world's only chain of free hospitals dedicated exclusively to congenital heart disease. The commonest of birth defects, the disease affects two lakh babies in India every year. The number of successful surgeries Sanjeevani has done makes it a world leader. A healthcare on wheels programme in eastern India, Sathya Sai Aarogya Vahini, has become a role model for low budget, effective primary health care.
This being its tenth year, the healthcare mission is to launch ten new mother and child hospitals in rural India. It will also expand the highly successful Divine Mother and Child Health programmes run in association with government primary health centres. The programme has been providing Saisure, a micronutrient supplement for pregnant mothers, toddlers and school children. Developed with the help of Central Food Technological Research Institute, and approved by the Food and Drug Administration, Saisure has been a game changer.
Globally, besides Fiji, a secondary care hospital has been established in Nigeria and another will open in Sri Lanka this year. Sai clinics serve Malaysia, Indonesia and the poorest American state of Mississippi. Twelve ashrams have come up abroad as human development centres where values based living is taught and selfless service with love is promoted as a way of life.
Significantly, everywhere, all services - nutrition, educare, sociocare or healthcare - are provided absolutely free of cost. The year 2023 will see the inauguration of a medical college at Sathya Sai Grama in Muddenahalli in Karnataka, offering undergraduate and postgraduate medical education totally free of cost.
How has Baba, who left the physical world 11 years ago, achieved all this? This continuing mission must rate as the greatest miracle of Baba and has come through a spiritually evolved student of his: Madhusudan Naidu, who grew up in an ordinary middle class family in Raipur in Chhattisgarh and became a double gold medallist MBA from Baba's B-school. While barely in his thirties, Madhusudan quit his HDFC Bank job and started a small business to devote more time to Baba.
In 2011, Madhusudan was stunned to discover that he could 'see' and 'hear' Baba in his Bangalore home! Initially, he thought he was hallucinating, but whatever Baba told him during such experiences came true. Thus Madhusudan realised that it was no hallucination.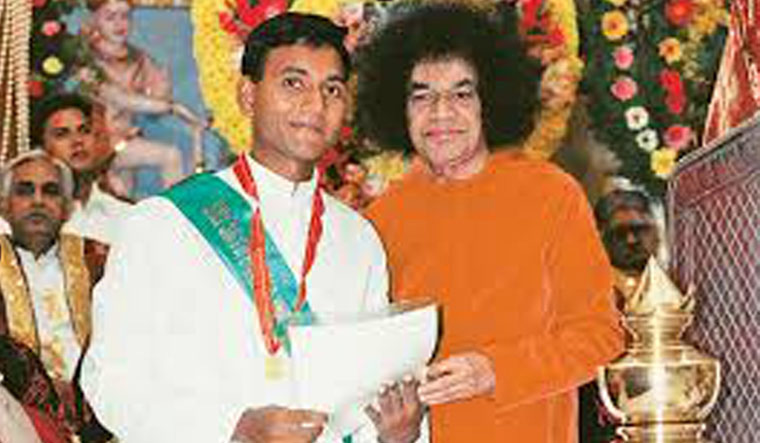 When Baba from the subtle plane asked him if he was ready to dedicate his life to simply do as he was told, Madhusudan, totally devoted to Baba, readily agreed. On Baba's command Madhusudan took up Sannyas. His mother was dismayed; but his firm resolve left her with no choice. Her firstborn would be a celibate, wedded to God and goodness. Madhusudan chose to be available 24/7 to unquestioningly do Baba's bidding, no matter if it seemed crazy or impossible and never minding the scorn others heaped on him. It was not easy; but Madhusudan braved it all in total faith and surrender.
The Sathya Sai organisation in Puttaparthi, which Baba had founded, denounced him; but Madhusudan stood his ground. On Baba's command from the beyond, three senior devotees joined the mission: B.N. Narasimhamurthy, who had served as a warden in Baba's education mission for 40 years; C. Sreenivas, who was associated with Baba's healthcare mission; and Isaac Tigrett of Hard Rock Café fame, who funded Baba's first super speciality hospital.
In ten years, acting on Baba's guidance from the subtle plane, and with support from just a handful of devotees who were moved by the sheer goodness of the mission, Madhusudan nurtured mammoth projects for nutrition, educare, healthcare and sociocare, using Baba's 'Sarkar-Sanstha-Samaj' cooperation model. Propagating the concept of Vasudhaiva Kutumbakam, he visited more than 40 countries and set up a Sai Global Federation of Foundations dedicated to selfless service the world over.
Madhusudan progressed in the mystical realm, too. From being a mere communicator, he became a vehicle for the mystic to manifest. Like Baba, he materialised things. On Maha Shivaratri days, just as in Baba's time, Lingodbhava would happen- the act of bringing out the sacred ellipsoid symbol of divinity that spontaneously manifested in his being. He took to the Advaita philosophy, which Baba himself lived up to: "I am the underlying Consciousness; and so are you! Only God exists; creation is but an appearance that rises and falls in God that is Consciousness." Indeed Madhusudan has grown to be a younger version of Baba - absolute selfless love walking on two feet. By Gurupurnima 2019, the divinisation was complete; Baba's student was now a Self-Realised Master in his own right; and Madhusudan Naidu became Sadguru Sri Madhusudan Sai.
Baba, who was manifesting through him, then withdrew, and Madhusudan had to move from guidance from the divine with form to the formless omnipresent divine. As they say, when the student is ready, the guru appears; and when the student is really ready, the guru disappears! Today, having made that ascent from the human to the divine, Sadguru urges fellow devotees to follow suit saying, 'Self-Realisation is our religion. And if I can do it, so can you!'. His can't-put-down autobiography in two parts, titled, 'The Story Divine', is a spiritual classic of our times.
 Leading by example, Sadguru declares: "Selflessly, fearlessly and shamelessly do good; for all is one! Go inward! You are not just body-mind; you are verily divine!" And the youth are responding. While Sanskrit departments in many Indian colleges have closed down for want of students, the Sri Sathya Sai University for Human Excellence set up by Baba through this continuing mission, has a different story to tell. When Sadguru announced that he would teach the newly launched course in Sanskrit and Vedic Studies, all students doing regular subjects wanted to switch to Vedic studies! To stem the exodus, he had to announce an extra diploma course in spirituality for those majoring in science, humanities and commerce; which he would personally teach.
The students simply love him for his selfless nature, candour and sense of humour. They want to be like him and, after graduation, join the mission. Baba's foresight has ensured that the schools, colleges, hospitals and ashram will have youngsters with perfect qualities of head and heart to run them. One candle can help light many more candles. Baba lit the first candle by creating Sadguru Madhusudan Sai; and that candle is now lighting many more. 
Once a minister asked Baba what exactly, the name, 'University for Human Excellence', meant. Baba  replied: "Students who join a medical college graduate as doctors; those in an engineering college graduate as engineers. Students who join the Sathya Sai University for Human Excellence will graduate as divine beings who will change this world." Baba's words are poised to come true, thanks to a new sun on the spiritual horizon, Sadguru Sri Madhusudan Sai.