It is that time of the year, when the Indian Open is the the focus of attention of all golfers at home, in Asia and also in Europe. It is the biggest prize money event in India—1.75 million dollars, no less. It is also the chance for home-grown golfers to taken on top golfers in Asia and Europe, since it is a co-sanctioned event on the European and Asian Tours.
The 54th Indian Open starting on March 8 at the DLF Golf and Country Club, Gurugram, will see a strong Indian challenge from the likes of Shiv Kapur, Gaganjeet Bhullar, Ajeetesh Sandhu,Team Asia captain Arjun Atwal, Jeev Milkha Singh, Jyoti Randhawa, Mukesh Kumar, Rashid Khan, besides defending champion S.S.P. Chawrasia and former champion Anirban Lahiri. The star attraction, however, will be the latest golf sensation from Gurugram itself—twice European Tour winner Shubhankar Sharma.
There is a resurgence in Indian golf, with Kapur and Bhullar returning to winning ways. Kapur ended 2017 on a high, winning three Asian tour titles. Bhullar has won eight times on the Asian Tour, with his latest being the Macau Open in 2017. Lahiri, who is ranked 76 in the world and is searching for his first PGA Tour title win, is the 2015 winner of the Indian Open and then, of course, there are seniors like Atwal—the first Indian to win a PGA Tour card in 2004 as well as the first Indian to win on the PGA Tour in 2011 at the Wyndham Championship.
But, perhaps, the most keenly awaited golfer is the local boy Shubhankar who, at 21, has stormed into the top 100 in world rankings. He has impressed not just his peers at home but also caught the eye of the rest of the golfing world. His game, to put it in Kapur's word, is "complete".
The other major star attractions from the European Tour at the Indian Open will be Emiliano Grillo of Argentina, PGA Tour winner and member of the 2017 Presidents Cup team, Andrew Johnston and the Ryder Cup captain, Thomas Bjorn, who led a strong European team last month to a fine win over Asia in the EurAsia Cup in Malaysia.
Speaking about his own plans, Indian golf and the healthy competition between all Indians as well as camaraderie, Kapur said that Shubhankar's sensational arrival on the scene makes the run up to the Tokyo 2020 Olympics competitive for the team. He also spoke about his own return to winning ways. Excerpts:
You have had a great run in recent times. Also, there seems to be a resurgence in Indian golf with more players winning on different tours. How do you look at it?
On a personal front, it has been really good. Last 8-9 months have been sort of a great run for me. Whenever you hit form, you got to treat it as luck. It's not that you work hard one season and don't the next, but sometimes it is better, sometimes it's not.
There's a lot of healthy competition from the younger guys. The older guys are still knocking on the door—Arjun is in his 40s, so is Jyoti and Jeev. It's a golden generation of Indian golf which is pushing each other on. Shubhankar is 21. You have a big age gap between your youngest and oldest players but it is competitive. I think healthy rivalry is really good. You look at it and say, if he can win, so can I. The camaraderie is also fantastic—we are all rooting for each other and also envious of each other.
How are you approaching 2018 after the hat-trick of titles in 2017?
It is always challenging to keep your expectations down. You can't always reason why you win three times and if less than that, why. The goal is to obviously continue to play well and improve. The goal is to improve in all areas; if that brings a win, it's obviously fantastic. Broader goal is to improve as a player in 2018.
How crucial was last year for you?
I guess it gave me a new lease of life. Fourteen years as a professional, and if you go a few years without a win, you can obviously get dejected. There were times when I second-guessed myself and said maybe I should be doing other things. But now my goal is 2020 Olympics. I want to stay fit for that and try and get myself ready. That's a sort of medium-term goal for me.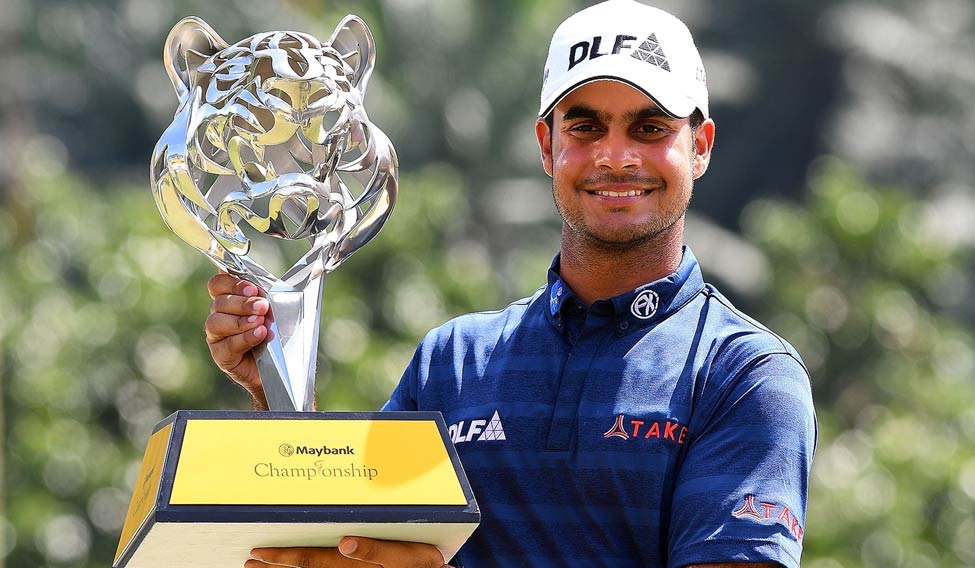 There's buzz that Shubhankar may be in contention for a Masters wild card. Your thoughts on his emergence.
Shubhankar is a fantastic player, really really good kid. The way he handles himself under pressure is fantastic. I go back and think of when I was 21. He's got maturity beyond his age.
If he gets a wild card in Masters, he's not going to be overwhelmed. He will embrace the challenge. At this young age, to have such a complete game, is great. He doesn't seem to have any weaknesses and is also very level-headed. Sometimes, when you get such success so early in life, you can get thrown off by fame, but he seems to be handling it very well.
The churn in world rankings spices up the race to the Olympics for the Indians?
Obviously, though Olympics is long way off. You can't be talking of Shubhankar entering the race three months ago or Ajeetesh six months ago. You can never be complacent as a player. One minute you are in, one minute out. Three months before Olympics is the cut-off, when it will heat up. It's nice we are pushing each other.
Are you looking to approach the DLF course differently during the Indian Open?
Well, yes. There will be couple of things I would do differently. DLF is a course that puts you in a shell immediately. I will go out and play more attacking style of golf, and accept and learn from my mistakes.