Mahendra Singh Dhoni's wife Sakshi rubbished rumours of the former India captain retiring from international cricket after #DhoniRetires trended on Twitter on Wednesday. She called them rumours while asking people who are spreading them to "get a life". She has since deleted the tweet.
"Its only rumours ! I understand Lockdown has made people mentally unstable ! #DhoniRetires .. Get a life ! (sic)," she had tweeted before deleting it.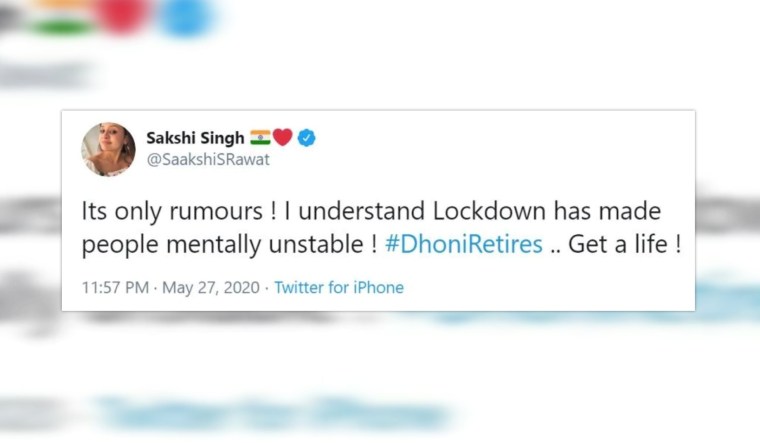 The response from Sakshi came after #DhoniRetires was one of the top trends on the social media platform. Speculations around Dhoni's retirement have been rife since last year. While Dhoni has been silent about his future, Sakshi has been vocal on social media and had lambasted similar assumptions that were made before.
Dhoni played his last international cricket match in the 2019 World Cup semifinal against New Zealand. Since then, cricket pundits and fans alike have called for the World Cup-winning captain to hang up his boots.
This year's Indian Premier League was supposed to have been the opportunity for the Chennai Super Kings captain to make a comeback, but the outbreak of the coronavirus has forced the BCCI to postpone the tournament indefinitely. Dhoni had trained with CSK in Chennai before the suspension of global sports amid the COVID-19 pandemic.
The 2020 IPL is expected to be held in October in lieu of the T20 World Cup, however, no official confirmation in the matter has been given.
Former India head coach Gary Kirsten, meanwhile, feels that Dhoni has to retire in his own terms. In an chat with Times of India, the former South African cricketer and coach, said that Dhoni is one of the greatest sportsmen in the modern era. He has earned the right to take a call on his retirement on his own terms and no one should tell him when that is, Kirsten added.
Kirsten also said that the 38-year-old is an incredible cricketer, adding that traits such as intelligence, calmness, power athleticism and speed separate him from other cricketers.