Manu Bhaker has become one of India's star shooters in the last two years with multiple podium finishes in ISSF shooting World Cups and Commonwealth Games. Much expectation is riding on her in the forthcoming Tokyo Olympics, as is on the entire Indian shooting contingent with the country being number one in the world rankings.
The 20-year-old is currently training in New Delhi ahead of the ISSF World Cup to be held at the Dr Karni Singh Shooting Range in Tughlakabad from March 15 to 26. The World Cup will serve the purpose of working out the technical details before the Olympics. "Basically focussing on the technique because it will take us ahead. Other than that, I am also working on my physical and mental training, more the mental aspect," said Bhaker.
She is the junior world record holder in 10m air pistol. But, in big events such as the 2018 Asian Games, which was her first continental games, Bhaker missed out on a medal. She came fifth in the Jakarta edition and was visibly distraught over it. In the World Championships in Changwon in 2018, she failed to qualify for the finals of her event. Just a teen then, Bhaker fell to the pressure of her own expectations as well as of the public. These experiences have taught her a lot.
Currently ranked third in the women's 10m air pistol event, the Haryana girl is feeling upbeat about the Tokyo Olympics. When asked if she has sought advice from other senior shooters about their Olympic experiences, Bhaker said that she wanted to approach it as a fresh, new competition.
"I don't want anybody to say anything," said a spirited Bhaker. "I learnt how to deal with emotions when you don't perform well, how to be happy even after not delivering the goods, trying the best but couldnt win, controlling my happiness."
Bhaker has been practising meditation to keep her mind calm and stable pre- and post-competition. "When you meditate, you try to calm your brain so that your thought process is controlled. That's what I am trying to do." The mantra is to keep things simple, and the young shooter tries to relax not only through meditation, but also with music, yoga, dance, reading books and writing a diary.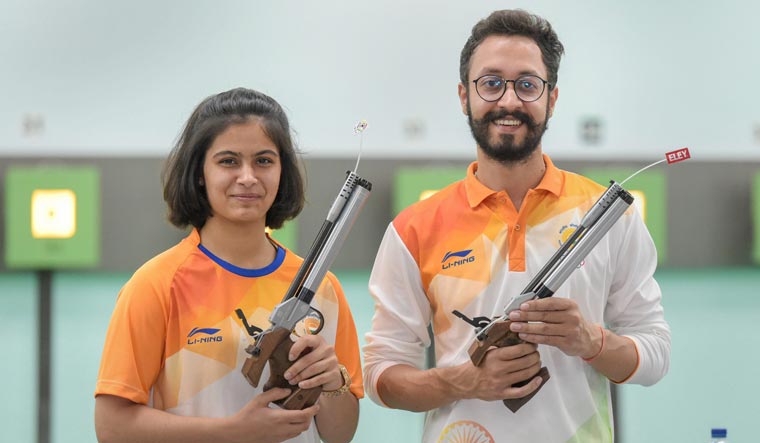 The 2018 Commonwealth Games gold medallist in both individual and team event is expected to pair up with either Saurabh Chaudhary or Abhishek Verma during Tokyo 2020 for the mixed team event in air pistol, which India has a strong chance to win.
Speaking about the preparations for the same, Bhaker said, "I think team game is as important as individual but we don't focus on team event during training specifically. If Saurabh or Abhishek is with me and if I am playing the team event, we don't talk or communicate (much before or during the competition). It's like individual games in a team."