Tech giant Google is all set to change the entire messaging playing field. As per the Verge, Chat is what Google aims to crown as the new universal standard, replacing the old-school SMS.
Chat will use "Universal Profile for Rich Communication Services" for it to work properly making Google rely on the telecom operators. Earlier this year, Google said it had 43 carriers and device makes signed on to support RCS, while an updated list shows 55 carriers, 11 OEMS and two operating system distributors: Google and Microsoft. In India, Google is talks with Airtel, Jio and Vodafone for the Chat service.
Chat is not an app like Hangouts or Allo but is to be seen rather as a technology or an extension of an already existing app. Chat will be a carrier-based service and a Google service. It's just Chat, not "Google Chat." Chat, like your regular SMS, will not have end-to-end encryption. Otherwise, the Chat is expected to work just like iMessage: integrated to the basic messaging app with abilities to send pictures and videos and send receipts and what not.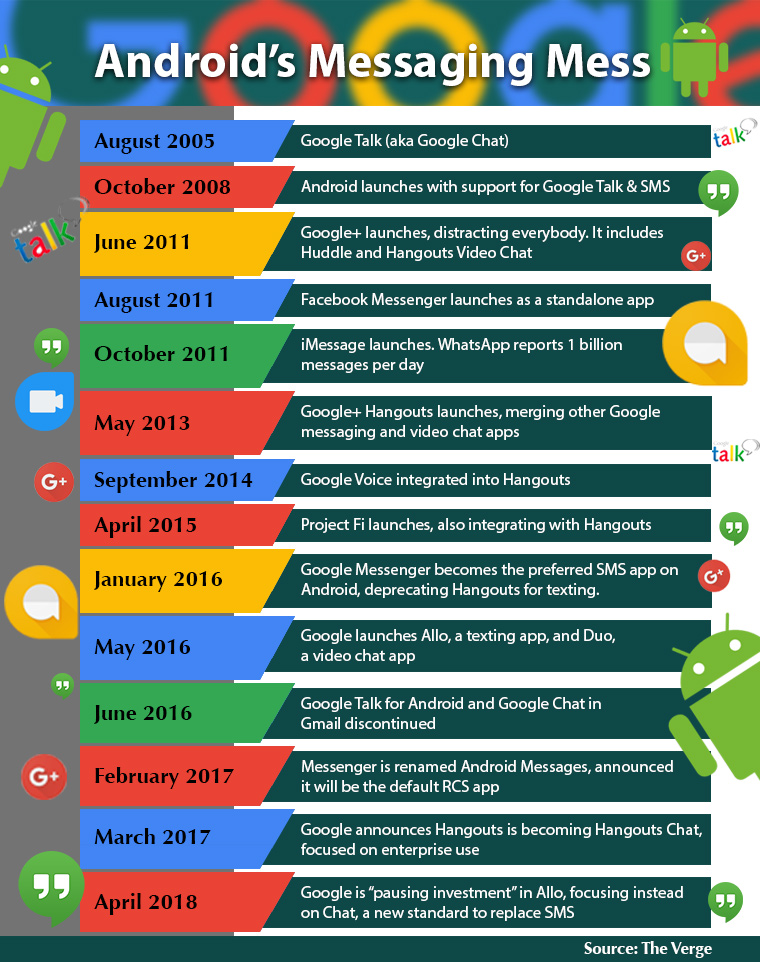 Google expects big from Chat, as seen from how Anil Sabharwal is now the head of the new project. Sabharwal has an amazing track record especially with the Google photos app, the most successful app from Google in recent years. Google is giving up on having its own consumer messaging app and is determined to go ahead with Chat, especially with the history of Android's messaging mess (see illustration).
Rich Communication Services (RCS) has failed several times since its inception in 2007, and yet, Google has spent the last couple of years trying to get consensus around something called the "Universal Profile," a standardised way to make RCS work across carriers. "SMS is going to be replaced one way or another. You can either be part of the replacement or continue to watch Apple and Facebook run away with text messaging", might be in par to the argument Google made to the carriers.
Uses care about features, especially if they are not restricted to OS, and Chat is aimed at catering over two billion users. To bring RCS onto the playing field means bringing together the carriers―a Herculean task. With this kind of resources and determination extended, Google might just be able to pull it off.