Hours after a four-storey residential building collapsed in Lucknow on Tuesday evening, the rescue operations are in full swing as officials claim more people are trapped inside the debris.
Deputy General of Police DS Chauhan said on Tuesday late night that five people are stuck under the debris of a residential building which collapsed on Wazir Hasanganj Road in Uttar Pradesh's Lucknow. "Five people are still stuck under the debris and proper oxygen is being supplied to them. They are in the same room. We are in contact with two people. Nobody has been arrested yet, a proper investigation will be done," Chauhan told.
He expressed hope to rescue all of them. "This is the hour of patience, not the time to rush because when you are cutting a building, it should not create any other problem. Rescue work is being carried out in a very scientific way, and I am confident that those who are trapped inside (under the debris) will be saved," he told reporters late on Tuesday night.
Early reports had claimed that three people died in the incident but Uttar Pradesh Deputy Chief Minister Brajesh Pathak later clarified the comment.  He told PTI that there were initial reports of three people in unconscious condition and were feared dead. "But now information is coming that nobody is dead. Those rescued from the building have been moved to hospitals," Pathak said.
"The rescue operation is going on. NDRF-SDRF personnel have arrived at the spot. Police jawans and fire brigade personnel have also arrived," he said.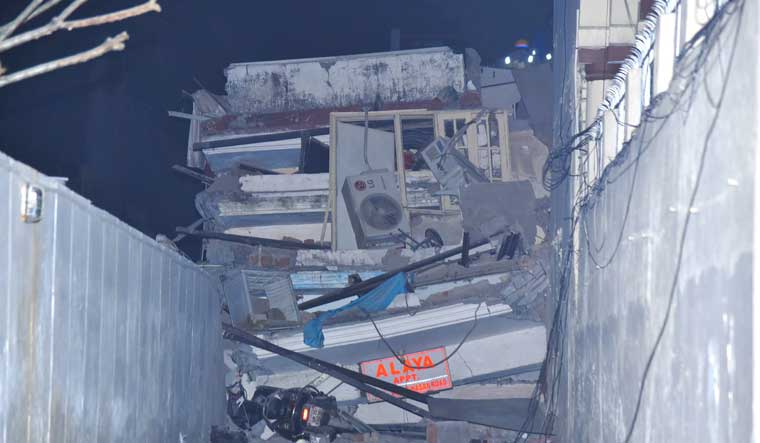 Meanwhile, illegal construction work was reportedly being carried out t the building's parking lot. The building, Aliyah Apartment, has 12 flats and two penthouses on the top floor. 
The builder was allegedly constructing the basement by breaking some columns of the building, Hindustan Times quoted local people. Lucknow divisional commissioner Roshan Jacob said the building was illegal and its map was not passed, the report added.
However, the authorities are yet to ascertain what caused the collapse. According to Chauhan, experts and the police will carry out their investigations. "As of now, as per our assumption, which is based on feedback from family members, around five-seven people are still inside (the debris)," he told reporters.
Though many attribute the building collapse to the earthquake that happened earlier in the day, he said, "This is not the right time to deliberate on the reasons. At present, the rescue operation is going on."
A 5.9-magnitude earthquake jolted the remote mountainous districts in western Nepal on Tuesday, killing one person and damaging dozens of houses in the region. However, Meteorological department sources said the depth of the earthquake was 10 kilometres, and its distance was 294 kilometres NNE (North North-East) from Lucknow. 
(With inputs from agencies)