A day after the results of the Himachal Pradesh Assembly elections were out which saw the Congress spring back to power in the hill state, talks have begun in the party camp over who gets the chief minister's post. With Congress party chief and MP Prathibha Singh, wife of six-time chief minister Virbhadra Singh, firing the first shot, the race for the top post has heated up in Shimla.
The Congress MLAs will meet on Friday in the capital Shimla to pass a resolution authorising the Congress president to elect the CLP leader. Earlier, the party had called all its MLAs to Chandigarh but changed its plans later after the party got a clear majority. 
Earlier reports had suggested that senior leaders had begun camping in Delhi to lobby for the top post much before the results were announced. Since the party did not project a Chief Minister's face during the campaign, today's meeting is likely to be significant and a headache for the party.
According to senior leader Rajeev Shukla, in charge of Himachal Pradesh, the party is sending two observers — Chhattisgarh Chief Minister Bhupesh Baghel and senior leader Bhupinder Hooda — to oversee the meeting.
Besides Congress chief Pratibha Singh, other names in the fray include Opposition leader Sukhvinder Sukhu and senior leader Mukesh Agnihotri. Pratibha has already raised her claim for the top post when she stated that one cannot neglect the former CM's legacy as the party fought the polls in his name. 
Virbhadra has been the chief minister every time Congress formed the government in the state since 1983, and this is the first election since his demise.
"I am not saying that I am in the race for the chief minister. But we have won this poll in the name of the late Virbhadra Singh. You can't neglect him and his family," she told reporters in Simla on Thursday. Her son and MLA Vikramditya Singh too has batted for her stating, "As a son, I want Pratibha ji to get a big responsibility."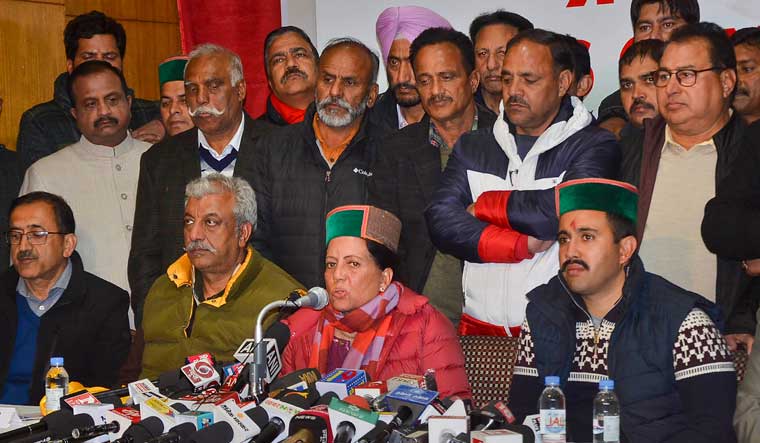 While Singh is a sitting MP and did not contest the elections, Sukhu and Agnihotri won from the Nadaun assembly seat and Haroli constituency, respectively. 
Sukhu too has been vocal about his desire for the top post and has minced no words in confronting Singh on her claim for the chief minister's post. However, Sukhu was reportedly not on good terms with Virbhadra Singh, and choosing him for the top post is likely to antagonise veteran leaders.
Journalist-turned-politician Mukesh Agnihotri, who is also in the race for the top post, has the backing of MLAs and has been the leader of the opposition in the assembly for five years.