COVID-19 hasn't restricted the attractions of Durga Puja in Kolkata. The festival is celebrated not only by the Bengali community in the state, but by every resident in West Bengal.
It has always been the Trinamool Congress that would make the celebrations grant. Leaders like Partha Chatterjee, Subrata Mukherjee, Arup Biswas and Firhad Hakim are among the many who hold big budget Durga Puja events in and around Kolkata. The Left does not organise Puja but use the festival to erect book stalls near pandals in order to make connect with people, and earn some money.
This year, there has been a new addition as the BJP leaders are making entry into Durga Puja festivities in a unique way. The party organised their maiden big budget puja in Kolkata's Salt Lake, Midnapore, Ranaghat, Majdia, Jalpaiguri and Siliguri.
Non-resident BJP leaders are coming from Kerala, Madhya Pradesh and Uttar Pradesh, dressed up like bhadraloke babus of Bengali community to participate in the Puja.
Kerala-born Arvind Menon, party's national secretary, wore a golden sherwani with dhoti in Bengali style. So did Kailash Vijayvargiya, national general secretary of the party, who hails from Indore in Madhya Pradesh. Shiv Prakash, BJP's joint general secretary (organisation), who hails from Western UP chose to wear a white sherwani. All three are state in-charge for BJP in Bengal and completely immersed themselves in the Bengali's biggest festival of the year.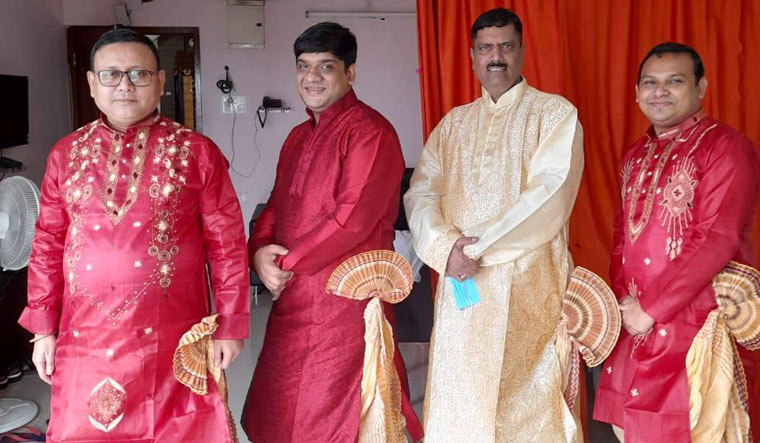 "In Kerala I was almost born with a dhoti. But Bengali style is different and I enjoyed it. It is really a great experience " said Menon.
The trio, sources said, got the idea from Agnimitra Paul, a noted fashion designer, who is BJP's Mahila Morcha chief in Bengal. Incidentally, the morcha is holding the Puja in Salt Lake. What made the festival special for the BJP is Prime Minister Narendra Modi inaugurating many Durga Pujas virtually, wearing sherwani and dhoti in Bengali style.
If the BJP sources are to be believed, the party would celebrate Durga Puja in a big way next year as well. This is the first time the party celebrated the puja, and the move is expected to go down well with the voters.
"If we win next year, you will see unprecedented celebrations," said a party state leader.