Former Uttar Pradesh Chief Minister Akhilesh Yadav is known to be a 'magnanimous' leader in political circles for helping individuals in need and even batting for a cause. In the past, the Samajwadi Party chief and his family have extended a helping hand to individuals and communities. And the recent destructive floods in Kerala are no exception.
Akhilesh and his wife Dimple Yadav, an MP, together donated Rs 1 crore to the Kerala Chief Minister's Distress Relief Fund to help the flood victims recently.
Samajwadi Party national secretary Joe Antony handed over a demand draft of Rs 1 crore to Kerala Chief Minister Pinarayi Vijayan at his office in Thiruvananthapuram on September 1.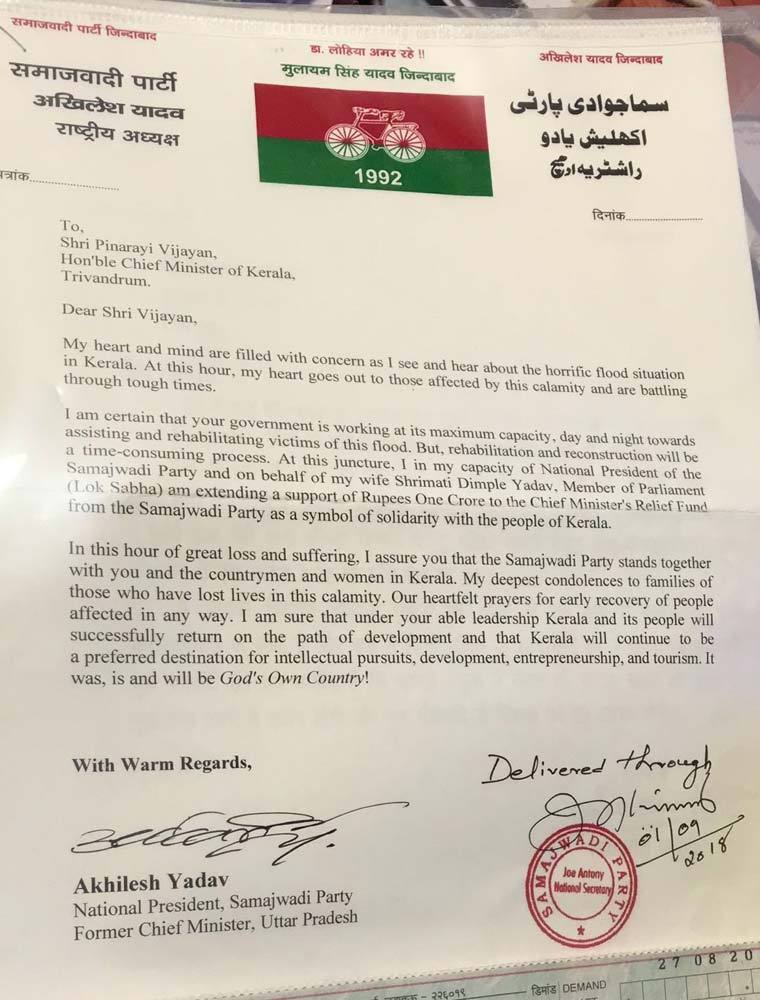 The donation given by Akhilesh and Dimple is rare as no other such assistance has been given by any other party or individual in the capacity of being president of a political party for the flood victims in Kerala.
According to Anthony, following the initial contribution from Akhilesh and Dimple, all the MLAs and MLCs of the Samajwadi Party have started contributing Rs.5 lakh each towards the Kerala Chief Minister's Distress Relief Fund and this is expected to cross a sum of Rs 5 crore soon.
Speaking on the issue, Akhilesh said, "We have started collecting contributions for Kerala flood victims from our family and this campaign was joined by our supporters, cadres and even children who have given their contribution. This feeling binds the country in the thread of unity."
On the directives of Akhilesh, and under the guidance of Anthony, the Samajwadi Party cadre and its leaders sprung into action immediately and actively executed relief measures in Kerala's flood-affected areas, especially in Aluva, Chalakudy and North Paravoor.
In addition to the assistance, Akhilesh hailed the work done by Vijayan in connection with rescue, relief and rehabilitation work in that state and also sent a letter to the Kerala chief minister.
As the news of the flood devastation in Kerala spread, Akhilesh became active on social media and urged the people of Uttar Pradesh to extend all possible help to the flood victims.