Fresh from the recently held Zee Cine Awards, Shiamak Davar, the 'guru of contemporary dance' in India, is all praises for the Bollywood stars that he recently worked with on the show. "Bhoomi is a lovely actor and a pretty decent dancer too. Ranveer [Singh], Shahid [Kapoor], Katrina [Kaif], Jacqueline [Fernandez] and Siddharth [Malhotra], each performer, worked very hard," he said. He is also enamoured by Varun [Dhawan] and Alia [Bhatt]. "It is so good to see them live, they were quite a surprise," said Davar.
Davar firmly believes that it is the legends that are actually the hardest working people. He would know; after all, only a few years back, he had John Travolta dancing to his tunes. John Travlota is "not a proud Hollywood star" and in fact is very "interesting" and a "gentleman," said Davar. "I had about half an hour with John Travolta, when he did some of his moves with Priyanka Chopra," and "he added his own Pulp Fiction steps," said Davar.
Davar, who has choreographed for numerous hit films from Dil to Pagal Hai to the recent Jagga Jasoos as well as for live shows said that both mediums require completely different thought processes. He said he finds films to be an extremely boring medium and not creatively satisfying for dance because "there you can edit, chop, clean up and do all sorts of things whereas live is very different."
It was after one such live show, in Lucknow, where Davar had gone along with Amitabh Bachchan for the eradication of polio campaign that he had a surprise visitor who climbed up the stairs, despite all security measures, and greeted him and his team. It was none other than former US president Bill Clinton. "He spoke with us for almost seven to eight minutes and said "the world must see you."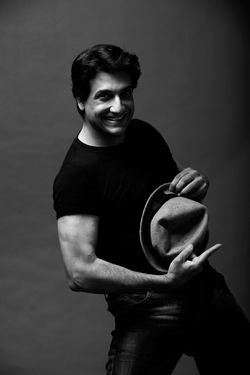 However, it is not just the glitzy Bollywood stage lights and film sets that make up Shiamak Davar's world. He also runs the Victory Arts Foundation where dance is taught to underprivileged children and children who suffer from mental and physical disabilities. The idea is that dance as a medium should help them in the form of therapy. "Twenty or twenty-five years ago, a lady who had polio came to class and a year later, she said that the dance classes really helped her making her happier and feel more confident. Back then, there wasn't much of physiotherapy and that's what got me thinking," he said. "Now, we have children on wheelchairs, with crutches, children with cerebral palsy, children at risk, children suffering from trauma, children who have been abused, all kinds of children who come to learn dance and we have not charged them ever. We just want to do the job of integrating them and making them feel happy, secure and confident."
Currently, it is Davar's One Year Programme where he handpicks dancers aged between 15-28 that he is really excited about. "They learn to dance at The Warehouse which is my studio where they are trained in ballet, jazz and contemporary. It's all about the science of dance taught by the best faculty in the country and where students practise all day, from 9am to 8:30pm," he said. "I have noticed that the really hungry ones are the ones from India's small towns and villages, that's where the talent comes from, and at times I also end up receiving videos of their dance performances because not everybody is able to travel all the way to Mumbai."
What's next for Davar in the New Year, we ask. "I never plan for the future because I have seen that it never works, maybe, just a little in advance," said Davar who has gone forth and signed a few movies, musicals and some workshops.