With India's travel industry still reeling from the challenge posed by the COVID-19 pandemic to the tourism business, Campervan Camps and Holidays India Limited—a Bengaluru-based start-up—has introduced what it says is the country's first commercially approved motorhome—the LuxeCamper.
The premise is a vacation-on-wheels to different exotic destinations in the country. The LuxeCamper has received approval from the Automotive Research Association of India as per AIS 124 standards.
"Despite the COVID-19 pandemic and its impact on the travel and tourism industry, we see a lot of potential for motorhome based vacations. After an extended period of staying indoors, a lot of people are looking forward to holidaying and road travel is going to be the preferred way over the next few months to come," Tiger Ramesh, founder of Campervan Camps and Holidays India Limited told THE WEEK.
Motorhomes are akin to having a compact home on the road. This concept of using one of these, also called a caravan, is more prevalent in the West, as many locations do not have proper or no accommodation and facilities.
"Since lodges cannot be built in and around protected areas, the best way to travel without impacting nature is a caravan. I am passionate about wildlife and photography and have travelled across the world to explore various places. Since there are no readymade motorhomes available in India for tourism purpose, we decided to design and manufacture our own motorhomes," remarked Ramesh.
The potential of these motorhomes can be gauged by the fact that the Chief Minister of Karnataka B. S. Yediyurappa himself unveiled the vehicles and launched the company's website in Bengaluru. This start up has also built a technology platform that allows guests to choose from a set of recommended trails, as well as, customize and configure their own trails to various destinations.
ಪ್ರವಾಸೋದ್ಯಮ ಪುನಶ್ಚೇತನ ಮತ್ತು ಉತ್ತೇಜನ ನೀಡುವ ನಿಟ್ಟಿನಲ್ಲಿ ಹಾಗು ಸುರಕ್ಷಿತ ಸಂಚಾರಕ್ಕೆ ಅನುಕೂಲ ಕಲ್ಪಿಸಲು, ಸ್ಟಾರ್ಟ್ ಅಪ್ ಯೋಜನೆಯಡಿ ನಿರ್ಮಿಸಲಾಗಿರುವ ನೂತನ ಮಿನಿ ಕಾರವಾನ್ ಗಳನ್ನು ಇಂದು ಲೋಕಾರ್ಪಣೆ ಮಾಡಲಾಯಿತು. ಉಪಮುಖ್ಯಮಂತ್ರಿಗಳು, ಸಚಿವರು ಉಪಸ್ಥಿತರಿದ್ದರು. pic.twitter.com/IvnA4fVu43

— B.S. Yediyurappa (@BSYBJP) June 17, 2020
The motorhomes have living and sleeping areas designed within a compact space and can accommodate up to four people. There is a lounge at the rear end that doubles up as a queen bed, along with a motorised suspended queen bed at the front, a wardrobe and thermal controls for both heating and cooling. They are also equipped with a fully functional kitchenette, that comes with an induction stove and gas hobs, toaster, electric kettle, a microwave oven, fridge and freezer.
The motorhomes are powered by rooftop solar panels and use solar energy for charging the inverter batteries and powering the equipment, including heating and cooling. They are also fitted with five bi-directional fans, hot or cold shower, modern toilet, two smart televisions and a bluetooth music system. The LuxeCamper is also fitted with 360-degree cameras, emergency exits, fire extinguishers, first-aid kits, speed governor and a GPS tracker. There is 4G Wi-Fi capability as well as 230V A/C power sockets and USB charging points. Additionally, they also have an outdoor barbecue connection, an external shower, a wind sensors, and a bicycle rack for outdoor camping.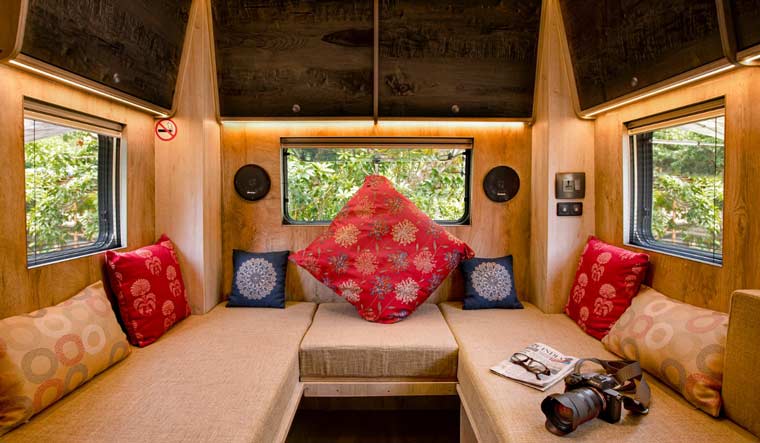 The company has partnered with small lodges, homestays and select campsites of the Jungle Lodges and Resorts Limited in Karnataka for hosting the LuxeCampers and camping. Initially the company will provide personalised travel experiences to different exotic locations in Karnataka and will then expand to rest of India. As part of the initial trails this start up has tied-up for camping sites at locations such as Aanejari, Bandipur, Bheemeshwari, Hampi, Kabini, Kodagu, Kudremukha, Sadashivgad, Sakleshpur, Sakrebyle, Sitanandi in Karnataka.
Interestingly Ramesh has also roped in angel investors, including cricketer Anil Kumble, international musician Vijay Prakash, Aprameya Radhakrishna,founder of TaxiforSure; Jawad Ayaz, founder of CapriCoast (HomeLane), Subhash Dhar, former global head of sales and marketing for Infosys, and IT-industry veteran Phaneesh Murthy. The former Principal Chief Conservator of Forests, Karnataka Forest Department, Vinay Luthra, has also joined the board as a director and an advisor to this start-up. During his stint in the forest department Luthra had launched the luxury train Golden Chariot in Karnataka.