It is much like delectable, finely crafted Belgian artisan chocolate with the necessary prominence of good cacao, a hint of light sugar and the lingering back palate leading onto honey sweet. The Islands of Fiji—lodged in the South Pacific rim where our flight window offered a bird's eye view of sweeping ocean expanses punctuated by neon turquoise dashes. The ground level 'artisan chocolate' flavours were quite distinct, we discovered, much to our delight.
Heightened expectations edged us into the hinterland inhabited by gruff knolls and miles of sugarcane fields. Flashing its endless stretch between palm rows and occasional villages is the blue Pacific, the omnipresent, leit motif clasp that never ceased to amaze our imagination right till the end of our stay. From international airport base Nadi (Nandi, actually) to a scenic hillock perch spa and a vantage oakwood chapel commanding stunning vistas of the Pacific, it is a brief ride into a canvas of eye-soothing frames that are magnificent.
An exotic haven for honeymooners' and romantically rooted from the world over, the Islands of Fiji pack in the right allure with singular experiences not available anywhere else.
Getting married and solemnised in grandeur at the hilltop chapel and reviving marital vows for endearingly married twosomes is as memorable as para-jumping off together from an airplane over the English Dales. Weddings are big business round the year and Fijians go all out to create lavish appointments for couples yearning for the 'Bula' experience they can cherish and take back into their digital albums.
Extraordinary culinary creativity comes alive in contemporary global-Fijian fine wining and dining for couples, capped by exciting on-the-spot wonders like Cointreau-flambéed orange rind flavoured Crepe Suzette dessert. We were bowled over by some superbly crafted, exotic 'South Pacific Lobster with Butter Roasted Corn-on-the-cob' paired with premium vintage world wines. But signature wonders like the 'Creamy Blue Vein Souffle delicately baked with baby Fijian 'Saijan' leaves with petite Waldorf salad' score international appeal.
From the oceanfront 'Bure' (Fijian-styled villa) on scenic Yanuca Island that was barely 10 feet from the lagoon shores, we spent quality time in silent awe. The sea exerted its might across different aquamarine patches in the glorious tones of a sunny, cloudless day. The Bure boasted premium elegance in minimalistic appeal and decor, the porch-side Jacuzzi offering seductive champagne moments of intimacy cheered exclusively by the ocean waves.
By day the al fresco lagoon bay front fine dining restaurant overlooks idyllic views of kayaking couples, honeymooners on a luxury yacht and beach bumming bodies in seductive neon bikinis. By night, mellow amber candlelight glows and jazz pianoforte takes over this elegant dining haven where delicacies like 'Fijian pumpkin encased in pastry trelis served with red pepper compote and snake beans' and 'Spinach and cheese Tortellini, green olives, basil and tomato puree' sang along with gourmet melody.
The Denarau Beach front is for couples who stroll and amble along enclasped in oblivious abandon. The scene is alluring, the tended, landscaped grass from ultra-chic luxury ocean villas extending onto the sparkling white sands. Infinity plunge pools bordering the shores offers seamless aqua reflections of magnificent frames along the waterfront that languor miles ahead, the flaming torches add a surreal, twilight glow into the Prussian sky.
At Denarau's elitist Denarau Golf and Racquet Club where the city's crème-de-la-crème converge for some verdant muscle-flexing over the court and championship holes on the weekends, enterprising honeymooners can find a unique 'spiritual experience' for both Him and Her (!) Liam Costello unfolds the pleasantly imploring, award-winning flavours of Bounty Dark, Bounty Spiced, White and coffee flavoured rums (for robust gentlemen) while the genteel aromas and bouquets of White Chocolate, Golden Honey and Banana flavored rums and liqueurs (for dainty maidens) make a dedicated tasting at the boutique Fiji Rum Co.
The day unfolds with a shimmering carpet of endless aquatic waltz. Fijian lifestyle is totally incomplete without the liquid lift—para-surfing, snorkeling, scuba diving, jet boating and loads more. Island hopping is the icing on the Pacific cake and our jet boat zipped across the breakers into the ocean depths, on to scenic castawayisland. Here, as twosomes frolicked in the mid-day lagoon waters, some strayed ahead into the white sandy stretches, our intriguingly sumptuous Fijian-Indian Thali created conversation on the alfresco cabana deck restaurant. The typically explosive Fijian red chilli flavors mingled with well made true-to-taste Indian specialties. Matching merry momentum, lithe sun-tanned forms in Panama caps cavorted in the blue beyond.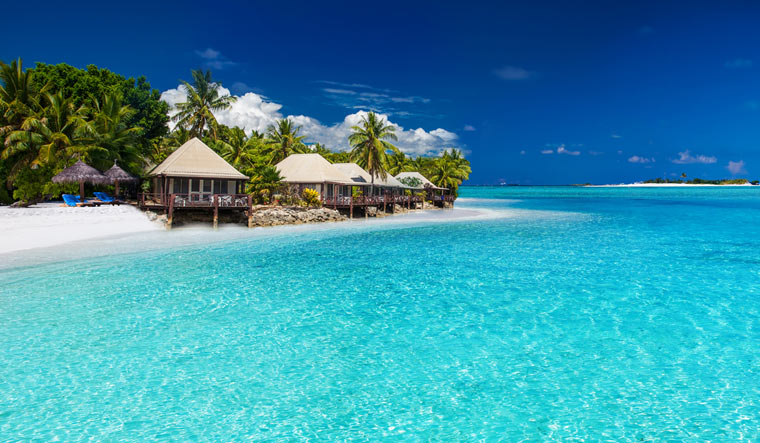 Romance rides every wave, crest and surf here in Fiji. There are serene moments of solitude, total privacy and uninhibited intimacy for die-hard lovers of hideaways and exclusivity. Except for zipping jet boats etching a white tail on the cerulean Pacific expanse, all is quiet and breezy, cool and comfortingly calm at the Likuliku Lagoon. From a tiny island jetty with a panoramic open oceanfront lounge bar and high water walkway on Malolo Island, the views are breathtakingly beautiful. On the far end of the lagoon, a seaplane gracefully lands on the sparkling waters, eager couples alight to barefoot up the sandy path. A once-in-a-lifetime Robinson Crusoe adventure awaits the chosen newlyweds as the jet boat carries them away to their private, secluded honeymoon Island for a day's leisurely 'sweet something' picnic!
The sun plays a celestial drama by evening on Malolo Island as we cheer the changing mauve-to-peach-to-crimson moods. The ocean wells up to greet the magic on the horizon, the villas twinkle with soft glows and the scene is set for fine wining and dining on the Lagoon's edge. Table for romantic two is under a tree on a platform overlooking a noir night, Fijian instrumentals linger on as fine fare meticulously crafted create culinary seduction of another kind. 'Grilled King Prawn, smoked coral trout kedgeree, crayfish foam chervil and baby coriander' match an interesting 'marinated pork cutlet, Kim Chi, Baby cos lettuce, Sushi rice and soy and sesame dressing'.
Out on the Bure ocean deck as we sip our night cap, we catch the fleeting nocturnal wisps of a grand sunset, the gentle lapping of coral waters bidding a soft adieu.
Fact file
Fiji is accessible conveniently from Mumbai and Delhi to Hong Kong by several airlines. Fiji Airways connects Hong Kong to Nadi (Nandi in Fijian) non-stop direct. Island hopping is facilitated by speed boat transfers and swift catamaran passenger ferries plying regularly to and from Port Denarau to island resorts. Fiji's several award winning super luxury resorts offer world class accommodation, fine wining and dining along with a host of interesting activities for guests. On land pre-booked private tour taxis and car rentals are available. Prior bookings advisable.
Climate is warm tropical, but its mild winter time from April to July.