The erstwhile Kingdom of Travancore (in present-day Kerala) had been notorious for its weird caste laws. One such rule was that every lower caste and untouchable woman who passed their age of puberty had to pay a 'breast tax'. The tax, which was to support the caste hierarchy in the state, denied basic human dignity to lower caste women. Known as 'mulakkaram', the tax was imposed depending on the size of the breasts of the women who wished to cover them.
There is a legend about Nangeli, a woman from Alappuzha named who cut off her breasts and presented them to the tax collector on a plantain leaf to protest against this caste-based tax. The legend says that her death ignited people's protests. Also, the place where she lived got the name Mulachiparambu (breasted woman's land).
Alappuzha-based artist V.S. Blodsow's wood-and-fabric series 'Spectrum' talks about this body politics of outcaste women who had to fight to the power centres for their dignity. Conceptualised in 2005, the artwork was made with blouse materials from a textile shop in Alappuzha. "The work also talks about the poor work conditions and struggles of saleswomen in Kerala's textile shops," says the artist. A tribute to American painter-printmaker Ellsworth Kelly—and countless number of women who had to suffer injustices in the past—Blodsow's 'Spectrum' is part of 'Lokame Tharavadu' (The world is one family), a mega show of more than 3,000 individual artworks, curated by Bose Krishnamachari in Alappuzha.
Alappuzha is a sleepy town today. But once it used to be an important trade centre of colonial powers and a place of diverse culture. Even now, it has the remnants of this heritage, and that makes it an apt spot for a show like 'Lokame Tharavadu' which celebrates oneness and unity in diversity.
Krishnamachari told THE WEEK that this show was conceived as an effort to instil confidence in the artist community around the world. The show features 267 artists from 15 countries who trace their roots back to Kerala. Spread across five venues in Alappuzha and one in Ernakulam, this is arguably the biggest and most ambitious contemporary art show in India post-Covid-19. Krishnamachari says that nothing of this scale has been set up in South Asia, perhaps ever.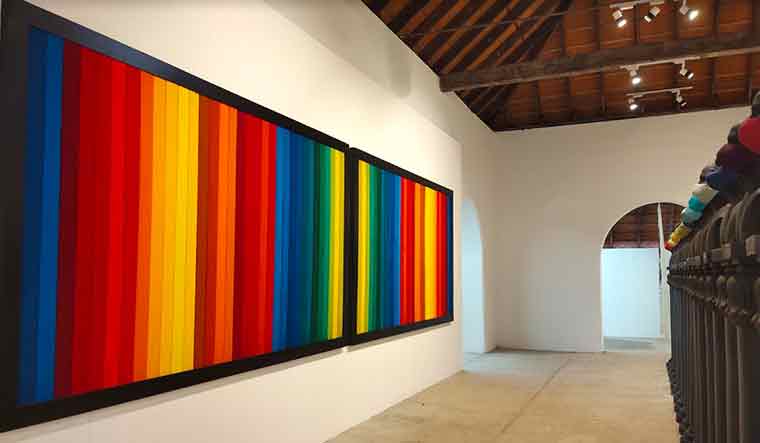 "For me, after the Kochi Biennale site, Alappuzha became one of my favourite sites in the world," says Krishnamachari. "There are possibilities that we can have an extended version of Kochi-Muziris Biennale in Alappuzha as well. These heritage buildings, we have converted them into contemporary art gallery spaces. This can become a place for diverse kinds of exhibitions. This is a fantastic place for any kind of art works."
Alappuzha is a place where history, myths and legends cohabit. For the past many decades, it has been a stronghold of the Communist parties. And, the most important event that made it a leftist land is the Punnapra-Vayalar uprising of October 1946. It was organised against the exploitative policies of Travancore Diwan (prime minister) Sir C.P. Rama Swami Iyer. The coir workers played an important role in this uprising. They fiercely fought the Diwan's move to make Travancore an independent country with a new constitution, and this had triggered violence across the region. But it was met with violent reprisal from the government; hundreds of comrades were killed in the Travancore military's firings.
Artist Bara Bhaskaran, in his series of 10 paintings named 'Chambers of Amazing Museum', depicts this unique working-class movement against the tyranny of Travancore's authoritarian ruler. "In every uprising or war, it is the women who suffer the most," he says. "In Punnapra-Vayalar uprising, only martyred men were immortalised; the women who had an equal stake in the struggle, who got widowed, were not acknowledged." The artist who is known to be a chronicler of subaltern histories says that the movement was driven by the people from the lower strata of the society, and what Iyer had tried to destroy was an idea that people can question the authorities.
The exhibition is an effort to raise important questions for the Kerala society. There are several works covering the themes of culture, migration, freedom of expression and home. For instance, artist Ameen Khaleel's 'Illogical' theatre series talks about the fissures between the nature and culture. "My effort was to see these fissures as a drama," says Khaleel. "I have used a mix of personal histories of people I know, and the local contemporary history in my work. I have portrayed these histories as baggage that should be held by the current generation."
Women-centric issues also have a special place in the show. 'Lokame Tharavadu' features 56 women artists. There is an effort to introduce many young talents as well. For sculptor Helna Merin Joseph, 25, the invitation to this show was unexpected. "It is a great opportunity for a young artist like me to exhibit my works along with several acclaimed artists," she says. Joseph completed her masters in fine arts from Sarojini Naidu School of Arts and Communication, Hyderabad, last year.
"My works exhibited at Lokame Tharavadu are the ones that I completed during my college years from 2014," she says. "The attitudes of women and their reactions to their realities are etched in my sculptures with care and my endeavor is to bring their wrinkled circumstances to the audience. My works deal with th  insanities and difficulties and agonies faced by women in society."
Finding influence and inspiration for art, from the environment around, is important for artists. Artist N. Balamurali Krishnan's Memories of Onattukara series explores the topography, culture and history of his native land. "We could find the influence of early Buddhist doctrines in the language, architecture, medicines and lifestyle of Onattukara. I was in search of the soul of my land. And the paintings that are exhibited in Lokame Tharavadu are the ones that I painted from the influence of my studies."
Art practitioners from diverse schools are represented in 'Lokame Tharavadu'. "From printmaking to augmented reality, and from surrealism to magical realism, so many different kinds of work could be seen here," says Krishnamachari. "This show will educate diverse kinds of practitioners—writers, filmmakers, theatre artists."
However, the show is yet to be opened for the public because of Covid-19 restrictions. "When we started working on this project in September 2020, the cases of Covid were coming down," says Krishnamachari. "We felt that we could do a really amazing show; we were expecting a good crowd for this project."
The show was first opened on April 18, and it was supposed to run for three months. "Unfortunately, we had to close it down immediately after it was opened because of the Covid-19 situation," says Krishnamachari. "We are still waiting to reopen this project for people. Art enthusiasts, connoisseurs, collectors, all of them are waiting to see this project. We are trying to keep the exhibition running until September 30. Our request is to allow people to come and see the show with social distancing. I request the local authorities to please look at the site and make a decision."
Krishnamachari adds that the show would benefit several lesser-known artists from Kerala. "Many artists would get future opportunities nationally and internationally from this project," he says. "People are really looking up to the new-generation of artists from Kerala.