Yashoda D. Shenoy acquired her love for reading after her brother took a membership at a library. She read, voraciously, since she was in class III. The idea to start a free library struck her after she saw her father pay a late fee to a library.

Then a little girl, she got upset at the thought of a monthly payment to be able to read, wondering what would happen to those who could not afford it. She felt libraries should be a platform for social service.
On Republic Day, 2019, she started "Yashoda's library" near Paliyarakkavu temple in Kochi's Mattancherry area, with an inauguration by Dr. K.S. Radhakrishnan. Today, it has 3500 books in total, 110 members and 20 regular customers.
"Books are the companions of fraternity" confidently quips the class VII student from the outskirts of Kochi district. I started by reading books such as Balarama, Balabhumi, Twinkle etc and that's how I was inspired to read more. I got to explore a lot of books when my brother took a membership in a library."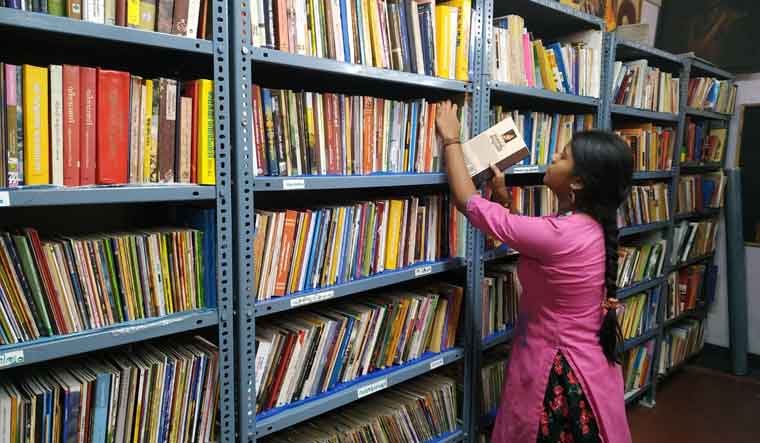 It was Yashoda's father, Dinesh Shenoy, who gave wings for her little daughter's dream. The duo started a library with 100 books. Dinesh, an artist, posted an appeal for books on his Facebook, and saw his post swiftly go viral with his friends around the world. It took just a month to collect 2500 books for the library, with many people helping to sponsor the library financially as well.
While talking about the people who donated the books, Yashoda recounts a few interesting stories. "There was a foreigner and his wife who came here and spent a long time in the library. Five days later, they came again with their kids and donated a lot of books." Yashoda also mentioned her father's friend, Dinesh Mallan, who initially planned to give 10,000 rs, but later bought interesting books with the same money and donated them. "We also have a system of delivering books for the people who can't walk, which we call as a special membership programme," Yashoda says.
When she is not around, such as during school hours, her brother, mother and grandmother manage the library. Her voice trickled with excitement as she spoke about the people who helped make her dream a reality. "I am thankful to each and every person whom I have come across in this life. There are lot of people who has shown respect to my library, including Kummanam Rajasekharan sir who donated 108 books for me, in front of a big stage, which I still consider as a proud and unforgettable moment, and Jacob Mathews sir (Managing editor, Manorama) who never fails to send books every month."
As a Malayali, she loves reading books in her mother tongue. "Malayalam is a sweet language. I was inspired to love Malayalam only after reading the book named ' Kadalippazham, which is a compilation of Kunjunni Maash's short poems. "She adds that she is proud to be a Malayali, and that everyone from the state should understand the importance of being fluent in their mother tongue. "I am a great fan of Vaikom Muhammed Basheer. His books are my favorite," she says.
To commemorate Reading Day (celebrated on June 19) and the ongoing Reading Week, she quoted the father of Kerala's library moment, P.N Panicker, who helped bring about the reading revolution that made Kerala a 100 per cent literate state. "Read and grow, think and acquire wisdom," she said, adding another quote by Kunjunni Mash. [Translated from Malayalam] "Whether you read or not, you will grow up. You will reap if you read, trip if you don't."
The Kunjunni quote resonated with her, as she says, "I don't want any of my friends to trip down in life. I wish all of them to read once a day. A person can only be perfect through their books."
Yashoda dislikes reading online, feeling that the experience lacks the same pleasure that reading a book brings. "When I get a book, I examine the colour, fragrance and the way things are arranged in it. Reading the book will store every bit of information in my mind. Moreover, gifting a book is the most relevant and happiest thing for me. I can never achieve it through an e-book. Books keep people together."