On January 23, 1948, Winston Churchill, then a member of the opposition in the House of Commons, said: "For my part, I consider that it will be found much better by all parties to leave the past to history, especially as I propose to write that history." Churchill meant it. The six volumes of The Second World War, which Churchill got published in his name between 1948 and 1953, influenced the western perspective. While much praise (and a Nobel Prize) was heaped on Churchill, MP Michael Foot was one of his few critics. He called the work "Churchill's Mein Kampf". Later analyses of evidence proved Foot had a point and exposed how far Churchill (or his ghost writers) willfully distorted history to show himself in good light. To make the defeat of the Allied Forces at Crete seem less disgraceful, Churchill exaggerated the number of German casualties. His book said "well over fifteen thousand", whereas British official records claim it was only 6,000.
But, what if we had never found those accounts. What if it had been burnt, like so many other texts through the course of history. This is one of the many, many examples that show the power of the pen—Churchill used it to manipulate an entire generation, but he was also ultimately exposed by it. When we think about instances like these, we cannot help but appreciate the importance of preserving books and libraries. In this regard, artist and writer Shubigi Rao is the messiah of the written word. She is now working on a ten-year, five-volume project about the history of censorship, destruction of books, and the book as a tool of activism and resistance. Shubigi was in Kochi recently and gave a talk about her project, Pulp: A Short Biography of the Banished Book (a film, book and visual art project), the first volume of which was released in January 2016.  She is planning to release one volume every two years. The second volume will be released later this year.
For the project, she has been visiting public and private collections, libraries and archives globally since 2013. She films people and places that have served as flashpoints in history, gathering anecdotes and buried secrets. "When we lose a library, it is not just about the content," said Shubigi. "It is also about the journey of those ideas across time, place and ethnicities."
To elucidate the purpose of her project, she uses the example of holy texts. "When people talk about holy texts, the assumption is that they belong to a certain religion," she said. "Again and again, I find stories where librarians, irrespective of their beliefs, have saved books, under life threatening situations. A Muslim librarian, for example, saved a Jewish holy text when his library was destroyed." Why do it? That is the question at the heart of this project.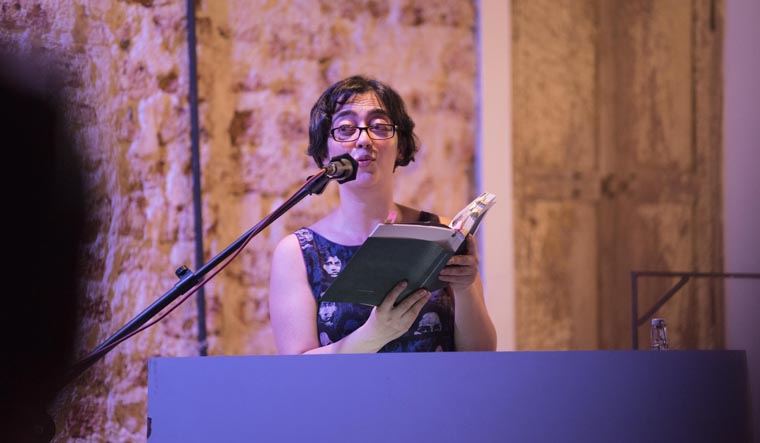 Each word in the project's name has been chosen for a particular reason. Short, because it is only a ten-year project; "Ten years are not enough for something like this." Biography, because it is the book personified. "I do not valorise the book as an object. While you can have exquisite books, and the book can be really beautiful thing, it is an object. What it holds is of greater value. The way the ideals in it have survived dictatorships, proscription, atrocities and genocide is of greater importance."
Apart from the written word, she also highlighted the importance of oral history. "Oral histories are very often the words of women or marginalised communities—people whose texts do not exist in libraries. They are not a part of any curriculum," she said.
During her talk, she also gave a presentation about Written in the Margins, a documentation of material in progress from Pulp.... It is written in conjunction with her solo eponymous exhibition held in Berlin in April and May 2017. Shubhigi had an explanation for the name Written in the Margins as well. "It is about the people whose narratives remain in the margins," she said. "The story of the margins is also interesting because, in Europe, before the invention of the printing press, books were laboriously written. Sacred texts, for example, were reproduced by the youthful monks; they hated the job. But, in the margins of the document, they could do what they wanted. For instance, I have seen a doodle, by a young monk, of an abbot having sex with a dog. And you could do it, it was okay." According to her, they would write little notations that would go, "my eyes, my eyes, I am so glad this book is finished, I now need some wine". Those are voices of the people who actually laboured over the exquisite books, she said. "The living, breathing backdrop. The truth behind every objective looking text is actually a very messy, subjective human being."
She said religion and the idea of state were the two main culprits behind the banishment and destruction of many books. "Let us look at the ancient Romans. We have all heard about how the people of Carthage, Rome's traditional rival, were evil. They would sacrifice children to the gods and so on. We don't know if that is real because Romans destroyed the libraries [of Carthage]. It was very deliberate so that it would seem the only civilisation in the west was Rome." She said there was an unholy alliance between religion and state.
"We all know about Nazi book burnings," she said. "When the allies liberated Berlin, one of the first things they did was to empty the German libraries of every book that had Nazi ideology and burn it. No problem. No one likes the Nazi ideology. Except, it came from the folklore and stories of German people. So, all books of German poetry and literature were destroyed."
She said the need felt to burn books was much more interesting. "Did the Allied Forces really believe that by burning books, they were eradicating Nazi ideas? No. If they did, they would have taken greater care with the books they selected [to burn]," she said. "It was the military might flexing its muscles. Both the Nazis and the Allied Forces burning books was symbolic, just macho posturing."