Home-style food for pet dogs is not quite encouraged. Ishmeet Chandok, as India's first "dog chef" wants to change that misconception.
Ishmeet is the founder of Harley's Corner, named after his adopted Indie dog Harley and his love for the motorcycle brand, Harley Davidson. Harley was part of a litter of 6 pups at a construction site and the friendliest of the lot.
When Ishmeet brought Harley home, he noticed no matter how much kibble or dog food he had in his bowl, Harley would always be eyeing the food his pet parent was eating and would look always forward to a bite.
That's when the founder started researching about food which are safe for dogs and the ingredients that should go in to give them the right nutrients. Today, Ishmeet can whip up a five-course meal for canines promising to tickle their taste buds and is also ensure safety using human grade food.
And recipe is ever produced or released unless it has Harley's approval with a lick of his tongue and a wag of his tail.
As a certified canine nutritionist and founder of India's first ready-to-eat wet dog food brand, Ishmeet wants to tell all pet parents that dogs that grow up eating home style food, actually live longer than the ones on commercial kibble diet.
The company is the first in India to launch food for canines which is salt and sugar free and made completely with human-grade food. The brand has both subscription meals for dogs based on their age and weight as well as treats such as lamb, chicken munchies and rawhide besides ice cream made of fresh fruits like apple and carrot for the warmer months and a wide range of cakes from paneer, liver, bacon, mutton, beef, among others for festive occasions with family.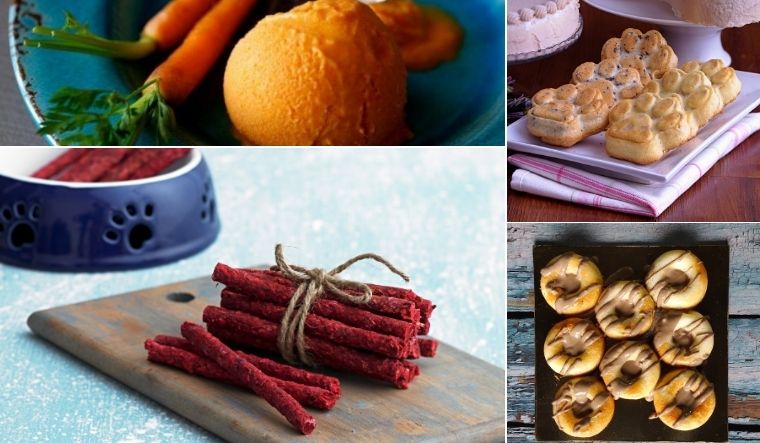 With people planning  long drives, brunches in the backyard and picnics, Ishmeet Chandiok is planning to launch waffles and  donuts. Also seeing how families are now trying to keep their kids entertained and spend more time at home with cooking and storytelling sessions and how many have actually adopted dogs during the pandemic, Harley's Corner is looking to launch the first DIY Doggy Cake Kit. It will consist of a proprietary dry cake mix which is salt and sugar free. There will come in two pouches; one of chicken icing and another of liver spread which can be made following instruction videos on Instagram.
The brand also designs meals that are gluten free, low fat, fish-based and hypo allergenic, apart from activated charcoal treats which help with hair fall.