"With increasing cases of fatal blood disorders, there is a growing need for finding more donors" - Raghu Rajagopal, founder, Datri
It is World Cancer Day. But, it is business as usual at one of the busiest cancer hospitals in India. The outpatient department of Apollo Cancer Hospital in Chennai is crowded with patients and their relatives. Every time someone walks into the waiting area, a pair of eyes keenly follows him. Standing next to the reception desk, Amit Baig makes a silent appeal to anyone who cares to look his way. Dressed in a faded yellow shirt and worn out black trousers, Baig, 35, has dark circles under his eyes. All he wants to do is share his story.
Two years ago, Baig's daughter was diagnosed with acute myeloid leukaemia, commonly known as blood cancer. The child, now four, was given four rounds of chemotherapy for two months, but it failed to yield any result. She needs to be put on stem cell therapy soon. However, finding a donor with a similar genetic makeup is not easy.
Every patient has a 25 per cent chance of finding a matching donor within the family. However, that didn't happen in Baig's case. So he approached Datri, a non-profit organisation that helps patients find donors. Baig, who works as supervisor in a hotel in Coimbatore, is lucky that Datri managed to find a donor for his daughter.
Launched in 2009 by Raghu Rajagopal, Datri currently has more than 93,000 registered volunteer donors. It has so far facilitated 110 peripheral (circulating) blood stem cell donations—one of the two methods of collecting the blood-forming cells, the other being from bone marrow.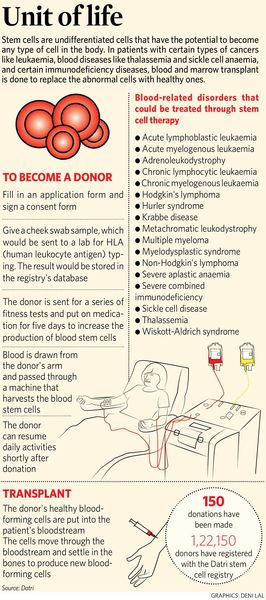 The need for creating a database of donors dawned upon Rajagopal, an engineering graduate from BITS Pilani, in 2003 while he was working in the US with an IT major. When a friend's brother's fiancee was diagnosed with leukaemia, Rajagopal helped him in his search for a donor. However, they couldn't find a single donor in the US registry since the fiancee was of Indian-Pakistani origin. They finally found a match in the London registry. "This was when I realised the hardships that a blood cancer patient faces, and how ethnicity plays an important role in genetic matching," says Rajagopal, who is happy to have helped in saving the woman's life.
Subsequently, on his return to India in 2005, Rajagopal decided to set up a blood stem cell registry. However, it took him another four years to fulfil the dream. Setting up the registry, a first of its kind initiative in India, proved to be a challenge for Rajagopal since nobody knew anything about the procedures involved. Finally, he got help from Dr Nezih Cereb and Dr Soo Young Yang of HistoGenetics, a US-based biotech firm.
On March 3, 2009, Rajagopal launched a registry by the name Datri, which in Sanskrit means donation. "It took us a further two years before we could facilitate our first blood stem cell donation simply because our donor pool back then was very small and finding a match was extremely rare," says Rajagopal. "In case of blood stem cell donation, it is not the blood group that matters, but finding a genetic match."
Datri had its first successful case in 2011 after it found a donor for a young patient who was undergoing treatment for leukaemia at Christian Medical College in Vellore. "Ajith Kumar Das of Odisha was my first donor," says Rajagopal. So far, the organisation has found a match in 140 cases.
A major challenge before Rajagopal is to convince people about the merits of donating stem cells. Most people confuse it with organ donation. In 2013, Datri got a request to find a donor for a 10-year-old boy. By then, the registry had 40,000 donors. Luckily, a match was found among the registered donors. The girl had given her name to Rajagopal and his team in 2011 when they visited her college in Salem. However, when they went to Bodinayakkanur, a small town near Salem, where the girl lived, they were in for a shock. The girl had eloped, said her mother, who didn't have a clue about her whereabouts.
After coming all the way, the team didn't want to give up so easily. They took help from the local taxi and auto drivers to trace the girl. After searching for three days, the team finally managed to find her location. She had got married and was staying with her husband and in-laws. The team had a hard time convincing her in-laws about their intentions. "They were under the impression that we were organ traders," says Rajagopal, who spent three hours counselling the family. Finally, they agreed on the condition that the entire family would accompany the girl to Chennai where the stem cells would be harvested. For an entire week, Rajagopal played host to the family till the procedure was completed.
The process is quite simple. Any person between the age 18 and 50 can be a donor. Once a person registers with Datri, he has to fill a form with basic information about himself and give a cheek swab. The cheek swab is sent to a lab for HLA (human leukocyte antigen) typing. The information is used to find a match for the patient. So, it is fed into the database. When a match is found, Datri contacts the donor and sends him for a master health checkup at a hospital to rule out any ailments or diseases.
Next, the donor is put on medication for five days to increase the production of blood stem cells, which are later harvested in a four-hour day-patient procedure. The cells are collected in a sterile pouch and transported in a temperature-controlled box, with temperature ranging from 2 to 8 degrees centigrade.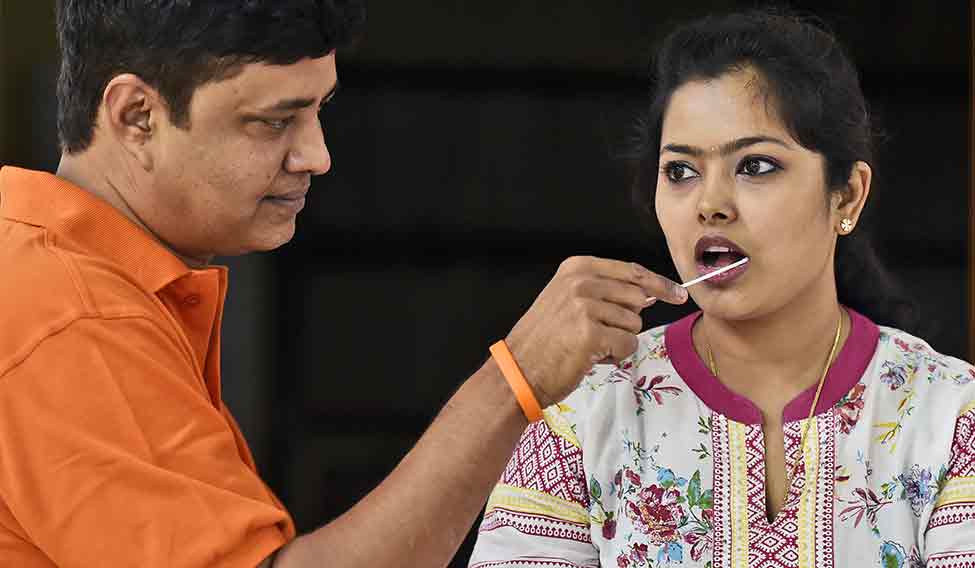 Unlike earlier, harvesting stem cells is no longer a surgical procedure performed under general anaesthesia. "The blood is drawn from the arm of the donor and passed through a machine that harvests the blood stem cells," says Rajagopal.
Though there has been a steady growth in the number of registered donors, a lot needs to be done on creating awareness. In the past, Rajagopal's team has had problems with the customs department while transporting the stem cells. "The stem cells will die if they are put through the scanning machine. Many a time, we have been made to sit for hours and explain to the airport authorities what blood stem cells are, how it is collected and donated. These days they are more understanding," says Rajagopal, who was surprised to find that even the medical fraternity lacked a clear understanding of the importance of harvesting stem cells.
Over the years, Datri has organised more than 1,000 membership drives. "We are hoping to reach a stage where every patient would be able to find a willing donor," says Rajagopal, who hopes that the registry would cross the one lakh mark soon.
His wife, Meenakshi, who is an entrepreneur, and two sons are registered with Datri and are actively involved with its activities.
"We can treat a majority of patients suffering from leukaemia and thalassemia with chemotherapy. But in certain cases, only blood stem cell therapy works," says Dr Revathi Raj, oncologist at Apollo Specialty Hospital in Chennai. "It is a safe procedure. For the donor, it is just like donating blood, but for the patient it is rebirth."
However, India still has a long way to go. "We need many more registries in a country like India with such a huge population," says Rajagopal. "With increasing cases of fatal blood disorders, there is a growing need for finding more donors."