Most important, I realised that early detection is possible in breast cancer if one is vigilant.
I don't remember exactly when I felt a lump in my left breast. Maybe in September or October last year? It was during one of those oil bath rituals. I examined my arm pits. No, there was nothing there. But I felt suspicious and told my husband. He brushed it aside and went back to his sudoku. Can't blame him. As a diabetic I was always worried about a heart or a kidney problem. I have been a pure vegetarian, careful about my diet, practised yoga and pranayam daily, regular in morning and evening walks. My deliveries were at ages 23 and 25, I breastfed my babies, never used contraceptive pills. How can I get cancer? There is no family history either.
I didn't know whom to consult. I had an appointment with my endocrinologist at the hospital for December 7. I decided to wait.
During the consultation, we discussed my diabetes. And then something inside prompted me to tell her about the lump. Suddenly her antenna was up. She examined me and said, "It may be nothing. But see the oncologist rightaway."
I met a surgeon in the oncology department. First I showed her a couple of lumps on my right arm. She touched them and said, "These are fat deposits." Then I told her about the lump in the breast. She examined the lump and said, "This one looks suspicious. You must go for a mammogram and biopsy." I was in a state of absolute disbelief.
I called my younger sister who had undergone mammogram a few years ago. "I am sure it will be fat deposit and nothing else," she said. My sister-in-law also said the same thing. I needed reassurance.
The technician was a young girl. "Will it be painful?" I asked.
She smiled, "A little bit."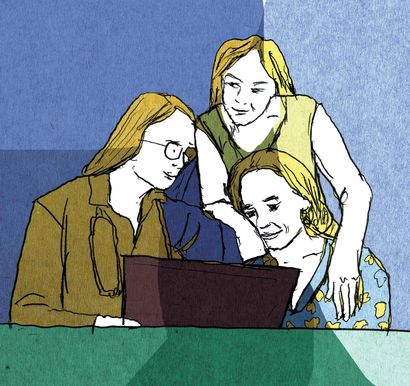 Mammogram over, she took the reports to the radiologist. "The radiologist says you should go for a biopsy," she later handed me the films. I was in a daze as I filled up the forms for biopsy the next day.
There were a couple of other patients waiting in the room. One patient came out of the biopsy room and ran to her husband who was waiting outside, "Doctor said it is not that... just fat deposit." After some time a young girl came out. I asked her what the diagnosis was. She said, "Thank God, it is not that. It is due to some hormonal imbalance."
It was my turn. I walked into a dimly lit uninviting room. "We will give you local anaesthesia, so you won't feel any pain. But you will hear a loud noise, you shouldn't be scared nor should you move," the doctor explained the procedure. While at her job, she told me that the growth appeared to be malignant though very small. I listened to her as if she was talking about someone else. It can't be me.
December 18. One look at the compassionate smile on the doctor's face cleared my doubts. Yes, it is that. "It is malignant, though it looks like in the initial stage. Surgery is the only option." She went on to explain the treatment, surgery, chemotherapy, radiation and its after effects. I told her about going to Delhi where my elder son lived and the CGHS facility there. She promptly gave us all my reports including the biopsy specimen.
On my way back home I broke the news to my sister and sister-in-law. There was pin drop silence. But by now I was calm.
My firstborn was the first to know. His response was just an "oh!"
My younger son was doing research on cancer therapy in the US. Talk of coincidences. "Oh!" he, too, said. I could understand. Men cannot show an unedited version of their emotions.
While one daughter-in-law was in tears, the other's voice was heavy with pain. She had lost both parents to cancer, and must be reliving those traumatic days. I tried to console them. "Don't worry. Doctor said it is a small growth and in the initial stages. I will be all right." Probably I was trying to reassure myself.
It was December and Delhi was experiencing the worst winter ever. We would have to find a new doctor and go through all the investigations. This meant loss of time.
We decided to return to the hospital where I had got the tests done. My onco surgeon looked at my report. After examining me, he said, "Oh, it is a very small growth."
"There are two ways of doing the surgery," he explained. "One is to just remove the lump in which case you have to undergo 25 sittings of radiation. The other option is to go for mastectomy. Then radiation will not be required and also there is no chance of recurrence. The choice is yours. Though I would recommend mastectomy."
That was empowering, the choice being mine. I told him that I will go by his advice. "Especially at my age." He cut me short. "Why at your age? So many youngsters are opting for that these days." I remembered reading about actor Angelina Jolie. [She underwent mastectomy as preventive care.]
The surgery was scheduled for January 5, 2016. Before the surgery I had to consult the cardiologist and anaesthetist, get blood tests done, X-ray taken, have a whole body scan done.
I told my diabetes specialist about the diagnosis and the surgery. Her face softened with compassion. "Take it in the right spirit, Jyothi. I will come and see you after the surgery." She then made some changes in my diabetes medicines to avoid complications because of the surgery.
Back home we had to think of the practical aspects. First, the finances. I was planning to get the help of a home nurse. When I asked my sister-in-law to look for someone, she said, "Nothing doing. You are going to stay with us till you are absolutely all right."
I broke the news to my close relatives and friends myself. Everyone was shocked. A friend who runs an NGO had wanted me to anchor a programme in December. "Thank God, I am so relieved," she said, when I told her about the date of surgery. "Now you can do our programme!" That was her way of giving me confidence. On December 30, I was on stage.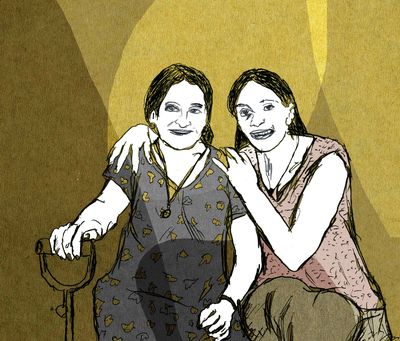 I was hospitalised on January 4 after undergoing all the prescribed tests and taken to the operation theatre at 7.30 the next morning.
The surgeon came up to me as I lay on the stretcher outside the operation theatre. "Scared?" he asked. "Don't worry."
"Why should I be when you are there?" I said. I was neither scared or worried. My mind was blank.
Inside the theatre, I looked around. After all I had seen an operation theatre only in films. But before I could get a good look, five or six heads with green caps were bending over me and a mask was lowered over my face.
I woke up in the recovery room at around 2.30 in the afternoon, feeling tired and hungry. The nurse gave me a cup of hot kanji. I asked for more and she gave me one more cup. Suddenly I felt lonely and asked if I could meet my family. My sister came. She was in tears, tears of joy and relief. The surgery went off well and the disease had not spread, the surgeon had told them. I fell asleep and when I woke up the surgeon was standing next to me and smiling. "How are you?" he asked me gently. "Fine," I replied feebly and dozed off.
At 4.30 in the evening I was back in my room. I was told to start walking in the room. After a normal dinner of chapati and vegetables, I slept well. A dietician supervised my diet and a social worker advised me about after care. I took bath on the third day. I would have been discharged but for the fluctuating sugar levels. I was home a day later.
Everything was not over yet. The stitches had to be removed and further treatment would be decided on the basis of the biopsy report, which would take a week or ten days. That meant a few more days of anxiety.
So when the surgeon very casually said, "You don't need chemotherapy or radiation. We will put you on hormone tablets and you have to come for check up as per the prescribed schedule," I couldn't believe my luck. I hugged the doctor, who sportingly posed for a picture with me.
What did I do between December 18 and January 5?
I looked back taking stock of my life. Things I had done, not done, could have done but had not done. Things which I could have done better. Of love, which I received in abundance. Moments of pain, of ecstasy.
I felt cheated, let down by my body, which I had taken care of, never neglected. It was a lesson learnt. At such times it is easy to slip into depression. But I thought of the positive side.
I hardly felt sick. That gave me the time and energy to introspect. Some dramatic changes took place in my outlook on life, people and relationships. I prayed intensely. I realised that I am only an instrument in the hands of the divine. To never crave for the result of my actions. The awareness gave immense peace.
I saw that crisis brings out the best in people. The amount of love I received from family and friends during my sickness was unbelievable.
There were painful moments, too. When people didn't respect my need for privacy, their insensitivity.
Most important, I realised that early detection is possible in breast cancer if one is vigilant. It is also very important to get good medical support and I was fortunate.
A bullet had just grazed me, left me alive, thus giving me a second chance. It was time for celebration!