She always went by her intuitions, be it her decision to marry a man 16 years older to her after meeting him three years ago, or going for in-vitro fertilisation to have children. And, when she felt a lump in her right breast, she yet again had the gut feeling that her journey to motherhood was not going to be easy.
Rosy Lalnun Sangi, 42, of Mizoram was in the fourth month of her pregnancy when she was diagnosed with stage two breast cancer. The doctor advised her to abort the twin pregnancy immediately. "How could I? When I told him that it was not a choice, he asked me to contact Dr Ramesh Sarin in Delhi," says Sangi.
It was a challenging case even for Sarin, senior breast cancer surgeon at Indraprastha Apollo Hospitals in Delhi, because Sangi could not undergo the normal course of treatment, given that she was pregnant. Diagnostic tools like mammogram and MRI with contrast were ruled out. She had to rely on ultrasound and basic MRI.
Sarin and the other treating doctors—senior gynaecologist Dr Shakti Bhan Khanna, foetal medicine expert Dr Anita Kaul, anaesthetist Dr Priyush Gupta and oncologist Dr Parag Sharma—had to prepare themselves for the challenges they might face during treatment and come up with an alternative plan in case of a setback.
Sangi underwent a surgery in the fifth month of her pregnancy. All the while Kaul kept a close watch on the babies. Sangi was given an anaesthetic which was safe for pregnant women.
"The main concern was the dose of anaesthesia," says Gupta. "We didn't want the drug to put the babies to sleep. Now we have drugs that don't pass from mother to the baby in the womb. These medicines get removed very fast from the system."
Surgery, too, was tricky. Removing the breast completely was not an option since it would have required more healing time and frequent visits to the hospital. Sarin removed just the lump and four lymph nodes from the armpit. Sangi was given four cycles of chemotherapy.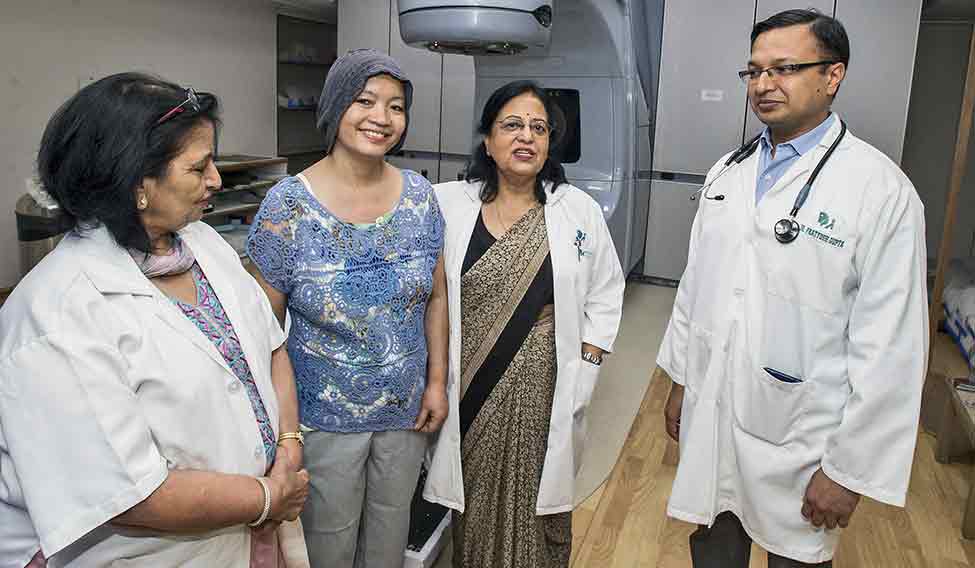 Doctors feared that chemotherapy drugs may have an adverse effect on the growth of the babies. Also, the body takes three weeks to wash these drugs out of the system. So, it was important to complete the chemotherapy cycle at least three weeks prior to delivery, failing which the babies' blood count could have fallen drastically. "Besides, chemotherapy could have induced labour," says Khanna.
Sangi proved that she was a fighter. She completed chemotherapy and gave birth to her twin girls in the ninth month. "When I took them in my arms for the first time, it felt like I had fulfilled my life's purpose," says Sangi. "I felt complete, and forgot my pain and fears."
Talking about fears, Sangi had her share of anxious moments. "Doctors used to do 3D imaging of the babies to rule out deformities. Once, I confused an image for the baby's face and thought it was deformed. I couldn't sleep the whole night and I rushed to the doctor the next morning. The doctor laughed and said that I was looking at an organ and not the baby's face," recalls Sangi.
Though Sangi always put up a brave front, she constantly worried about keeping her babies safe and healthy. "They [babies] gave me the strength to fight all odds. I have been asked to stay in Delhi for the next one-and-a-half-months for my radiation therapy. But my babies are back home with my mother," says Sangi, looking at a photograph of her daughters in identical striped frocks on her smartphone. "It is difficult being without them. It is going to be the toughest one-and-a-half-months of my life."