I'm not mellow compared to the average person, but I'm certainly a lot mellower than I was.

If a whole day passed when someone didn't say, 'You cannot be serious!' to me, that would be amazing.
He used to be known for his on-court rages, coining the phrase 'You cannot be serious!' at a Wimbledon umpire in 1981, a line which became as connected to him as his numerous tennis victories.
Even today, three-time Wimbledon singles champion John McEnroe is courting controversy, be it labelling Andy Murray a 'distant fourth' behind Novak Djokovic, Roger Federer and Rafael Nadal or declaring Serena Williams would be ranked '700 in the world' if she had to play on the men's circuit.
Yep, McEnroe is still causing a stir with his down-the-line observations—but he has long since learned to volley away criticism and serve up some self-deprecating humour, too.
"I've mellowed," he says, gazing out of the window towards the Thames and the Shard, as we sit in his publisher's office in London to discuss about his second autobiography, But Seriously.
"I'm not mellow compared to the average person, but I'm certainly a lot mellower than I was," he says.
McEnroe's first autobiography, Serious, charted his childhood and early days of tennis—which progressed to seven Grand Slam singles titles, the 'Superbrat' reputation and a tumultuous eight-year marriage to actress Tatum O'Neal, marred by her addictions, his hot temper and a prolonged custody battle for their three children.
Now, the follow-up deals with his struggles to reinvent himself as a father, art collector, musician and broadcaster, his relationship with second wife Patty Smyth, and his efforts to be the best father he could to his six children—which includes two daughters and a stepdaughter with Patty.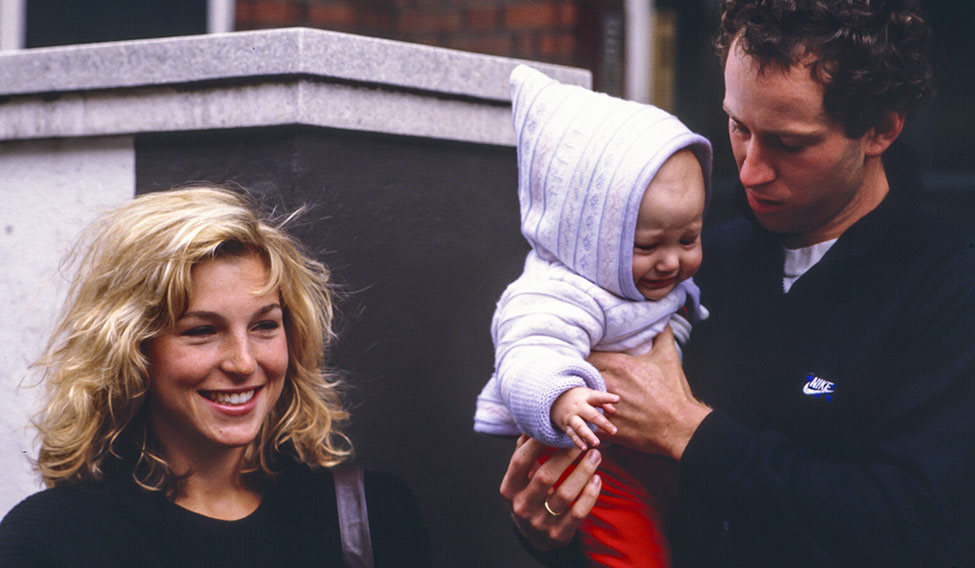 He admits to being a strict disciplinarian, like his late father, a lawyer, which hasn't always gone down well.
"I'm sure if you asked some of my kids, they wouldn't say I'm mellow. I find it ironic that I'm the one more often than not calming Patty down. If you don't mature and mellow and have a better overview and perspective of things at 58, you are going to be a kid your entire life."
They met at a party in 1993, when he was going through his divorce and was at a low ebb.
"If there's any credit for the faint possibility that I might have become a slightly better, less selfish person over the last 20 years or so, the bulk of that should go to Patty," he writes.
After retiring from professional tennis in 1992, McEnroe admits he filled the space by smoking marijuana, and stopped when he discovered his teenage children were pinching his stash, while Tatum accused him of being a drug addict during the custody battle.
"I was going through a difficult time in my personal life. Sometimes it's hard to look in the mirror and face up to things," he says.
Two years ago, his eldest son Kevin was arrested for alleged possession of cocaine and prescription drugs. Although the substance found on him was baking soda, his father asked himself what he had done wrong.
"I felt terrible. His mom had been arrested close by and I couldn't believe it had happened. I was very shocked."
He clarifies his feelings in the book. "Kevin was always such a good person that it's been painful to watch him struggling, but I'm proud of how hard he's worked to get his life back on track over the last couple of years."
Relations with Sean, his second son, who has always gravitated towards his mother (and changed his surname to O'Neal), are more difficult. John says he wishes he had been more sympathetic about the impact of being the son of a high-profile couple in the midst of a painful divorce.
"I remember one time when I dropped Sean off and I was really afraid that he'd go up and find her dead on the floor. I know that he was deeply affected by that. It was a frightening time. I wish I'd been more sympathetic as to how he was feeling. He's 29 and it seems like we've been unable recently to see eye to eye. We speak infrequently. We're in touch through texting or emailing, but I'm hopeful that changes tomorrow."
"I've tried my best," he continues. "On some levels, I haven't been as sympathetic to what it's like to grow up as the son or daughter of John McEnroe and how people look at them. I tried to discipline them on some level that they were normal kids. I felt I was doing a reasonably good job. But there's always two sides to a story."
He has little contact with his ex-wife. "It hasn't been productive to keep in touch with Tatum through talking. Do you call occasional email and text keeping in touch? It's gotten to the point where the best thing for me personally is just as little [contact] as possible, but that might not be the best for my kids with Tatum. They want you to have a good relationship and I totally understand that and I feel bad that we don't. I know that I can't blame it all on her, as much as I'd like to."
In a recent interview, Kevin said his father was a tough disciplinarian and indicated he was still seeking his father's approval. "A lot of kids do that. At some level I had that with my father. I mean, how many Wimbledons is enough? How many years do I have to be number one? I tell this story where my dad finished second in law school out of 450 people and my mom said, 'Why weren't you first?' I'm like my parents. That's in part why I became who I am."
He never pushed his children into tennis. However, he recalls how when he would watch them at sports events, other parents expected him to react.
"Sometimes I'd sit there and not say anything, while parents are expecting me to explode. Then after the event, my kids would say, 'God, you didn't say anything!'"
As for fame, he reflects: "If a whole day passed when someone didn't say, 'You cannot be serious!' to me, that would be amazing. Half an hour going by without it sometimes seems unlikely."
"My feelings about that are a strange juxtaposition of embarrassment and pride: On one hand, this is what I represent to people; on the other, at least I represent something. Ultimately, pride wins out."