In 2014, there were 1.24 lakh new cases of leprosy in India, mostly in Bihar, Uttar Pradesh, Chhattisgarh, Gujarat, Maharashtra, West Bengal and Odisha.

Experts feel that the government is under-reporting the number of leprosy cases in India.
Mohammed Hasim flinches as he immerses his hands in hot wax. The 27-year-old tailor has lost sensation in his palms and his hands are showing signs of deformity. He finds it difficult to use a sewing machine as his grip has been affected. Hasim, who is from Bihar, and now lives in the Dharavi slum in Mumbai, has leprosy, a disease that has faded from public consciousness in recent years.
Leprosy or Hansen's Disease is a contagious disease that affects the skin, mucous membranes and nerves, causing discolouration, lesions and nodules on the skin, and in severe cases, deformities and disfigurement. While Hasim has completed the recommended 12-month multi-drug therapy and is free of lesions and nodules, the disease has caused nerve damage for which he requires rehabilitation to regain the strength in his hands; hence the hot wax.
Leprosy is a misunderstood disease that carries social stigma. Caused by Mycobacterium leprae, it does not cause the "the limbs to fall off" as commonly believed, but leads to loss of sensation. This causes infection which then sometimes requires amputation of limbs. Though contagious, 95 per cent of the population is immune to the bacteria.
Those affected by the disease have always been, and continue to be, alienated by society. Abandoned by their families, many are forced to live in 'leper colonies' and beg for a living. Even now, there are discriminatory laws against those with leprosy: they are not permitted to stand for elections, can be detained in asylums, and divorce can be granted on grounds that the spouse has the disease.
In the past two decades, multi-drug treatment of rifampicin, dapsone and clofazamine, provided free of cost by the government in association with the World Health Organization, has cured more than 15 million affected Indians. Yet, the disease is rife in Mumbai's slums of Dharavi, Shivajinagar, Mankhurd and Govandi, which lack basic hygiene, clean water and toilet facilities.
"We get eight-nine new cases every month and the increasing number of new patients means that these cases are missed and detected late," says Dr V.V. Pai, director of the Bombay Leprosy Project, an NGO that works with leprosy patients. Pai, who has been treating patients for the past 27 years, is examining a shy 12-year-old-girl at the NGO's crowded referral centre in Chunabhatti, near Dharavi. The girl, who is accompanied by her grandmother and uncle, has circular patches on her back and neck; telltale signs of the disease. Pai says patches like these are often misdiagnosed as skin disease and by the time the patient comes to the centre for treatment, he or she would have already suffered nerve damage and infected others. He is not so worried about cases like Hasim's, which are detected early and treated, as much as he is about new cases of leprosy which are often misdiagnosed, causing delay in treatment and the patient becoming infectious.
More than half of the 1,80,000 leprosy-affected people in the world live in India. However, the disease has not been high on India's health agenda since 2005, when the government declared that leprosy had been eliminated after the prevalence rate of the disease fell to below 1 in 10,000 people. Ten years later, however, the disease is far from being eradicated.
In 2007, a survey by Mumbai-based organisation The Foundation for Medical Research found that contrary to the government's claims in 2005, there was no such decline in numbers; neither in existing patients nor in new cases. It screened over 7 lakh adults and children in Mumbai and Raigad district in Maharashtra, and found the prevalence rate to be much higher than official figures. While government figures were 1.37 per 10,000 people in Raigad, and 0.9 per 10,000 people in Mumbai, the foundation's figures were 6.72 and 2.6, respectively. "Almost 30 per cent of patients were children which meant there was active transmission in the community," says Dr Vanaja Shetty, senior scientist at the foundation, who authored the study. The survey also showed that those affected were not restricted to slums and tribal belts and that a substantial number from the middle and upper classes were affected but underwent treatment privately; hence those cases went unreported. The surveys that the foundation later conducted across the state showed similarly varying differences with official figures.
In 2014, there were 1.24 lakh new cases of leprosy in India, mostly in Bihar, Uttar Pradesh, Chhattisgarh, Gujarat, Maharashtra, West Bengal and Odisha; 9.4 per cent in children, 5.6 per cent in people with grade I disabilities, and 3.8 per cent in people with grade II disabilities. From April to December 2014, the percentages of the prevalence rate of the disease were alarmingly high in various districts in Maharashtra like Palghar (3.27), Gadchiroli (4.03), Nandurbar (2.1), Dhule (1.97) and Raigad (1.45).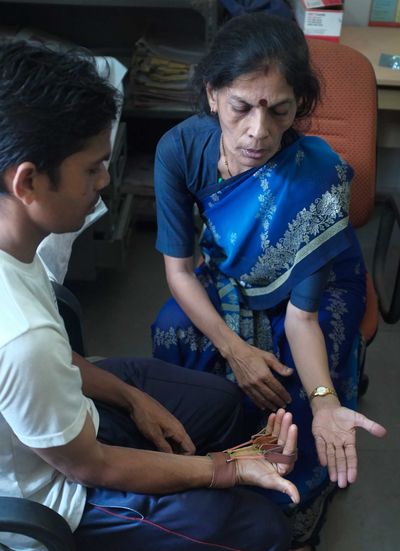 Experts feel that the government is under-reporting the number of leprosy cases in India. Kingsley Stanley, head of knowledge management at NGO Alert India, says that real prevalence is three to ten times the official figures. He says that since the integration of the leprosy eradication programme with the general health services in 2004, the responsibility of detecting new cases has fallen on the shoulders of the already overworked government community health workers, also called Accredited Social Health Activists (ASHAs), who are not adequately trained to detect cases. Since there is no active detection, the government depends on voluntary reporting by patients which is ineffective.
Dr Sanju Kamble, joint director of health services (leprosy & tuberculosis), government of Maharashtra, refutes these claims and says that in addition to the ASHAs, there are leprosy technicians to help detect new cases and that each district has 14-16 staff to do so. Kamble admits, though, that since the ASHAs have many programmmes to implement and monitor, it is difficult for them to pay special attention to leprosy. "However, the principal secretary has directed the ASHAs to spend a day each week solely on detecting and monitoring leprosy," says Kamble. He says the government's goal of eradicating leprosy by 2017 is unattainable. "The government knows the target is unrealistic given the current scenario," he says.
Another worrying aspect is the increasing number of cases of relapses that are not followed up. In a study of 577 leprosy patients who underwent treatment at public health facilities between April 2005 and March 2010, almost 10 per cent had a relapse and 18 per cent had symptoms which required active medical attention. Simply completing the treatment does not mean the patient is cured. "There will be some dormant bacteria in these patients which can be another source of transmission of the disease," says Shetty. Take the case of Jyoti, 20, from Bhiwandi in Mumbai, who completed the treatment two years ago, but still has lesions on her body. She has travelled more than 40km to the centre to seek help. "We still don't know why she has lesions despite completing the treatment," says Pai. This is why, he says, it is difficult to use the word 'cured' in cases of leprosy patients. Even after completion of treatment, patients are encouraged to go for yearly check-ups for at least five years.
"Symptoms of leprosy are often very vague," says Shetty. "The irony in leprosy is that patients who are more infectious don't show strong symptoms while those who are less infectious show stronger symptoms." Take the case of a 40-year-old taxi driver from Santacruz, Mumbai, who was recently diagnosed with leprosy. "I had gone to a doctor in Sion Hospital, who gave me some skin creams," he said. "I then went to another doctor when I got the lesions again, and now I am here at the centre." He has the telltale nodules on his ears which means he is highly infectious. Unfortunately, he was diagnosed too late.
Efforts in containing transmission are vital. Hence, when a new case is detected, inhabitants of almost 200 houses from around the area are surveyed for spread of the disease. "We don't let them know who the infected person is because there is still stigma, but we tell them to come to us if they see any symptoms," says Nanda Ajayan, field supervisor at the Bombay Leprosy Project.
It is these types of measures that will play an important role in eventually eradicating the disease.