"There was zero awareness about how much massage, exercise and bandaging could help in reducing the swelling." - Mamta Goenka, cancer survivor

Apart from breast cancer, lymphedema could also occur after surgery for uterine, ovarian and prostate cancer.

In normal cases, cancer survivors undergo counselling sessions and are taught relaxation techniques.
For cancer survivors, recovering and healing after surgery and prolonged treatment are uphill tasks. The treatment takes a toll on the body and regaining strength is not easy. Plus, there are side effects and psychological issues to deal with. In some cases, patients develop lymphedema, which causes swelling on the arms and legs, leading to acute discomfort and pain.
When Manoj Wadhwa, 40, underwent surgery and chemotherapy for breast cancer in July 2016, he thought his battle was over. A month later, however, he had swelling on his left arm, and a few weeks later, it spread to his legs, too. "I approached my doctor who suggested I see a physiotherapist," says Wadhwa, a Mumbai resident. "I didn't take his advise seriously and the swelling on my limbs went from bad to worse."
Wadhwa used to work in a garment shop, but he had to quit because he could not stand and walk for long durations. Lymphedema is a chronic condition caused by the removal of the lymph nodes. The swelling occurs when the lymphatic system is unable to drain the fluids into the bloodstream. This results in the fluids getting accumulated in the arms and, in some cases, in the legs, too.
Breast cancer survivors are most commonly affected by lymphedema. Doctors say the prevalence of lymphedema among cancer survivors is anywhere between 6 per cent to 63 per cent. "It depends on the extent of the surgery and removal of the lymph nodes. Some studies estimate the prevalence among breast cancer patients at around 37 per cent," says Dr Rucha Kaushik, consultant breast cancer surgeon at PD Hinduja Hospital in Mumbai.
While there is no cure for lymphedema, experts say it can be controlled with physiotherapy and adequate care. Mamta Goenka, 59, was first diagnosed with breast cancer in 1998 and she suffered a relapse in 2001. Two years later, she noticed a swelling on her left arm and she was alarmed. "I had no idea about this dirty secret of breast cancer," says Goenka. "For three months, I had a terrible swelling on my arm and despite approaching my oncologist for help, there was no improvement in my condition."
Then, Goenka went to the US and that is where she got a chance to understand the condition better. "I realised that most physiotherapists in India did not know how to handle lymphedema patients," she says. "There was zero awareness about how much massage, exercise and bandaging could help in reducing the swelling. When I returned to India, I began my crusade against lymphedema."
She first approached doctors and physiotherapists at the Tata Memorial Centre in Mumbai to organise workshops on lymphedema for breast cancer patients. Then, she set up 25 centres in hospitals across the country to create awareness and provide counselling. She also gives breast cancer patients a post operation kit for free.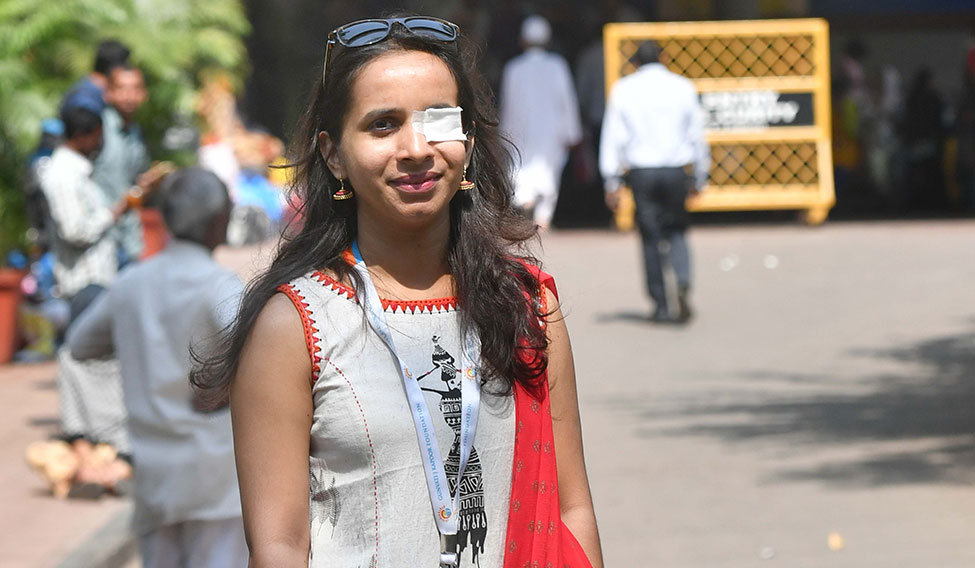 "There is a huge gap between doctors and patients because of the sheer volume of patients in India," says Goenka, who suffered a second relapse in November last year and is undergoing treatment now. "I took up the initiative because the gap needs to be filled. Patients should not go home from the hospital without any information. My lymphedema is completely under control. I bandage my arm every night to prevent fluid accumulation."
Lymphedema tends to catch many cancer survivors off guard because it could occur even a decade after the completion of treatment. "Patients tend to get depressed once they are diagnosed with lymphedema because they feel it was hard enough that they went through cancer and, after that, they have to deal with this chronic condition. However, the main problem is lack of awareness and education about lymphedema," says Michele Coxon, a certified lymphedema therapist from the US. "In the US, during breast cancer treatment, with the help of physiotherapy, we develop alternative pathways so the fluids have somewhere to go instead of accumulating. When the lymph nodes are removed, there is already movement to an alternate pathway. That can prevent or at least minimise lymphedema. Poor compliance among lymphedema patients is another major issue."
Coxon advises breast cancer patients to avoid strenuous activities like lifting heavy objects. Apart from breast cancer, lymphedema could also occur after surgery for uterine, ovarian and prostate cancer.
"In India, the prevalence rate of lymphedema is around 10 to 15 per cent following a mastectomy and axillary lymph node dissection," says Dr A.S. Rajasundaram, surgical oncologist and director of the oncology department at Global Hospital in Chennai. "However, dissection is not always necessary if the cancer hasn't spread. The risk increases by 40 per cent if the patient needs radiotherapy. Lymphedema can be prevented if patients do stretching and shoulder exercises regularly."
While lymphedema is a physical ramification of the treatment, some patients also battle depression and anxiety. Take the case of Preeti Phad, who was diagnosed with retinoblastoma or cancer of the eye when she was just eight. She had poor eye sight in her left eye and it had to be removed to contain the cancer. "I was brought up by a single mother who ran from pillar to post for my cancer treatment. I first underwent surgery at KEM Hospital and later at Jaslok Hospital," says Phad, now 27.
She underwent extensive chemotherapy and radiation at the Tata Memorial Centre in Mumbai. Her treatment was successful, and she resumed her studies. But, at age 19, Phad decided to quit college. "During the treatment, I didn't get time to think about my emotional state. After my second year of BCom, I became very depressed and anxious. I was unable to express myself and tell my family about how I was struggling with my mental health," says Phad, who couldn't blink or close her eye post surgery and felt self-conscious about it.
"I stopped going to college for an entire year. I underwent surgery for implanting a prosthetic eye but since I had undergone radiation, the graft was rejected and my surgery was unsuccessful," she says.
For Phad, the turning point came when she met another cancer survivor at TMC during a follow-up appointment. "He introduced me to a group of cancer survivors. I started meeting them regularly in the hospital. Having a support system helped me a great deal in overcoming depression and anxiety. I started feeling loved and accepted again. We formed Ugam, a voluntary support group, in 2009. I rejoined college after getting a prosthetic eye," says Phad, who did her master's in social work and now works with Tata Memorial Centre as medical social worker. Today, Ugam has 260 registered cancer survivors and is part of the Indian Cancer Society's survivorship programme.
Depression and anxiety are not uncommon among cancer survivors. In fact, a recent study conducted in Malaysia, involving 1,362 patients, found that four in five survivors suffered from depression and anxiety a year after diagnosis. Says Dr Parul Tank, psychiatrist and therapist at Fortis Hospital in Mumbai: "Cancer survivors are prone to depression as it is a common side effect of anti-cancer medicines. They also suffer from anxiety after their treatment is complete because they are worried about having a relapse and whether they have the strength to fight cancer again. They experience the symptoms of depression and anxiety like irregular sleep, feeling agitated, poor appetite, increased heart rate and restlessness. As breathlessness and increased heart rate are common symptoms of anxiety, many cancer survivors think that they have a heart problem."
In normal cases, cancer survivors undergo counselling sessions and are taught relaxation techniques. Psychiatrists say they prescribe anti-depressants and anti-anxiety drugs only if it is absolutely necessary. Says Dr Kesri Chavda, consultant psychiatrist at PD Hinduja Hospital: "Once a cancer patient has completed treatment, their confidence is very low and they continue feeling emotionally vulnerable. Cancer survivors are usually referred to us by the oncologist and the symptoms of depression and anxiety subside with therapy."