A study by Dr Maarten Larmuseau of KU Leuven University's laboratory of biodiversity has claimed that up to 2 per cent of men in the UK may have become victims of paternity fraud after being tricked into raising another man's biological child. This raises the question: why do people indulge in infidelity?
Infidelity is a violation of a couple's assumed or stated contract regarding emotional and/or sexual exclusivity. This violation results in feelings of sexual jealousy and rivalry.
Exclusivity expectations are assumed in a marriage although they are not always met. When they are not met, research has found that psychological damage can occur, including feelings of rage and betrayal, lowering of sexual and personal confidence, and damage to self-image.
The Kinsey Reports in the early 1950s suggested that historically and cross-culturally extramarital sex has been a matter of regulation more than sex before marriage. The Kinsey Reports found that around half of men and a quarter of women studied had committed adultery. The Janus Report on Sexual Behaviour in America also reported that one-third of married men and a quarter of women have had an extramarital affair.
The most consistent data on infidelity comes from the University of Chicago's General Social Survey (GSS). Interviews with people in non-monogamous relationships since 1972 have shown that around 12 per cent of men and 7 per cent of women admit to having had an extramarital relationship.
Anthropologists believe humans are neither completely monogamous nor completely polygamous. According to anthropologist Helen Fisher, there are numerous psychological reasons for adultery. Some people may want to supplement a marriage, solve a sex problem, gather attention, seek revenge, or have more excitement in the marriage. Fisher's research says there also is a biological side to adultery. "We have two brain systems: One of them is linked to attachment and romantic love, and then there is the other brain system, which is purely sex drive." Sometimes these two are not well connected, which enables people to satisfy sex drive without emotional attachment.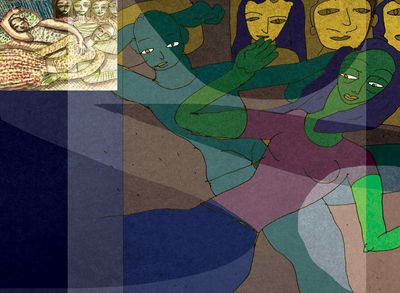 According to the Global Internet Statistics in 2003, internet population has grown exceptionally fast in less than a decade, from 16 million in 1995 to approximately 680 million in 2003. Millions of them are married individuals who use the internet to meet strangers, flirt, and engage in sexualised conversations.
Each case of infidelity serves a different purpose. Being able to justify the behaviour of a spouse and define it will lessen the confusion. There are five categories of infidelity:
Opportunistic infidelity occurs when a partner is attached to a partner, but surrenders to their sexual desire for someone else. This is driven by lust, situational circumstances and sometimes risk-taking behaviour.
Obligatory infidelity is based on fear that refraining from someone's advances will result in rejection. Some people end up cheating solely on the need for approval from somebody, even though they still are attracted to their committed partner.
Romantic infidelity occurs when the cheater is in the process of "falling out of love" with their partner. Their obligatory commitment to the relationship's tenets and overall life-meaning is likely the only thing keeping them with their partner.
Conflicted romantic infidelity takes place when a person falls in love with and has a strong sexual desire for multiple people at one time, even though they may already be committed to a partner.
Commemorative infidelity occurs when a person has completely fallen out of love with their spouse, but is still in the committed relationship.
There is very less to be gained from affairs, the consequences usually being painful and long-lasting. Walking the tightrope of living under the fear of exposure, balancing an affair with familial obligations, career, etc, and managing guilt can prove to be stressful. Each context needs looking into to arrive at a plausible reason and then a possible solution.
Pointers:
* Acknowledge that there is a problem.
* Extramarital partner is not synonymous with a therapist.
* Seek professional help.
* Seeking help is not a sign of weakness.