Researchers at the Serum Institute of India in Pune are developing a biologic drug that could prevent all four strains of the dengue virus.

With progesterone injections, which cost just Rs.50 each, the cure rates of breast cancer patients improved by 10 per cent.

Some of GROW's key discoveries apply to new clinical management strategies for wound healing, corneal diseases and blindness caused by diabetes.

Researchers at NII are currently investigating the possibility of one of TB bug's signalling proteins being a target for therapeutic intervention.
She buzzes around fruit flies all day long.
"They look very pretty under a microscope," says Dr Sheeba Vasu, a researcher at the Behavioural Neurogenetics Laboratory of the Jawaharlal Nehru Centre for Advanced Research in Jakkur, Bengaluru.
Her world revolves around fruit flies, which share striking genetic similarities with humans. Vasu, 42, uses fruit flies to study how the nervous system controls behaviours such as sleep and wakefulness.
Nervous systems are composed of circuits or networks, much like the electrical wiring of our houses. "I use the fruit fly because I can take apart pieces of the nervous system easily with this model organism," explains Vasu. "I don't mean the physical dissection of these insects. Yes, I can do that also. More important, I can modify parts of the system in ways that I wish to, using easy genetic methods."
Studying the tiny flies has turned up a treasure trove. "We found that two closely related species of flies, caught in locations around our campus, show quite different circadian rhythmic [a 24-hour cycle] behaviours," says Vasu. "There were some associated differences in their nervous system, which reflect that the cause of the differences may lie in their clocks."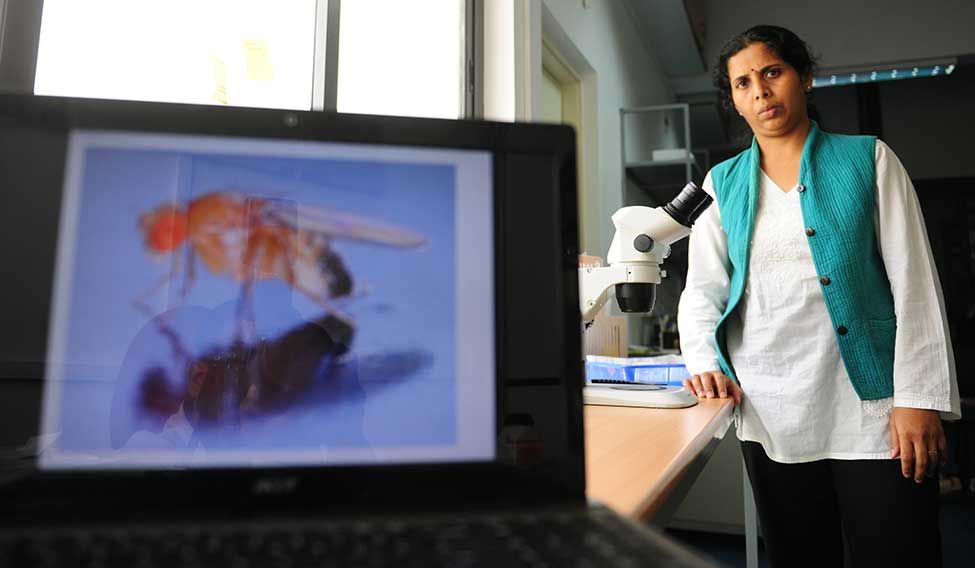 NERVE CENTRE
Project: Using fruit flies to study various aspects of neuronal circuits. One study examines how activity and rest are being controlled by nerve circuits. Another one tries to understand the process by which neuronal cells die when they produce certain disease-causing proteins in them. The third study aims to understand how daily changes in temperature is perceived and how it affects behaviour in flies.
Place: The Behavioural Neurogenetics Laboratory of Jawaharlal Nehru Centre for Advanced Scientific Research in Bengaluru.
People: Dr Sheeba Vasu is the lead researcher. The team has six PhD students and one research assistant.
Project status: "Research is an ongoing endeavour," says Vasu. "Trying to solve one question usually springs several other new questions and this is what keeps us busy."
Vasu and her team of six PhD students and a research assistant also found that a temperature sensor present on the fly's body can make it behave in a completely opposite manner, depending on whether a high temperature is applied for a short duration of an hour or for a longer one of 12 hours. "In the former case, it makes the fly try to escape to a different location. In the latter case, it makes them remain in one place and refrain from movement [after a period of time]," says Vasu.
The lab has also been trying to figure out how neurodegenerative diseases like Huntington's progress. For this, they put defective human genes causing the disease in a very small number of fly neurons. "Our study showed that certain kinds of cyclic environmental cues can reduce the rate at which the disease progresses in fruit flies," says Vasu. "We also found that by increasing the amount of some cellular housekeeping processes [required for the maintenance of basic cellular function], we can slow down the onset and severity of the disease in flies."
Vasu considers herself lucky to be in one of the best research institutions in the country. However, she says there is still scope for improvement in several aspects of research. "The major part of my research is dependent on fly lines from stock centres from outside the country such as the United States, Europe and Japan. The import of fly lines for research has suddenly become a serious obstacle over the past one year," she rues. India, she says, has put restrictions on its import, despite the fly being harmless organisms. It is also being used extensively for research all around the world, even in countries where genetically modified organisms are strictly regulated. "When you compete with researchers in other countries in attempting to publish your findings, such import restrictions cause inordinate delays that substantially deter your ability to win the race," she says.
Despite the odds, research labs in India are buzzing with action. Researchers at the Serum Institute of India in Pune are working tirelessly towards developing a biologic drug that could potentially prevent all four strains of the dengue virus. "The drug is expected to be launched over the next four-five years in the form of a vaccine. A single dose will cost just $5,000-$10,000," says Dr Prasad Kulkarni, medical director at the institute.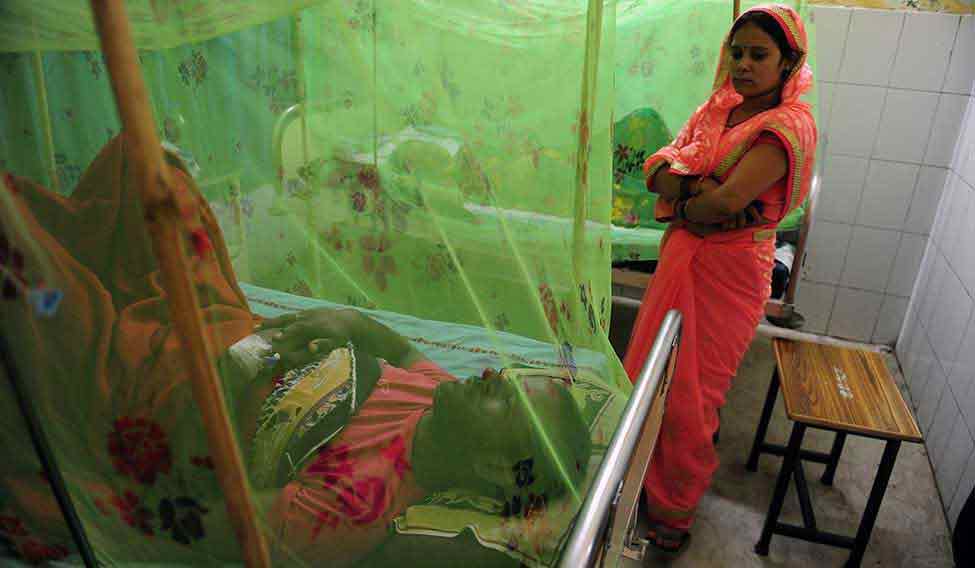 DENGUE IN THE NET
Project: Developing a biologic drug that could prevent all four strains of the dengue virus. The aim is to come out with a cost-effective, single-shot dengue vaccine in India, a hotbed for the disease.
Place: Serum Institute of India, Pune.
People: Dr Prasad Kulkarni and team.
Project status: The drug is expected to be launched over the next four-five years.
Serum's single shot cure offers great hope to India where the number of reported cases of dengue has already crossed 20,000 this year, even before October when the disease peaks. The magnitude of the dengue outbreak in the country could be 300 times higher than what is officially reported, says Professor Donald S. Shepard, a health economics professor at Brandeis University, Massachusetts, who led a five-year research project in collaboration with Indian researchers.
If things go as per plan, Serum Institute of India, which is currently the world's largest vaccine maker in terms of the number of doses that are supplied, could also be the global leader in the anti-dengue vaccine industry.
Researchers in India are also pushing the boundaries in finding cures for age-old diseases. Dr Sudeep Gupta of the Tata Memorial Centre, Mumbai, is on a high these days. A clinical trial conducted by him, Dr R.A. Badwe and fellow researchers have showed that the cheap and easily available progesterone hormone can benefit breast cancer patients significantly. "With progesterone injections, we could improve the cure rates of breast cancer patients by 10 per cent," says Gupta, deputy director of the Advanced Centre for Treatment, Research and Education in Cancer (ACTREC) at the Tata Memorial Centre. A shot of progesterone costs just $50. The findings of the study were published in the Journal of Clinical Oncology.
Tata Memorial has conducted several clinical trials on breast cancer. The findings of one of its recent studies were published in The Lancet Oncology. "In a randomised controlled trial, we found out that patients with stage 4 breast cancer do not benefit from surgical removal of the primary tumour," says Gupta. Stage 4 breast cancer usually means that the cancer has spread to other organs like liver, lung and bones. For such patients, there is always a question of whether they will benefit from the surgery or not. "The Lancet had a commentary, based on the results of our study, which says that surgical treatment is not required for stage 4 breast cancer patients," says Gupta.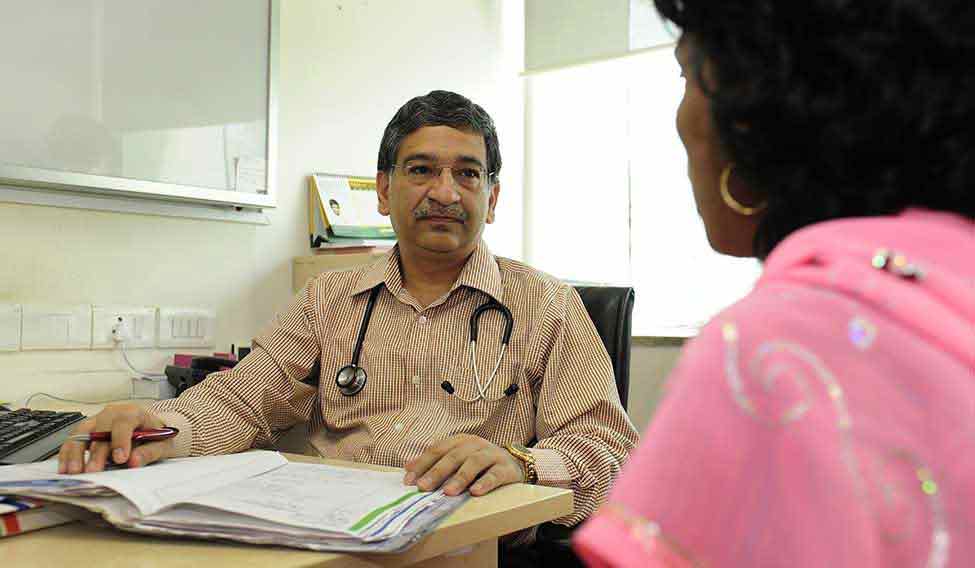 CAGING THE CRAB
Project: Developing better treatment options for women with locally advanced cervix cancer and breast cancer.
Place: The Advanced Centre for Treatment, Research and Education in Cancer at the Tata Memorial Centre.
People: Besides Dr Sudeep Gupta, deputy director of ACTREC, about ten investigators and scientists are part of this project.
Project status: One study saw the participation of 640 women with cervix cancer. The results will be analysed shortly.
Gupta is involved in more than 100 clinical trials as principal and co-investigator. A major part of his research is on breast and gynaecological cancers. Currently, he is associated with a large randomised clinical trial in cervical cancer. "One patient group in the trial is given the conventional treatment of chemotherapy with radiation, while the second group is given chemotherapy without radiation for three cycles, followed by surgery," says Gupta. "Surgery is not a usual treatment for women in stages two and three of cervical cancer. So we are trying to see if we can avoid the side effects of radiation and improve the cure rates of women with locally advanced cervix cancer."
Around 640 women have taken part in this trial. The results of the trial hold enormous significance for India, which has a huge burden of cervical cancer. Around 1,50,000 women are diagnosed with cervical cancer in the country every year. The most common stages when they seek treatment are stages two and three and they end up undergoing radiation. "Our findings have the potential to alter the current treatment. They can also increase the cure rates of these women, make the treatment safer and less traumatic," says Gupta. He hopes to present the results of the clinical trial at an international conference soon.
Another cancer Gupta has studied extensively is ovarian cancer, which, too, affects considerable number of women in India. "Unfortunately, most women are diagnosed with ovarian cancer at an advanced stage. Most of these women respond to the initial treatment, but then they relapse and the disease comes back," says Gupta. Usually, such patients are given repeated courses of intravenous chemotherapy.
But at the Tata Memorial Hospital, the researchers have pioneered a new form of treatment—smaller doses of oral chemotherapy drugs on a continuous basis. "Instead of taking a few large doses intravenously once in two to three weeks, patients take small doses every day. So you don't allow the tumour to grow between two cycles of chemotherapy. We found that patients get very good results with this form of treatment. A significant percentage of them survive even two years after a relapse, which is a very good outcome," says Gupta. These and other studies on tumour hypoxia [where tumour cells are deprived of oxygen], endocrine treatment resistance and clonal evolution of cancers, anchored by Gupta, are likely to make a significant impact on the cancer scenario in India in the near future.
Then, there is the gene way of treating cancers. A few years from now, a patient with cancer may be able to get his bad genes replaced with healthy ones, and recover from the disease instead of undergoing chemotherapy. Scientists at the Genes, Repair and Regeneration at Ophthalmic Workstation (GROW) Research Laboratory of Narayana Nethralaya Foundation in Bengaluru are hopeful that gene therapy may be able to cure many genetic diseases, besides cancer. "Some of our key discoveries apply towards new clinical management strategies for wound healing, corneal diseases and blindness caused by diabetes," says Dr Arkasubhra Ghosh, director at GROW. "In children's cancer, our discoveries will hold key to new intervention strategies."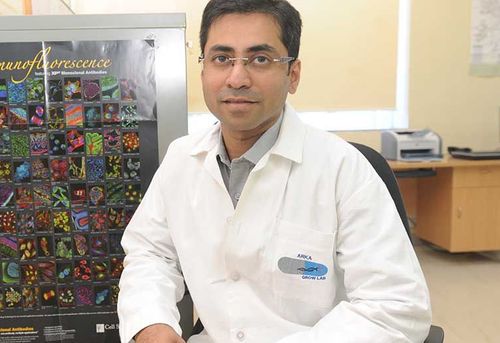 EYE ON GENES
Project: Finding cure for genetic diseases by studying the genetic and molecular signalling mechanisms, which result in eye disorders and cancers. The researchers hope to usher in a more personalised medical treatment, which uses noninvasive samples like tears from patients in a few years. The study is also expected to offer some tools to the doctors for accurate diagnosis. The findings of the study may revolutionise gene therapy and stem cell therapy. "One study on various forms of corneal disease focuses on early diagnosis by analysis of tears like a blood test but without pricking, and proposes new therapies," says Dr Arkasubhra Ghosh. "In another study, we are developing novel gene therapy for inherited blindness, using a unique split gene vector delivery system.
The study on children's cancer unravels unique genetic and molecular characteristics of this devastating disease that will have implications in future treatments."
Place: The GROW Research Laboratory, Narayana Nethralaya Foundation, Bengaluru.
People: Dr Arkasubhra Ghosh is the head of the department, consisting of ten scientists, three postdoctoral researchers and ten research fellows and engineers.
Project status: "Analysis of ocular samples are now helping our retina specialists monitor and modify treatment modalities," says Ghosh. "A number of interesting discoveries have been made in tears from patients of corneal thinning, which can help cornea specialists in diagnosis and possibly treatment."
During his research studies, Ghosh, 38, had an opportunity to work on diverse biological systems like yeast, plants, bacteria and animals such as mice and dogs. He studied various disorders, their molecular causes and therapeutic options, which gave him a better understanding of human diseases. Ghosh worked abroad for several years, and had a comfortable life. But he never got complacent. He kept thinking about how to use his skills for the benefit of Indian patients. Finally, he returned to India and got an opportunity to set up and work at a hospital-based research unit. "New discoveries in molecular genetic studies in Indian patients have revealed how mutations are different from those in the patients in the west," says Ghosh. "India has a huge disease burden for which we need to develop indigenous diagnostics and economical new therapies."
Talking about indigenous innovations, Dr V. Mohan, chairman and managing director at Dr Mohan's Diabetes Specialities Centre has come up with a solution that can potentially prevent and manage type 2 diabetes. The high-fibre rice developed by Mohan can lower blood sugar levels—even patients with diabetes can have this rice.
As a diabetologist, Mohan has been concerned about the rapid increase in the prevalence of diabetes in India. "The prevalence rate of diabetes in Chennai rose from 2 per cent in 1970 to 25 per cent in 2015," he says.
He found that a high carbohydrate diet is an important factor driving the diabetes epidemic, besides the sedentary lifestyle. "Our study showed that there is a direct correlation between the amount of rice consumed and the prevalence of diabetes," says Mohan. Though people ate rice earlier, too, it was less polished then, he says. "Today, everybody prefers refined rice. There are 2 lakh rice mills in the country now," he explains. "When you polish rice, you remove the husk. Then only the white part is consumed, which is like having glucose. It raises the blood sugar levels quickly. When you eat too much of white rice, it drains all the insulin from the body and leads to diabetes. The more refined the rice you eat, the greater are your chances of contracting type 2 diabetes."
Mohan thought of ways to reduce the consumption of white rice. Bringing back the brown rice seemed to be a good option. He worked with farmers and managed to bring the unpolished brown rice into the market. But the response from the market was not encouraging. "They said it was brown in colour, tasted different and took long to cook. So, they preferred white rice to this 'poor man's rice'," says Mohan.
Mohan then zeroed in on developing a healthier variety of white rice—one which doesn't increase sugar levels and has more fibre content. He collaborated with agricultural scientists to produce the high-fibre white rice. "We looked at more than 200 varieties of rice and finally narrowed down to two, which were in seed form. We started growing them. The rice tasted great and people couldn't find the difference between normal white rice and the high-fibre rice," he says.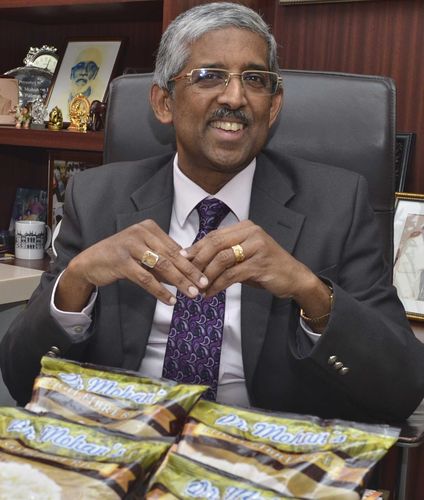 RICE TO THE RESCUE
Project: Producing white rice, which is high in dietary fibre and low on the glycemic index.
Place: Madras Diabetes Research Foundation (MDRF) and Texcity Biosciences Pvt Ltd in Coimbatore, Tamil Nadu.
People: Dr V. Mohan and Dr R.M. Anjana from MDRF, Sudha Vasudevan, research nutritionist at MDRF, and her team and the Texcity Biosciences team.
Project status: The rice was developed after testing more than 200 varieties of rice by cross fertilisation techniques. The rice is now available in super markets in Tamil Nadu.
Further trials, sanctioned by the Union government, are underway to show the long-term benefits of using the rice in the management of diabetes. They are also in the process of developing rice-based snacks like high-fibre upma mix and grits.
Mohan also got the dietary fibre analysis tests done at his lab and two other labs, and the results were promising. "The rice we grew had five times higher fibre content than any other rice in the world. We also did short-term and long-term clinical studies on this rice," he says. "With its high-fibre content and resistant starch, it can lower blood sugar levels. Resistant starch take longer to get broken down and, hence, the sugar levels will not rise rapidly. Some people who ate this rice claim they have lost weight, too."
The rice is now available in the market, under the brand name Dr Mohan's High Fibre Rice, for around Rs.100 per kg. Mohan has applied for a patent. But not one to rest, he is now planning to develop rice-based snacks.
The pursuit of the 'aha' moment sometimes turns into a tedious journey with dead ends. But despite the rigours of research and the numerous challenges it poses, many pursue their dreams single-mindedly. Dr Vinay K. Nandicoori, scientist at the National Institute of Immunology in New Delhi, has been trying to understand the biology and cellular processes of the mycobacterium tuberculosis, the TB bug, since 2004. Looking back, the 46-year-old from Mangalore says he has had a bumpy yet thrilling ride. "One of the biggest challenges I faced when establishing my laboratory's research with the TB bug was that my institute didn't have special containment facilities [bio-safety level three] for the TB bug," he recalls. "Then along with Dr Rajesh Gokhale [an eminent scientist in the area of tuberculosis research and currently director of Institute of Genomics and Interactive Biology, New Delhi] at the NII, I helped establish a BSL-3 facility for the TB bug."
Nandicoori did his master's in biotechnology at the Indian Institute of Technology, Mumbai. He believes that his training in good laboratories have played a major role in shaping his scientific career. He did his PhD at the Indian Institute of Sciences, Bengaluru, and then moved to the Texas A&M University, followed by the University of Virginia to pursue postdoctoral research in the area of signalling pathways in mammalian cells.
The available infrastructure facilities in our research institutes for carrying out complex work are also not comparable with those in the west, says Nandicoori, who has worked abroad for several years. Lack of funds often hampers our research projects. "Most of our work uses reagents that have to be imported. The reagents are expensive and not easily affordable to all Indian researchers as research funding is relatively limited in India," he says.
The burden of tuberculosis in India is alarming, says Nandicoori. According to a 2015 WHO report, India accounts for around one-fourth of the global tuberculosis burden. Twenty per cent of the global TB-related deaths also happen here. The increased emergence of drug-resistant TB bacteria further complicates matters. Nandicoori hopes that his study will be an important step towards finding novel and effective means of therapeutic intervention.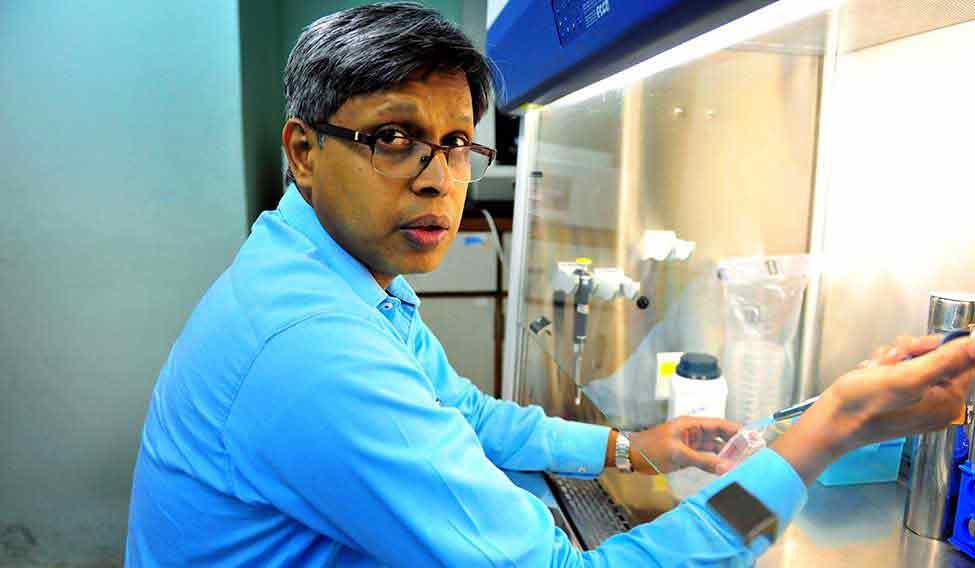 TRACKING THE TB BUG
Project: Understanding the biology and cellular processes of the mycobacterium tuberculosis, the TB bug, and also identifying new sites for therapeutic intervention so that TB can be treated and cured.
Place: The Signal Transduction Laboratory 1 at the National Institute of Immunology, New Delhi.
People: Dr Vinay Nandicoori is the principal investigator. His team consists of seven PhD students, one young NII investigator, one Department of Science and Technology-Inspire faculty fellow, one technical officer and a lab attendant.
Project status: Over the past decade, Nandicoori's lab has identified two kinases and a target protein that are critical for the survival of the bug in the host.
"Biological research is a long journey and a continuous process of learning and discovery. The analysis of data obtained from each project raises further questions that need to be taken up," says Nandicoori. "Philosophically speaking, the process is never complete."
The TB bug is an opportunistic bacterium. Although many of us are exposed to the bug and are carriers of it, most of us do not develop the active disease as the body's defence systems can fight it. Nandocoori and his team have found that the bug has evolved multiple mechanisms to evade host defence systems. "By creating TB bug mutants, we have observed that bugs lacking certain signalling proteins and/or their targets show curtailed growth and infection. We are currently investigating the possibility of one of these proteins being a target for therapeutic intervention," he says.
Research, they say, is an exigent mistress who demands undivided attention and one may find it hard to strike a work-life balance. Nandicoori puts in ten hours a day at his lab. "Until recently, I used to play badminton regularly," he says. "I like watching and following sports—tennis, badminton, cricket and football— and current affairs. I also enjoy reading non-fiction, although I have not had much time to do that lately," he says. Ghosh stays in the lab for as long as he can, anything between 8-12 hours. "If it weren't for family, I would probably have lost track of time," he says. Initially Vasu, too, would spend longs hours at the lab, but that changed after her daughter was born two years ago. "Now I typically spend the usual eight hours only," says Vasu. "I would like to read both fiction and non-fiction, watch movies and do some gardening. However, these days, I have no time for any of that."
Vasu has also been extremely sensitive towards how animal subjects are handled. At her home in Jakkur, fruit flies sometimes come like uninvited guests when there is a ripening fruit in the kitchen, but Vasu is not perturbed by them. "They are part of our ecosystem," she says. "They don't spread diseases unless they are travelling between your rubbish bin and your open, unwashed food." She suggests the use of fly traps instead of pesticides to ward off flies. Simple and effective—something our researchers are aiming for in the health sector.
INSULIN TO GO ORAL
Diabetes patients have yet another reason to cheer. A team of scientists at Biocon is trying to develop a molecule that may potentially be the world's first orally delivered insulin. "This experimental molecule has a novel mechanism of action—it is absorbed from the gastrointestinal tract and directly reaches the liver, an organ central to glucose metabolism, mimicking the natural physiology of the body," says a lead researcher in the project. "This results in lowering the risk of hypoglycaemia, when blood sugar levels fall to abnormally low levels, and also prevents weight gain. No other noninvasive insulin delivery mechanism has the ability to achieve these results."
Oral insulin will be painless and easier to administer. Biocon, which has a tie-up with Bristol-Myers Squibb—the US drug maker—for this programme, has just completed the first set of clinical trials with the oral insulin in about 100 subjects in the US. "These were aimed at answering questions around pharmacodynamic impact on drug absorption, intra-subject variability and effects of food," he says. "The data from these studies will enable us to progress to the next phase of clinical development of this molecule. So far, more than 400 people, including type 1 diabetics, type 2 diabetics and healthy volunteers, have participated in clinical studies with this molecule."