Mridula Arora, 36, a Bengaluru-based businesswoman, had been part of the corporate world for 12 years working with companies like Infosys and mChek before she decided to quit and start her own venture upon becoming a mother. MyBabyCart—an e-commerce platform for mothers—was started in 2012 by Arora and three others. The idea was to help mothers find products like toys and clothes for their children online. But they faced two problems: they couldn't get offline stores to use their platform and they found it difficult to get the second round of funding. Two years later, when they decided to shut shop, Arora bought the domain name and turned the startup into a forum for mompreneurs, or mothers who are entrepreneurs, to sell their products.
"We found some extremely creative mothers out there who make wraps for babies and knit clothes by themselves," she says. "But they didn't know how to turn it into a business. We helped these women with the logistics, packaging, pricing and product cataloguing; basically, we did all the hand-holding for them."
Today, 230 mothers have become members of MyBabyCart. Platforms like Arora's connecting and providing support to mothers are increasing. There are more than 22,000 members in the Facebook community of Ruchita Dar Shah's First Mom's Club that links mothers across India. Mompreneurs India was started by Chetana Misra, 35, in 2014 and its membership of 35 mothers is steadily growing. When Misra quit Deloitte Consulting to start a business, she couldn't find a support system. She found it difficult to connect with like-minded individuals. Today, Mompreneurs India has started three chapters in Bengaluru, Ahmedabad and Mumbai.
According to a report published in 2014 by Sheroes, an online forum offering women career opportunities, 11 per cent of women in urban India were found to be mompreneurs. This might not seem like a significant figure but unfortunately, in India, women and entrepreneurship don't go well together. According to the Female Entrepreneurship Index brought out this year by the Washington-based Global Entrepreneurship and Development Institute, India ranks 70 among 77 countries.
The vacuum is most acutely felt at the top. Sheroes reports that the percentage of senior level female employees in India is a lowly five per cent. The global average is about 20 per cent. Almost 48 per cent of women drop out of the workforce before they reach the middle of their careers. Most of the women interviewed for this story fell into this category. The reasons they cited were varied—need for more flexibility, growing weariness with corporate jobs, desire to follow their passion and increased responsibilities as mothers.
But life might not have become significantly easier for these women after becoming mompreneurs. The two greatest difficulties they face as entrepreneurs are funding and scalability. "Nobody's willing to invest in you unless you get bulk orders but to get bulk orders, you need funding," says Shivkala Mudaliar, 38, a Mumbai-based mompreneur who started Things Etc, a forum that connects artisans and consumers. Garima Satija, 31, co-founder of Poshvine that curates unique travel and leisure experiences, says that the biggest problem she faced was scaling up the business. "After a point, you hit a wall," she says. "You might get 20 customers easily but then, how do you increase it to 60 and then to 100?"
Arora says that sometimes, women lack the confidence to aggressively sell their product to investors. "Investors want to see five-year plans that will turn your business into a 100-crore enterprise. But women can't work like that. They will plan meticulously and let their businesses grow slowly." Pooja Mit Somaiya, 30, a mompreneur from Ahmedabad who co-founded a for-profit social enterprise called DialogueMakers to empower and employ the blind in February this year, agrees. "Women, especially after coming back from their maternity leave, are extremely vulnerable," she says. "Their inherent fears make them lower their expectations in their respective field."
But the greatest challenge mompreneurs face is juggling work and life and hence the coinage 'work-life balance'. Can women have it all? The most prominent personality to enter the work-life debate recently was the CEO of PepsiCo, Indra Nooyi. "I don't think women can have it all," she said. "I just don't think so... My husband and I have been married for 34 years. And we have two daughters. And every day you have to make a decision about whether you are going to be a wife or a mother; in fact many times during the day you have to make those decisions."
However, mompreneurs in India seem to think that it is possible to manage work and life. The trick, they say, is in being willing to compromise. "You can't aspire to be superwoman," says Somaiya. "If I have two client meetings one day, I won't be able to make fancy food for dinner. My family will have to manage with something simple." Suchi Mukherjee, 41, CEO and co-founder of a Delhi-based fashion portal called LimeRoad, says that to manage business and family, you have to be willing to make trade-offs. "I traded off putting my kids to bed with spending time with them in the morning and making sure I was there to drop them off at school," she says.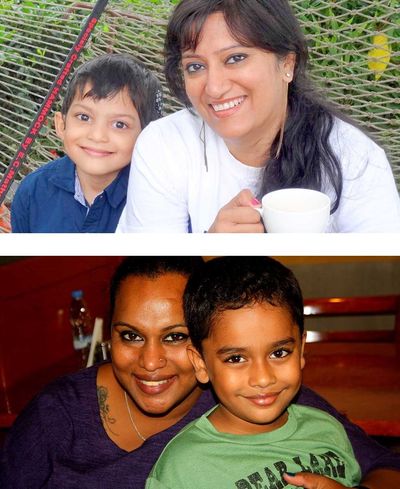 But, of course, you have to pay a price for success. In the case of mompreneurs, it is a crushing sense of guilt that they are not there to witness every important moment of their child's life. Misra says that she misses so many activities with her son that, at times, she's torn about whether she should wind up her business. "But at other times, I think that I am also somebody. I have to think about myself, too. The kids will grow up and move on but the time that you could have given to yourself is not going to come back." She is right. Several studies show that mothers who are employed are happier than those who are not. A 2012 Gallup poll found that stay-at-home mothers were less likely than employed mothers to report that they had smiled, laughed or enjoyed themselves "yesterday".
The mothers might be happier but what about the children? In Lean In, the book written by Facebook's COO Sheryl Sandberg, she cites one of the longest surveys conducted in the US by the Early Child Care Research Network. They tracked more than 1,000 children over the course of 15 years and found that "children who were cared for exclusively by their mothers did not develop differently than those who were also cared for by others". They found no gap in cognitive skills or the quality of the mother-child bond. Mukherjee says that, despite spending less time with her children, they are growing up to be compassionate and independent individuals. "My nine-year-old daughter once sat on a beach digging a hole. Her goal was to build a tunnel all the way to the drought-prone areas of Africa where children had to walk miles just to drink water. My four-year-old son insists on getting ready for school all by himself. I would like to think that this urge to do things that impact lives, and the sheer sense of independence, have something to do with what they see in their parents."
To become a successful mompreneur, especially if you are a woman in India, is a herculean task. What do you need to become one? The answers vary—unconditional support from family, self-motivation and a desire to follow your passion. But, perhaps, the more pertinent question would be to ask why. When all the odds are stacked against you, why choose to become a mompreneur? This time, the answers buzz around the same theme—a search for contentment. "Every day when I get up and look in the mirror," says Mudaliar, "I should be happy that I'm doing something worthwhile with my life. I have only this one life to be happy."