As Lord Krishna scrolls through Myntra app, looking for extra long sarees for Draupadi, in an artwork created by content-creating website ScrollDroll, people took to Twitter to bash the online fashion retail brand Myntra for the 'distasteful ad' that hurts religious sentiments.
The artwork depicts one of the most defining moments from ancient India's epic Mahabharata when the wife of Pandavas, Draupadi, was publicly disrobed in the Kaurava court and was saved from embarrassment by Krishna. This marks a turning point in the epic.
Interestingly, the artwork is neither an advertisement nor has anything to do with the brand Myntra. Distancing itself from the artwork, Myntra tweeted, ""We did not create this artwork nor do we endorse this."
On the other hand, an apologetic ScrollDroll is trying its best to contain the damage the artwork is causing to Myntra as well as to the creator brand. ScrollDroll tweeted, "This poster was created by us in Feb. We removed it immediately as we never intended to hurt sentiments. We take the responsibility of this artwork. Myntra is nowhere associated with it directly or indirectly."
While, Twitterati refuse to accept an explanation and continue to troll the two with #BoycottMyntra and #ShameScrollDroll hashtags, let's take a quick look at some artworks and television commercial that found inspiration in 'Draupadi's vastraharan' scene.
UP as Draupadi, BJP state president as Krishna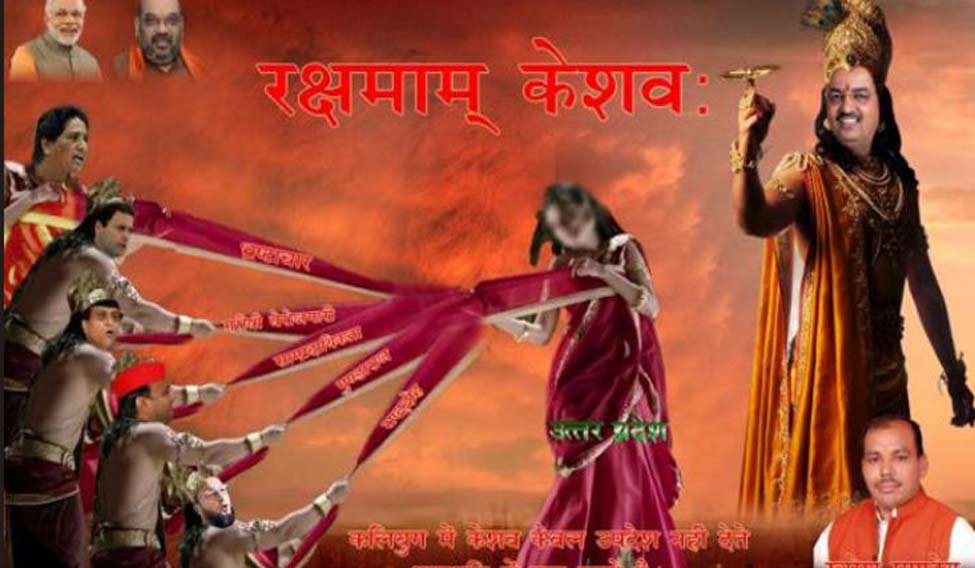 In April, a BJP leader in Varanasi, Rupesh Pandey, turned to the famous scene from Mahabharata for inspiration to welcome Uttar Pradesh BJP president Keshav Maurya, who was scheduled to visit the city. The controversial poster depicts BJP state president Keshav Maurya as Lord Krishna, Uttar Pradesh as Draupadi, and the opposition including chief minister Akhilesh Yadav, BSP supremo Mayawati, Congress vice-president Rahul Gandhi, SP leader Azam Khan and AIMM leader Asaduddin Owaisi as Kauravas trying to disrobe her. While the photoshopped poster, which also has small pictures of Prime Minister Narendra Modi and BJP national president Amit Shah, got the social media buzzing. The party denied any association with the controversial promotion.
Draupadi says 'bye bye thandi'
In 2008, Amul Body Warmer released a classic winter television commercial that experimented with humour to sell its thermal wear. The ad shows life before and after the brand launched its body warmer. Among many sequences where people beat the winter chill with the body warmer was 'Draupadi vastraharan' scene from a play where a smiling Draupadi has no qualms in being disrobed during the harsh winter. Before Krishna, she was saved by Amul Body Warmer.
Draupadi flips history with Rohto's LipIce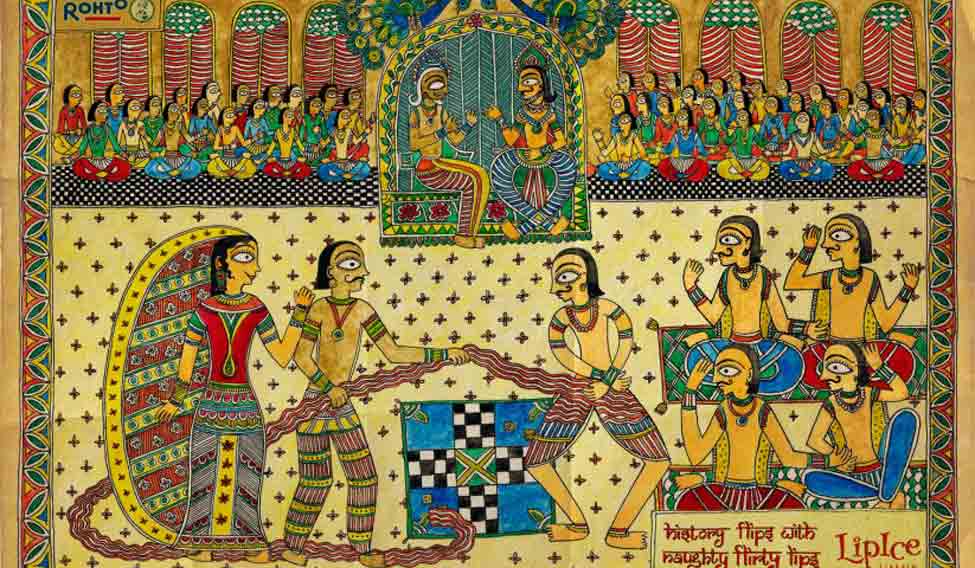 What if Draupadi could have charmed her way into Dushasana's heart and got the Pandavas disrobed instead? Well, that's what Rohto Pharma hints at in its 2012 print advertisement. The Japan-based pharma company entered the Indian market in 2010 with 'LipIce', a wide range of lip balms and sheer colour cosmetic products. The brand took an offbeat approach to connect Indian history and mythology with LipIce. The advertisement—a Madhubani painting—shows Draupadi standing next to Dushasana as the latter pulls the 'dhoti' of one of the Pandava princes. The tag line says, "History flips with naughty flirty lips".
Other advertisements from the series show Radha playing the flute as Krishna watches her and Anarkali standing next to the emperor Akbar, watching prince Salim being buried alive.