Arrogant, corrupt, educated. Would you want to be described by these three words? Agreed the third is an asset, but when associated with the first two, it only enhances their negative power. Washington DC, the city for which Donald Trump and Hillary Clinton are engaged in the end game of a bitter fight, is getting a bad reputation. Trump has largely had to contribute to this, with his ranting about the Washington elite. However, even before Trump, Washington wasn't actually the coolest or hippest city in the United States.
A recent poll by the Branding Greater Washington Task Force revealed that the top three words used to describe Washington by people were arrogant, corrupt and educated. Ouch, that hurts. And it may also start affecting the city's fortunes. The city failed to get the country's nomination for the 2024 Olympic Games because of perceptions attached—intimidating to foreigners, the core of America's imperialism…
The Task Force is working on ways of positioning the capital in a more appealing way, though it is still mulling over whether to highlight the city's federal status or to play up some other aspect.
But is Washington DC really as bad a place as the perceptions around it? Capital cities do tend to have a handicap because there is just too much of government around them. Back home, Delhi suffers from a similar image crisis. However, it is easy to excise Lutyens Delhi as separate from the rest of the metropolis, which has retained its history, the flavours of the Old City and is repositioning itself as a foodie paradise and shopper's delight, too. Moscow has similar drawbacks, specially with all the intrigue of the Soviet years, which still overshadows its amazing history. But there are capitals like London and Paris which have managed to hold their own despite being sarkari. Both are world cities, seeped in history and continue to reinvent themselves even as they retain their past.
DC has too many American cities to compete with. There's the incomparable New York nearby, with its dazzle, and more importantly, its energy. Across the continent is Los Angeles where tinsel town glamour blends with the flip-flop shodded comfort of a warm coast. There's Las Vegas… I love NY, La La Land, What happens in Vegas…. Does DC have any such catchline or legend?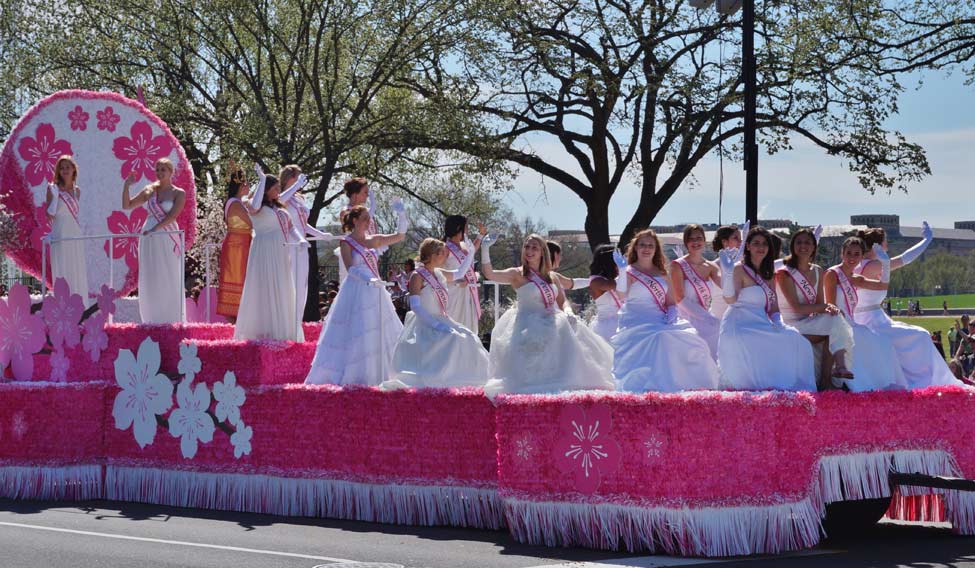 The city however, does have its own charm. A charm that's often obscured by sister cities or by the 'too much government' mindset people have about it. Visit the city in spring time and you'll be transported to a magical land of cherry blossom—the entire waterfront is one large pink bouquet, courtesy a set of trees that were donated decades ago by Japan. The Cherry Blossom season is a fortnight long and the slightest blast of Arctic wind can cut it short. But while it's yon, it offers visitors a unique celebration, with events ranging from hikes to art contests.
Agreed DC doesn't have any great skyscraper that Spidey can jump from. But DC offers a vista of beautiful buildings. The White House is a modest abode in comparison to other head of state residences, but it's compactness itself is charming. Then there are the famous Smithsonian museums, teeming with history and artefacts, and what's more, offering free entry. NY doesn't to this, mind you. Go see the collection of gowns First Ladies wore on their inaugural balls, or behold that huge flag which fluttered at Fort Henry near Baltimore and inspired the national anthem, Stars and Stripes.
Virginia and Maryland are DC's suburbs, each offering the route to quick getaways as well as some really posh residences. "We lived in DC while my husband was in government service,'' says Mary Lou, who now lives in Los Angeles, where she's raising her grandchildren. "The exposure to world events we got there widened our thinking. We interacted with the diplomatic community and learnt so much from them. Both my daughters got internships at the Capitol. It was an enriching life.''
The city has other redeeming qualities, too. It is rated as the best city for women professionals, is high as a city for college graduates and again features high as a foodie hotspot.
What DC lacks the most right now is a brand ambassador. Unfortunately, neither Clinton nor Trump are the right candidates for this post, whether they become President or not.