Cricketer Virender Sehwag is one of the most light-hearted Indian celebrities on Twitter. He is the ultimate definition of cool: he makes hilarious dad jokes, openly congratulates everyone's achievements, and his birthday wishes are original and quirky. He also engages with his parody accounts and joins in on their jokes, which makes him an absolute delight. On August 31, he gave Twitter another reason to love him, this time by coolly ignoring a bully.
It had only been a week since British journalist Piers Morgan made waves, when he sneered at India's Olympic performance. Right after England's record-breaking performance, scoring the highest at 444 runs in an ODI against Pakistan, Morgan once again tried to stir the hornet's nest with a tweet directed at Sehwag. "I bet you one million rupees to charity that England wins a ODI World Cup before India gets an Olympic gold. Accept?" he said in his first tweet, tagging Sehwag. While Sehwag remained silent, others jumped in and pointed out to him that India has in fact won eight Olympic gold medals and one individual gold before. Morgan then deleted the tweet and posted another, changing it to "another Olympic gold".
Hi @virendersehwag, I bet you 1 million rupees to charity that England wins a ODI World Cup before India wins another Olympic Gold. Accept?

— Piers Morgan (@piersmorgan) August 30, 2016
Sehwag, instead of entering into another verbal battle, chose to ignore the remark. Or did he? Here's another tweet which followed, which is widely believed to be in response to Morgan's barb. If only Sehwag would explain what he meant:
Some people's fortune is so bad, that
Apply Apply,
But No Reply ..
Hahahaha

— Virender Sehwag (@virendersehwag) August 31, 2016
Morgan tried to prod him again with another tweet: "Never known you to shirk a challenge, Legend".
As fans waited with bated breath for Sehwag to give it back to the tabloid writer, he instead went on to wish former cricketer Javagal Srinath on his birthday—leaving Morgan stranded for a response.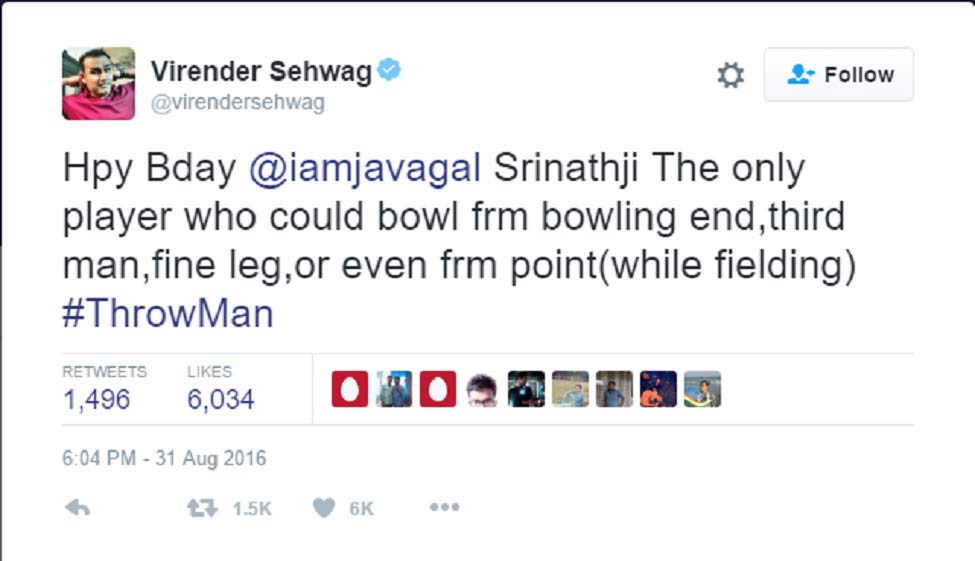 Earlier, Sehwag's response to Morgan's dig at India celebrating two "embarrassing" Olympic medals made him the hero of the day.
We cherish every small happiness',
But Eng who invented Cricket,&yet2win a WC,still continue to playWC.Embarrassing? https://t.co/0mzP4Ro8H9

— Virender Sehwag (@virendersehwag) August 24, 2016
Sehwag even has two troll accounts to add to the fun, one spelt as "virendrsehwag" and the other as "virenderrsehwag". The 37-year-old retweets their tweets, not just acknowledging their observations but also adding to it.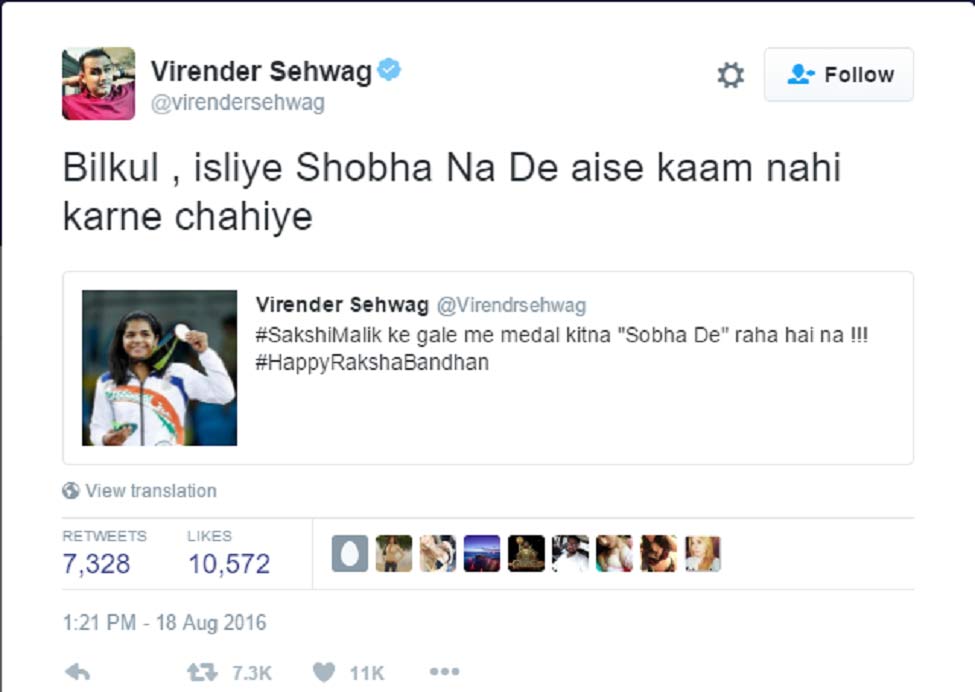 Here are a few other gems from Sehwag's quiver of Twitter jokes and commentary:
When he met Olympic medallist Sakshi Malik after her return to India:
He likes to keep his fans guessing:
My favourite 3 villages
1) Bikihat,West Bengal,pin 319309
2) Kulun, West Bengal, pin 319219
3)Baghmari ,Bihar, pin 219319
Any guesses, why ?

— Virender Sehwag (@virendersehwag) August 23, 2016