Of all the days celebrated through the year, perhaps Valentine's Day is one of the most talked about celebrations. While the origin of the celebration remains shrouded in mystery—with claims ranging from it being an attempt to Chritianise the pagan festival of Lupercalia to it being the death or burial anniversary of St. Valentine—over years Valentine's Day have become the traditional day of romance.
Every February 14, many couples around the world express love and affection for each other by exchanging chocolates, flowers and gifts. However, some countries, discourage such display of affection and have taken stringent steps, including bans and severe punishments, to avoid Valentine's Day celebrations, especially in public. 
The recent one to join the list is Pakistan. The Islamabad High Court banned Valentine's Day celebrations in the country, and also its promotion on social media, on the ground that it is not part of the Muslim tradition and is un-Islamic. 
Here are five more countries that share similar sentiments as Pakistan:
India
India's love affair with Valentine's Day has hit bumpy roads more often than not. Many groups in India, including the Bajrang Dal and the Shiv Sena, have time and again protested against the 'westernisation' of Indian culture and created havoc on the streets of Indian cities, making open threats of violence. They had even vandalised shops selling flowers and gift items for the occasion. 
While this year, moral police in Mumbai plan to keep it low, the Odisha unit of the Bajrang Dal has announced that if a boy and a girl are seen together in a public place on February 14, its workers would solemnise their marriage. Last week, in Chattisgarh, the Directorate Public Education issued a notice to principals and heads of all schools to observe 'Matru Pitru Diwas' on February 14. Following the footprints, the district administration of Chhindwara in Madhya Pradesh has asked all educational and social institutions to do the same to show respect for their parents.
Malaysia
Malaysia, for long, has been against celebrating Valentine's Day due to its origin in Christianity and the claims that celebrating it could lead to immoral activities, especially pre-marital sex. For the same reason, Islamic authorities in Malaysia had issued a fatwa against celebrating the day in 2005. Also, the National Muslim Youth Association (Pembina) has been organising an anti-Valentine's campaign called 'Mind the Valentine's Day Trap' since 2011, where the volunteers warn youngsters against the dangers of celebrating the day.
Recent years witnessed Malaysian authorities searching hotel rooms on the night of February 14 to catch Muslim couples indulging in premarital sex. If caught, they can be charged with 'khalwat' or 'close proximity' under Malaysia's Islamic Shariah laws, which carries heavy fines and even prison sentences.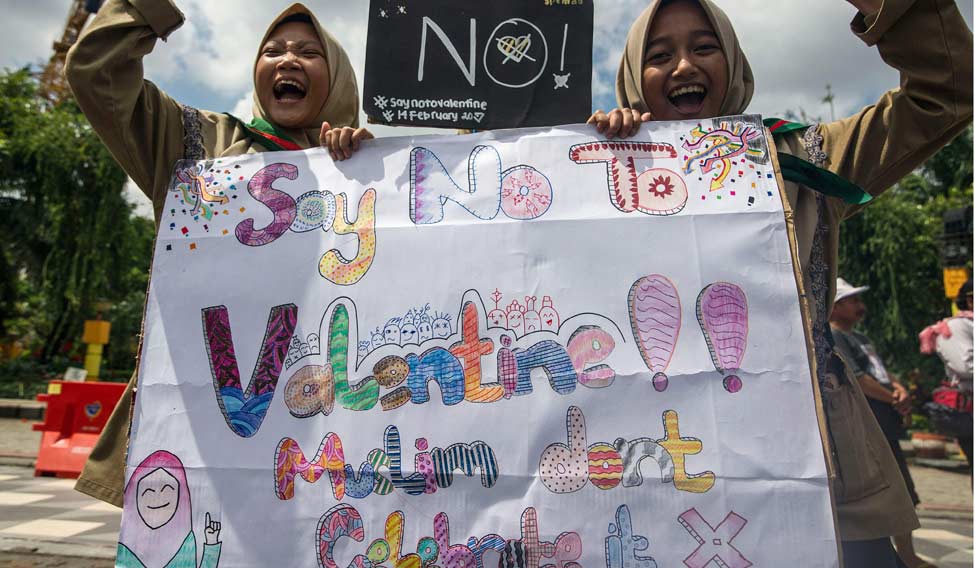 Indonesia
With nearly nearly 90 per cent of Indonesia's population being Muslim, popular sentiments against the day does not come as a surprise. Treading the same 'un-Islamic' line, last year, Indonesia banned the Valentine's Day celebrations, saying it was against Islamic teachings. In the past also, many conservative Indonesians have repeatedly taken to the streets to protest against the day, arguing it promotes alcohol consumption and casual sex. In addition, the influential Islamic clerics have repeatedly declared Valentine's Day celebration equivalent to promoting a faith other than Islam.
This year too, many Muslim students in Surabaya, in Indonesia, staged noisy protests against celebrating the day, denouncing it as a Western celebration that encourages casual sex.
Saudi Arabia
In Saudi Arabia, Valentine's Day is strict no no. The regime, backed by the Commission for Promotion of Virtue and Prevention of Vice, popularly known as religious police by the Western media, is strictly against not just celebrating but even acknowledging Valentine's Day. Every year, the administration implements the legislation that forbids selling or wearing anything red in the week ahead of Valentine's Day. Anyone found selling red roses, red clothing or heart-shaped gift items is pulled up and forced to destroy the goods or shut down the establishment. Previously, there have been reports of women being arrested for wearing red in days ahead of February 14. 
Also, Saudi Arabia imposes a very strict version of Islam under which the sexes are strictly segregated and any public display of affection is forbidden.
Russia
In 2011, the governor of Russia's Belgorod province banned the celebration of Valentine's Day at educational and cultural institutions, claiming it to be against Russian spirituality and morality. Supporting the ban, the local university forbid its students from participating in festivities, attending concerts and discos on February 14.
While the governor's office argued that Valentine's day has nothing to do with local tradition, Grigory Bolotnov, a spokesman for the governor's office, was quoted as saying, "The atmosphere of these holidays does not help young people to develop spiritual and moral values."