There are actors and then there are stars. Actors are praised for their craft and stars are adored for their exuberance. They are looked up to as celestial beings beyond our reach, whose lives we would give an arm for to emulate. Chris Pratt was once recognised as an actor, with great comic timing and a wide emotional range, but now he is unmistakably a star.

Pratt can greenlight big budget projects all on his own and he has even played a superhero, which is the undeniable step to stardom. But, he is not your usual star—not the pouting, poker-faced, fake-smiling-when-flashes-go-on type. He is one among us. Pratt always takes care to fulfil all the wishes of his waiting fans, no matter how many selfies he poses for or how many notepads he signs. He finds time for the causes he cares for and talks like a human on Twitter, on things ranging from his faith in Jesus, his love for hunting and about his time with his wife, actor Anna Faris, and their son, Jack. He doesn't shy away from sharing embarrassing anecdotes on world TV. He doesn't have any airs and seems surprisingly grounded for someone who has achieved what he has.

There are actors whom you know are star material right at first glance! Chiselled jawline, great body and if they have acting prowess as well, there is no doubt that they will make it big in Hollywood. But, in Pratt's case, it was hard to see such a rise coming. Because, a few years ago—three or maybe four, not more—he was just another Hollywood sidekick, whose plump figure served as the butt of many a joke, both onscreen and off it. On his own admission, he was "typecast as the bad boyfriend of the girl who you hope ends up with the guy you like" for a long time. Despite having been a household name after the huge success of the drama series Everwood and the sitcom Parks and Recreation, and having a filmography largely populated by rom-coms, Pratt finally made his much-awaited breakthrough in Hollywood as an action hero.

One look at Pratt in the year just before he shot his landmark film Guardians Of The Galaxy, you would never imagine that he would be able to embody the vigour of the film's protagonist Peter Quill aka Star-Lord. Even though by then, he had been appreciated as a good enough supporting actor for his performances in Oscar-nominated films like Zero Dark Thirty, Moneyball and Her, Pratt was all of 133kg when the director of the film James Gunn was tricked into meeting him by Sarah Finn, the film's casting director. "In like 20 to 30 seconds, I knew that he was my Peter Quill," Gunn said in an Entertainment Weekly interview.

With all that flab, Pratt then went on to convince the biggies at Marvel that there was no one better than him to play the Star-Lord. What followed still feels like a dream to him, says Pratt, in an exclusive email interview with THE WEEK. Soon, he did transform himself into the hunk that he is now, and a slew of big ticket titles like Jurassic World, The Magnificent Seven and most recently the sci-fi drama Passengers, which will be hitting Indian screens on January 6, 2017, followed suit.

What most people who have worked with the 37-year-old would agree with is that he is "intelligent", "down to earth", "talented" and "thoughtful". One phrase that is used a lot to describe him by both co-stars and fans alike is "regular guy". He talks openly about his not-so-comfortable childhood—when he couldn't afford to buy his favourite comic books because he didn't have even three bucks to spend on them or about the time when he bought a pair of $85 Reebok shoes and wore it for years till they finally had holes in them.

"When people say that I am humble and down to earth, I am surprised because I really cannot think of another way to be," writes Pratt. "For me, this is a dream come true and I have achieved it at a good age after enough struggle." This could be the reason he values his success, fame and all the money that comes with it more now. "I have had a slow growth in the industry and so, hopefully, I will not lose my mind or freak out because of it," he said in a recent interview. "I hope so. Till the day you find me naked, drunk and stoned!"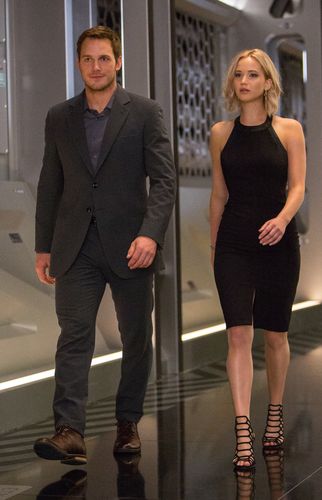 Pratt's life story is nothing short of a bizarrely entertaining Hollywood potboiler. Born in a middle-class family—his mom worked in a supermarket and his dad in construction—Pratt, who dropped out of community college, went on to do all kinds of jobs to make the quick buck. He worked as a discount ticket salesman, got tired of it and quit at 19, only to find himself penniless, jobless and homeless. Along with his friend, he took a one-way ticket to Hawaii and lived in a van for the next few years doing odd jobs to keep his head above water. Pratt has disclosed in his interviews that he also worked as a daytime stripper for a short while to pay his bills.

When he got picked up by actor-director Rae Dawn Chong to star in her short film Cursed Part 3, he was waiting tables at a seafood restaurant. He came to Los Angeles to shoot the film, which never released, and stayed on. Looking back at his days of struggle when he would audition for movie roles every day only to be told off, Pratt says that he is happy to have arrived at a stage in his career when he can say no to work he doesn't like. "I never imagined a time like this would ever come when I could possibly reject a paying acting gig," he says.

And now, it doesn't seem he would have to, in the near future, given that he is in one of the most anticipated sci-fi films of the year, Passenger, and that, too, alongside Oscar-winner and crowd favourite Jennifer Lawrence. Pratt, who plays Jim Preston, a mechanic aboard the spaceship Avalon, travelling to a new life on a distant planet called HomeStead 2, says that the first reading of the script bowled him over. "It was almost like I couldn't believe that they were actually giving me an opportunity to be a part of this film," he says. "It is epic. It is everything in a single movie. Adventure, mystery, romance, humour, thrill."

Once Lawrence came on board, the film attained the scale that the script demanded. Pratt is the first person to realise and admit that Lawrence is the bigger star than he is. Much like the characters they portray in the film—Pratt plays a blue-collar mechanic, "a working class guy" and Lawrence a top-shot journalist for The New Yorker, it is clear that they come from two different zones in terms of their fame. During the press rounds for the film, Pratt candidly admitted that he was being paid less than Lawrence (about $8 million less than her), and said that he was proud that she was fighting for equal pay and had successfully negotiated for what she feels her time and talent was worth. On being asked about this, he says: "Regardless of your gender, I feel everyone should negotiate for what they deserve. If not, it is better to walk away. In all my films, I feel I got what I asked for. That's how this industry works, it gives you what you ask for and not always what you deserve."
Passengers, directed by Morten Tyldum, tells the story of 5,000 people aboard a spaceship on a 120-year-long journey from earth to a colony planet. The film traces the journey of these two characters who find that they have woken up a full 90 years too soon and that they have to work together to prevent the collapse of the ship to save the rest of the 49,998 passengers.

During the production of the film, Avalon, the spaceship, was created as a real set rather than relying on green screens and VFX as is usually done in most sci-fi films. "Early on in my career, I realised how we actors are only about 5 per cent of what happens on the set of a film," says Pratt, about working on such a huge set. "There is so much going on that sometimes you are just nothing more than a prop. I am forever in awe of all the talent that goes into building something like this. There are literally hundreds of people who are part of just the production process of a film like this. Working on something like this is always a humbling experience and it helps put you in your place."

Right after Passengers, Pratt will start work on the second film in the Guardians franchise. He is also set to reprise his Star-Lord avatar in the 2018 edition of the Avengers movie. A huge fan of action films, Pratt is happy to be a consistent part of these hit franchises. "That's what I like in movies," he says. "Movies are entertaining, they can be scary, they can be fun, they can be sad, they can be happy. Some films touch you deeply and others blow you away." Passengers, he assures, is "that movie which will blow you away".

Would he, given a chance, abandon his life on earth, like the character he plays in the film, to start afresh elsewhere? "I've got a family here—a wife, a son and people who depend on me," says Pratt. "And, moreover, right now I have a pretty good thing going on here on earth. So I don't think I would be foolish enough to give all that up just to colonise another planet!"