"It is the happiest day in my life." S.D. Somasundaram, or SDS as he is popularly known, was not exaggerating. He had been working towards this end for a long time. And Chief Minister M.G. Ramachandran could no longer suffer in silence SDS's daily accusations of corruption against him and his ministry. On September 3, MGR dismissed SDS from his ministry and later expelled him from the party, the event that made SDS so "happy". It was also a major tactical victory for SDS in his running battle against MGR.
Two days later, SDS announced the formation of a new party, the Anna Dravida Munnetra Kazhagam (ADMK). And history had almost come a full circle. It was in 1972 that MGR broke with Karunanidhi accusing the latter of corruption and demanding a verification of party accounts and declaration of assets of prominent DMK men. SDS's campaign against MGR was long identical lines. MGR then had also called his party the ADMK later amended it to All India ADMK. Now, Somasundharam, in a clever tactical move that is bound to appeal to the public, has chosen the same name to "fight for the cause for which MGR fought in 1972". A theme that has been constant in SDS's present crusade against MGR.
Two other themes that SDS chose to attack MGR with are also likely to evoke a favourable response - MGR's alliance with Mrs Gandhi and the 'inadequate' response of the Centre and the state to the problems of Lankan Tamils. The bogey of northern domination has always gone down well with the Tamil electorate and MGR has not been averse in using it either. But now, with both SDS and Karunanidhi's DMK waiting to exploit the situation, the alliance with Mrs Gandhi is bound to create problems for MGR.
And then there is the other lady in MGR's scheme of things, his former propaganda secretary Jayalalitha. While no one has said so openly, her being a Brahmin and from Karnataka at that cannot but become a cause of embarrassment to MGR at some stage in the future. In the running battle between SDS and Jayalalitha, SDS had described her as the "de facto chief minister." There were others too who were resentful of Jayalalitha's rise to power and SDS will no doubt try to exploit that feeling within the party.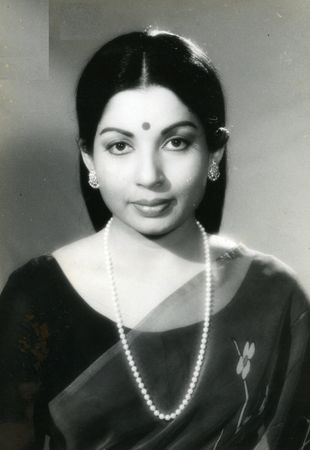 So much so that MGR, before taking the plunge in dismissing SDS, had to take the precaution of accepting Jayalalitha's resignation from the party post. And even more significant was the AIADMK's statement supporting NTR and condemning the Centre for his dismissal, nearly two weeks after the event. It was an obvious attempt to stem the tide of criticism over his total support to Mrs. Indira Gandhi. All this undoubtedly helped MGR in keeping small the number of those joining SDS.
But his task obviously is going to be increasingly difficult as time goes by. The opposition parties, especially Karunanidhi's DMK, were jubilant over the developments. "MGR had been putting up an appearance of a saint and a Buddha. Now Somasundaram has torn off that veil from an otherwise corrupt face," said Karunanidhi.
In fact, it was SDS's constant harping on corruption whihin AIADMK that is likely to hurt MGR the most. Coming from a man who has been a right-hand man of both the late C.N. Annadurai and later MGR, the public have started questioning how ruling party members have suddenly become so rich. No longer is MGR treated as a saint. And especially when a man of SDS's stature and clean record makes charges against the chief minister himself, people sit up and take notice.
MGR's attempts to blunt SDS's accusation of corruption within the party were far from effective. At a press conference soon after the party general council meeting on September 2 in which the decision to sack SDS was taken, MGR flourished some cheque books to newsmen to substantiate his claim that his financial position was not sound. He told newsmen that he had in fact borrowed Rs. 40 lakh from a private lender in order to clear his income-tax arrears and other liabilities. He also said he had to sell his Sathya Studio but was not successful.
The opposition quickly pounced at this. They asked how the chief minister could raise such a huge loan when his monthly salary was only a couple of thousand rupees. "How does he expect to repay this huge loan?" asked SDS.
There was a time not so long ago when people, specially from the lower classes, would get extremely upset if someone told them that MGR was corrupt. Perhaps someone around him was indulging in bad things and the Puratchi Thalaivar is getting blamed for that, they would argue. But now the situation is not that smooth for MGR, thanks to the unrelenting campaign by the DMK and later by S.D. Somasundaram. When the latter alleged corruption in the government, it set the rustic minds working, for here was a minister himself making the charges!
The fight launched by Somasundaram really gained momentum when he recorded on the files sanctioning liquor licences that the sanctions were being made on the chief minister's recommendations. He also pleaded for government takeover of the arrack blending units since huge profits were involved and there were serious allegations of irregularities. His pleas went unheeded and instead he was stripped of the excise portfolio, which MGR himself kept.
While SDS was levelling charges of corruption at the MGR government, including the chief minister himself, MGR said that SDS himself had indulged in some questionable practices while holding the portfolios of excise, revenue and commercial taxes. These things were being gone into by the CID police and action against the former minister was bound to follow soon, MGR said.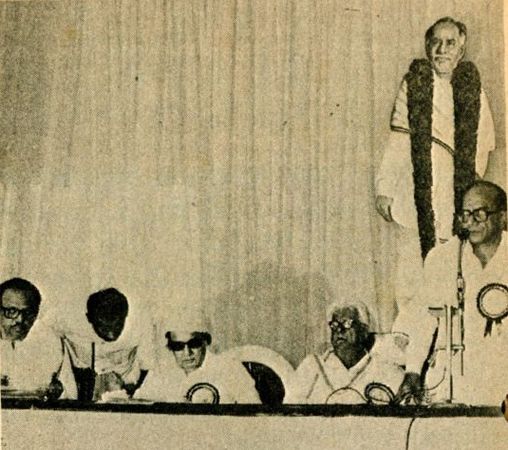 But MGR's allegation of corruption against SDS was a reversal of the earlier government stand, taken during the Justice Ramaprasada Rao Commission of Enquiry into grant of licences for arrack blending and bottling units, that there was nothing irregular in the excise department. "Now that I have opposed him, he will go all out to frame all kinds of charges against me," said Somasundaram.
Perhaps the strength of the present challenge to MGR is in the challenger himself – a small, simple, frail old man, in stark contrast to the glamour that once surrounded MGR. Also called Somu by some of his friends, SDS sits huddled in his chair in a crumpled dhoti and a banian that has many holes in it, receiving visitors who are mostly from his district. Behind the simplicity, however, lies a shrewd political brain, which has been in evidence since Annadurai's days at Annamalai University. How effective his challenge proves to be, however, remains to be seen.
So far, the impact of SDS's ouster has not been too impressive. The launch of the party had around five former AIADMK MLAs, none of them very senior in the party and SDS, it would seem, is unlikely to get the support of senior ministers. At least not openly, though the fact that he has the sympathy of men like Kali Muthu cannot be denied. But at the grassroots level, the impact could be much more especially on the corruption issue. It is said that many AIADMK members are unhappy over the action taken against a senior party member for attempting to cleanse the party of corrupt elements.
The similarity between the 1972 split and the present one goes even deeper. At that time too MGR could not muster much support from the DMK ministers. Less than a dozen legislators had joined him at that time. But the one significant difference between then and now is that even then MGR shad the support of the Congress(I) and Mohan Kumaramangalam was one of the prime planners of the coup that did not materialise. Try as he might, MGR could not wean away the required number of MLAs. But the association with the Congress(I) then could be used against him now.
Not that Somasundaram is hoping or even trying for any such eventuality. SDS, with the tacit support of the DMK-led14-party opposition front and others, is obviously aiming at the next elections due in the middle of next year. And in that endeavor, he no doubt stands a fair chance, as the MGR gloss is slowly wearing thin. However, it must be said that while MGR's popularity may have dipped, it still remains at a high level.
Even as SDS was carrying on his war of nerves against MGR, he undertook a tour of the districts supposedly to hoist the AIADMK party flag in various villages as part of the celebrations of Anna's 75th birth anniversary (which falls on September 15). But actually the trip was to contact his men in various places and strengthen his own base.
In the castle-ridden Indian politics, SDS belongs to a very powerful and influential section of the Tamil Hindus called the 'Mukkulathur'. The Mukkulathurs are largely concentrated in Thanjavur (to which district SDS belongs), Tiruvhirapalli, Madurai, Pudukottai, Ramnad and the northern parts of Tirunelveli. People of this community also live in south and north Arcot districts. And Somasundaram cleverly launched his Anna's diamond jubilee' tours from these areas in order to establish new contacts and renew old friendships amidst the people of his community in these areas. The astute political planner that he has always been, he concentrated more on the common man and the youth rather than on the local bigwigs.
On the tours, the speeches of SDS were veiled accusations of maladministration by MGR. His main plank of attack was the liquor trade that "ruined the health of the poor and made them paupers further." (SDS had in fact charged that many AIADMK men had amassed fortunes from the liquor trade.)
A typical SDS speech at a little hamlet on his Anna anniversary tour would begin thus: "Was there liquor available during Anna's regime? (He would wait for an answer and on getting a reply from the audience in the negative, would proceed further.) Yes, there was prohibition during Anna's time, because Anna firmly believed your womenfolk would lose their little possessions of gold and silver if he opened liquor shops. I want you to swear today by Anna that you would never again touch liquor. The government arrack you get now is like a stagnant pool of water and illicit arrack is like the sewage water. Both will surely kill you much sooner than you will normally die.
"And remember, MGR too wants to introduce prohibition and that is why he has announced that the liquor shops will be closed down from Anna's birthday next year (1985). He might have closed the shops right now but then you will run to the illicit arrack. So he has given you a year's time to gradually get rid of your drinking habits and reform fully before September 15, 1985." The left-handed compliment to MGR was not lost on the audience.
MGR knows only too well the pitfalls ahead. He is aware that people are now taking seriously charges of corruption against his government, that party leaders are no longer blindly subservient to his orders. For the first time since he launched the AIADMK, MGR lost a by-election in 1984. In fact he lost in two places in the four constituencies for which by-elections were held in May this year. And this happened, despite enormous welfare activity in both Anna Nagar and Mayiladuthurai. "The victory at Uppiliyapuram itself was a purchased one," says Maran, DMK MP. "Money was paid the way the Congress did in the olden days. And MGR also spent government money to create temporary facilities like a borewell here and a road there. MGR knows the high price he has paid for the Uppiliyapuram win. Can he do it in the general elections?"
"There was a time when his supporters used to boast that just MGR's cap was enough to get votes," Maran continued. "Then came the stage that the hero himself had to go to every place to canvass votes. The third stage was that he had to take Jayalalitha with him to attract people. Now the stage has come that he has to pay money for the votes and still lose in a by-election."
Releasing that he is losing ground, MGR has brought about some drastic changes in his own attitudes. He is now not averse to 'accommodating' the viewpoints of others in the party and the resignation of Jayalalitha is one example of this. But not many were impressed by the Jayalalitha resignation. "She is a danger to the party, whether she holds a post or not," warned Madurai Muthu, AIADMK MLC and a founder-member along with Annadurai of the DMK. "She will continue to wield power in the party and the government and the situation will continue wherein decisions would be influenced by her," Muthu alleged. An old man, Muthu is highly respected by both the AIADMK and DMK party rank and file and has been a strong critic of Jayalalitha, much to the embarrassment of MGR who could not bring himself to take drastic action against such a senior member.
The waning of MGR's strength was also reflected in the fact that he made three cabinet expansions in the last 15 months, mostly inducting into the cabinet junior partymen without much of a following in their own constituencies. These ministers were chosen mostly as a counter to senior ministers whose wings MGR wanted to clip. When S.R. Radha was inducted into the cabinet about a year ago, it was said that the motive was to alienate him from SDS. Similarly, Veerasamy was inducted on the day SDS was dismissed to prevent him from joining Somasundaram, who is his relative. In fact, with the latest expansion, one out of five AIADMK MLAs are now ministers and the party has a majority of just 11.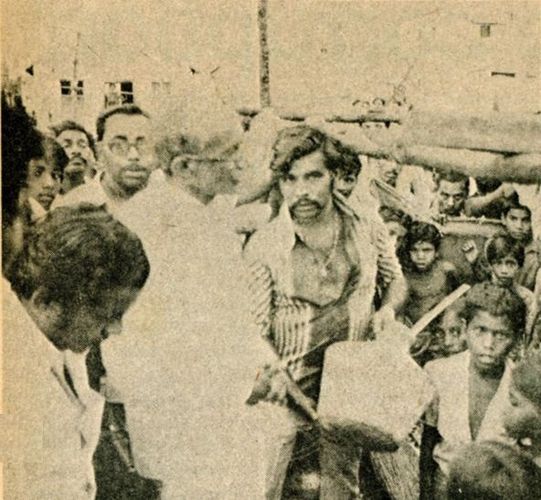 MGR also issued a threat to his cabinet colleagues, when he said he had got some complaints against one of his ministers and that they were being investigated. "He was openly blackmailing the ministers and telling them that if anyone of them joined me, they would be harassed with police cases. He has not named the minister, which puts all the ministers in discomfort, for obvious reasons," said SDS.
Along with the threat to his ministers, MGR also served notice on his own party general secretary P.U. Shanmugham by declaring that the report of the Sarkaria Commission (which went into certain corruption charges involving the former DMK chief minister M. Karunanidhi and some of his cabinet colleagues, including Shanmugham who was his food minister) was still alive and had not been shelved. Shanmugham has had his own problems with Jayalalitha who, to quote SDS again, had "usurped all his powers and made him look a mere dummy."
MGR's other major handicap may turn out to be his tie-up with the Congress(I). And though MGR sought to dispel the image by finally issuing a statement condemning NTR's dismissal, any good it might have done was offset by the party executive which passed a resolution condemning Ram Lal for acting without Mrs. Gandhi's knowledge and dismissing Rama Rao. "This very funny resolution only betrays MGR's subservience to Mrs. Gandhi and the Tamil people feel ashamed of it," said SDS at the ceremony where his own party flag was hoisted.
There are, however, optimists in the AIADMK camp who firmly believe the SDS exit would cause them no harm. "He is only a district leader and even there the leader of his community people only. How can he pose a threat to Puratchi Thalaivar?" a spokesman asked. Says P.U. Shanmugham, "There is no way our chances are going to be affected by his going. I am very confident about it. Taking for granted that he was a good organizer, he could not have succeeded all by himself without cooperation from party workers. Of course, the CM chose him to conduct elections for the party but that does not mean he was the only organiser in the party." What about AIADMK men leaving to join SDS, Shanmugham was asked. "No chance," he shot back, "not even at the grassroot level. You can yourself verify it all in a week's time."
So it remains to be seen if SDS would be able to sustain his party or whether he would go the same way all those who had left MGR earlier had gone. When the DMK was dismissed and Karunanidhi was at a very low ebb politically, a group of senior Kazhagam leaders left him and launched their own party, Makkal Munnetra Kazhagam (people's forward party). The most important person in the Makkal party, V.R. Nedunchezhian, is now MGR's finance minister. Another member Mrs. Sathyavanimuthu became one of the two representatives of MGR in Charan Singh's cabinet and a third prominent person Madhavan is now the AIADMK's treasurer.
Since then those who left MGR automatically went to Karunanidhi. 'Nanjil' Manoharan was once the powerful number two in MGR's cabinet and is today the joint general secretary of the DMK. While the Makkal Munnetra Kazhagam folded up within days of its birth, none of the other rebels from either party had the guts to launch a new party: they chose to move into the rival Kazhagam.
SDS is the exception to that rule and it is highly unlikely that he will join the DMK, whatever the fortunes of his party. His will be a welcome addition to the Kazhagam politics of Tamil Nadu that was becoming quite sterile of late.