Technology has invaded almost every space that we can think of; even those that we thought will always be sacrosanct. A theatre stage has always been one such place. It has always been a platform that gives the actors the freedom to improvise, lets a co-actor handle a situation in case the other actor goofs up, or to just perform at ease without worrying about an interruption by an external force. But, what happens when there are interruptions? When technology intrudes?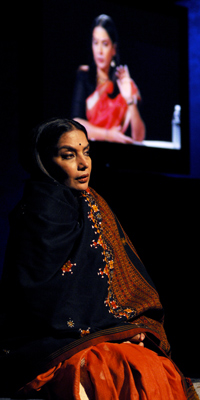 Actor Shabana Azmi, who has been performing Broken Images (directed by Alyque Padamsee) for almost five years, had a few insightful thoughts, rather experiences on it, at one of her recent performances over the weekend in Mumbai. Broken Images, a play written by veteran playwright Girish Karnad (originally in Kannada as Odakalu Bimba), is, probably, one of the best examples in India of technology taking over the theatre space. The story explores the story of Manjula Sharma, a Hindi short story writer, who acquires immense fame after writing an English novel. But, there is a story behind the fame and it haunts her. The play depicts Sharma's inner self or her conscience speaking to her (in this case from a television screen set firmly on the stage) or questioning her as she ends up confessing.
Azmi, who has seen theatre evolve over the years, thinks that, technically, doing such a play is a bigger challenge than doing a play set in the traditional format. Interestingly, the part where the actor speaks from the television screen was shot before hand. "That was one single shot of 44 minutes and I got it right in the first take," said Azmi, while addressing the audience after the show. The peril of such a performance, she acknowledged, was that the image on the screen is "on her own trip". As it is, it is pre-recorded and while performing the other part, she had to time it perfectly because, unlike in a traditional play, the co-actor would not come for help if anything goes wrong.
"Technically, it is very challenging," she said as she recalled a performance in Rohtak with an audience comprising almost 1,800 persons. "Almost half-an-hour before the play, one of the organisers came to tell me that, 'madam, only 20 per cent of the audience understands English.' I asked him, 'isn't it a bit too late in the day'. He requested me to do it in Hindi," said Azmi.
Annoyed, as she was, she couldn't do much but perform her live part entirely in Hindi, even as the pre-recorded part was in English. "Later, when I told this to Girish, he said, 'Okay, that's a feat but don't repeat it again'," she laughed as she recalled the incident.
There have been many such instances. At another performance, she said the TV went blank. The most spontaneous thing that occurred to her was going behind the screen while still actively saying her dialogues, and pull the plug of the TV out and put it in again. Voila, it worked, much to her surprise. "These are a few tricks that I have pulled successfully," she said with a sense of pride.