The current clown scare in the United States is shrouded in mystery and myth. With a reported rise in number of "clown sightings", police and schools, especially, are on high alert. The clowns, according to multiple reports from the public, were seen either simply standing and staring, or carrying a knife, or chasing kids into the woods. Some call it a hoax scare, coupled with unverified reports and anonymous tip-offs. Some say it stems from a larger psychological phobia of clowns. Some even suspect that it is an elaborate marketing ploy for an upcoming film release. And still others think that it is a long pre-party game for Halloween.
Whatever it is, the fact remains that clowns are now associated with horror and all things evil. No one can pinpoint the exact time in history when the perception of clowns turned from happy, innocent entertainers to that of angry, crazy killers. Numerous films in Hollywood exploited this fear, converting even the most rational beings into clown-fearing adults. It manifests in children's films too, like Inside Out, which had a huge clown locked up in Riley's mind. The Simpsons has Krusty the Klown, an alcoholic, tragedy-stricken cynic. But other than these, mostly all other clown-based films are slasher horror films.
In the run up to Halloween, here are some of the scariest, creepiest clowns in Hollywood:
The clown doll in Poltergeist (1982)
Released under Steven Spielberg's production around the same time as E.T., Poltergeist marked the beginning of the modern era of horror films. The story revolves around strange occurrences within the Freeling family house, caused by multiple ghosts. Halfway through the film, a clown doll in the protagonist's son's bedroom attacks him. The clown doll changes from an innocent, harmless doll sitting on a chair, to an evil, psychotic nightmare, trying to strangle the boy with long, winding arms. The film was remade in 2015, starring Sam Rockwell and produced by Sam Raimi. It had a contemporary version of this clown, but the film failed to scare (even with all the special effects) as much as the Spielberg film.
Pennywise in It (1990)
Stephen King is the undisputed master of horror. His novels have often been made into films, translating his spine-chilling ideas into visually frightening stories. It, one of his best-selling novels released in 1986, is about a demonic clown that stalks children and manifests into its victim's darkest fears. It attacks a bunch of 11-year-old kids, who manage to get away from the clown. But Pennywise comes back to haunt them, 30 years later. It was made into a 1990 TV movie, but has an upcoming feature film release in 2017. Directed by Andres Muchietti (of Mama), the role of Pennywise will be played by Bill Skarsgard. In the 1990 movie, Tim Curry plays the child-murdering, shape-shifting stalker.
The zombie clown in Zombieland (2009)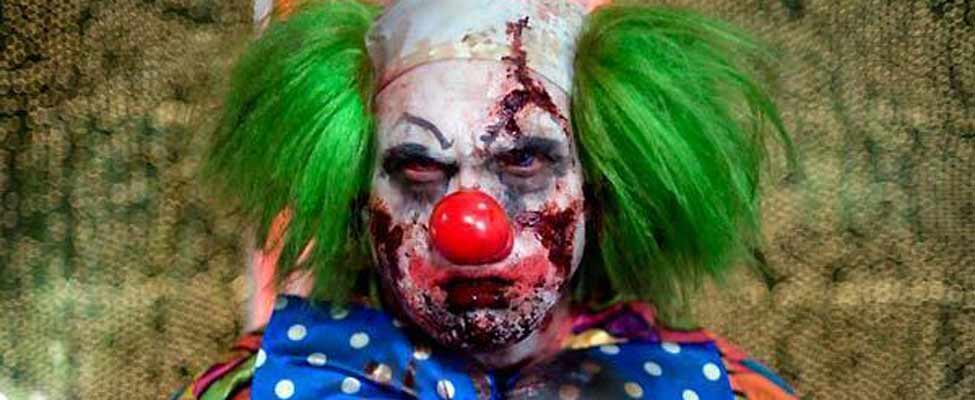 If there is something worse than a clown, it is a "living-dead" clown. Starring Jesse Eisenberg, Woody Harrelson and Emma Stone, this film is part-comedy, part-horror. In a post-zombie apocalypse, four survivors end up in an abandoned amusement park. Eisenberg's character, Columbus, has coulrophobia, or fear of clowns. Towards the end of the film, he has to fight off his worst fear to save the day. While this film isn't stereotypically horror, but more of a mockery of horror tropes, it does have a scary zombie clown. With deep gashes and a drooling, manic (and hungry) smile, the clown's role is small but memorable.
The murdering clown in Gacy (2003)
Based on real life serial killer John Wayne Gacy, this film chronicles how a normal-seeming family man, Gacy (Mark Holton), volunteers as a clown to entertain children. Behind this facade, he manages to lure young boys only to kill them for fun, and bury their bodies under his house. He reportedly committed 33 murders. The film itself didn't do well and opened to poor reviews, considering that it was a direct-to-video film. Yet, the fact that there was such a killer, who moonlighted as a clown, only fuels the current clown scare. Another TV movie based on Gacy, To Catch A Killer (1992) is a less dramatic version of his story.
The maniac clowns in 31 (2016)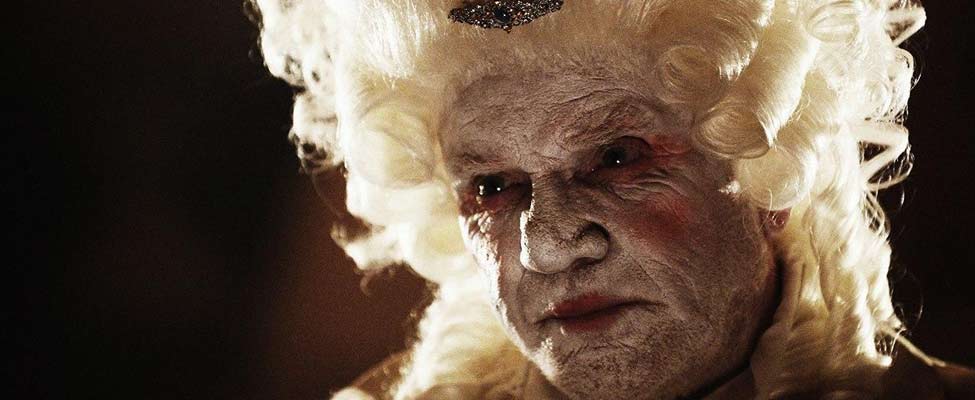 Director Rob Zombie is known for his slasher horror films. His debut, House of 1000 Corpses, included a crazy clown; his latest involves a group of sadistic clowns. In an amusement park, five employees are held hostage by a group of men dressed in clown costumes during Halloween. The kidnapped employees can survive if they play a game called 31, invented by the clowns. Each one has a unique, monstrous personality. Considering that Malcolm McDowell (from A Clockwork Orange) plays one of the clowns, you can only imagine the chaotic atrocities that can follow. According to reports, the indie crowdfunded film will have a limited theatrical release on October 21, just ten days before Halloween. Could this be the reason for the clown scare?
The bicycle clowns in Pee-Wee's Big Adventure (1985)
Much before Tim Burton became known for his goth-themed fantasy films, he debuted with Pee-Wee's Big Adventure. In this comedy based on Italian film Bicycle Thieves, Pee-Wee Hermans (Paul Reubens) is in search of his lost bicycle. The carefree Pee-Wee embarks on several adventures while on his quest. In one sequence, he is shown to have nightmares of three clowns on bicycles. The three clowns and "the devil" are seen operating on (and eventually destroying) his red cycle. The clowns wear nurse's uniforms, while the devil is in a surgeon's uniform. They have evil glee all over their faces, and it's probably not a coincidence that Tim Burton went on to earn the contract to direct Batman. Speaking of which...
Joker in all the Batman films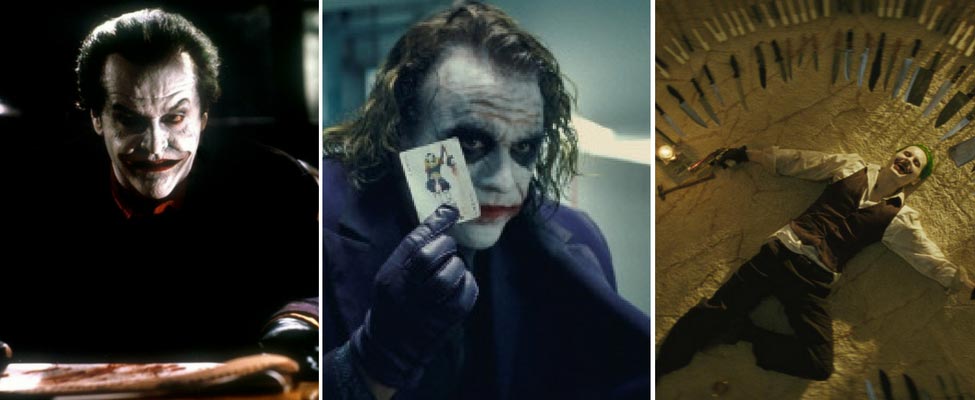 Most scary clowns in films are ghostly figures who go around slashing people in lonely places. The only clown to have existed as an arch enemy to a superhero is DC Comic's Joker. Personified by Jack Nicholson, Heath Ledger and Jared Leto over several films, the Joker dresses up like a clown. With a disfigured face that makes him look like he has a wide smile (inspired from Victor Hugo's The Man Who Laughed), he is one of the biggest supervillains in the DC Comics universe. Coupled with his psychotic blabber, absolute lack of empathy and numbness to pain, this "clown prince of crime" is the very definition of anarchy.