The last time a British band came to India to shoot a music video, they adhered to every stereotype and cliché that defines India, according to the West. It had decorated taxis, sadhus, holi, puppets, narrow bylanes of Mumbai, a child dressed as Shiva, and even Beyonce, with henna-dyed hands and wearing a lot of awkward jewellery, swaying her hands sensually to the rhythm. Mysticism at its best; a hymn for the weekend!
And then came the pleasant surprise, unannounced. Wild Beasts' newly-released video for their song Alpha Female from the album Boy King features women skateboarders from India. The breathtaking visuals show girls clad in hot-pink sarees, gliding on their skateboards, while the world stops and stares as they move ahead. These girls may not seem to be 'heroes' to people from countries where skateboarding is just an action sport with participation from both genders, but in India, skateboarding is a sport that is evolving; and for most who know about it, it is a boys' sport. Here, these girls are trendsetters, who dare to be themselves.
The cherry on the cake is the fact that even the lyrics is not a wounded woman's call for equality; rather, it is a confident man telling a strong woman to go on: "I would not hold you back. Alpha female, I'll be right behind you."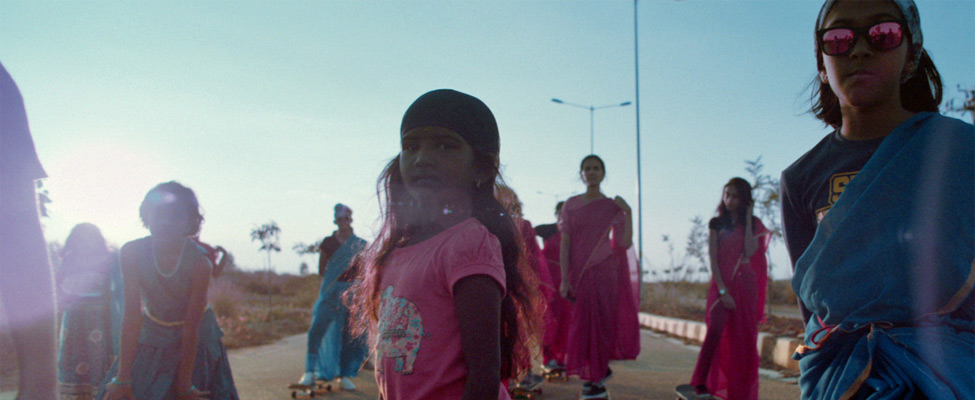 The alpha females in the video are members of Bengaluru-based Girl Skate India and Holystoked Skate Crew skateboarding groups. These girls not only ride skateboards, but rule skateparks, too. The video grabbed the attention of world media with its release in the first week of February. In a statement to press, director Sasha Rainbow said, "Because of the current political climate in the West and attitudes of intolerance, and sexism across the world, I wanted to create a video that celebrates everyone who takes the risk to be themselves. The Holystoked Skate Crew and the girls that I worked with are an inspiration that cuts through age, gender and class barriers. I wanted to commemorate this incredible moment in India and show how massive cultural change can start with just one person."
Rainbow first came to know about these girl skateboarders in India through her best friend who works for an NGO called Skateistan, which uses skateboarding and education for youth empowerment in Afghanistan, Cambodia and South Africa. In an email interview with THE WEEK, Rainbow elaborated on her decision to shoot in India. "In order to really represent the theme, I needed to work with a group of women who were going against the grain through skateboarding. The other options I had could have endangered the girls I would work with. India seemed perfect as it is a wonderful blend of traditional and modern value systems," she says.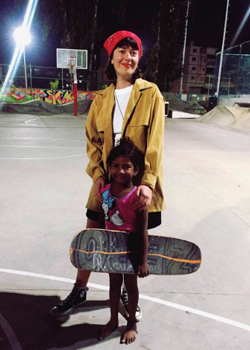 What makes the video so powerful is not just the girls, who take on the world on their skateboards, but reactions of people gawking at them as they pass by. On being asked if any of these stares were for real, Rainbow says, "They are all 100 per cent real! Crowds gathered wherever we went. The kids, especially, were so delighted to see a skateboard for the first time."
While many may claim that skateboarding is not new to India—after all the country has over 10 skateparks, with first one being over a decade old—the sport, in itself, is not too popular in the country.
This was Rainbow's first visit to India. "I think time had the biggest impact on me, as it seemed to slow down (in India), which at first made me feel I needed to rush, when, in fact, I needed to go with the flow," says Rainbow. "It (India) is an incredible place, where chaos and spirituality exist in perfect harmony. It's almost a metaphor for existence," she adds.
Happy with reactions to her Alpha Female video, Rainbow is fundraising to do a trip back to India as she believes that a music video is not enough to capture stories of all the amazing people she met during her trip. "They all have just powerfully inspiring stories to be told," she says.